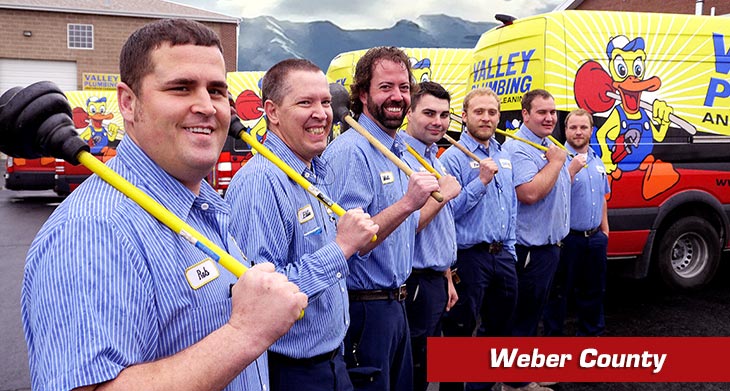 Struggling with a recurring plumbing issue? Get it fixed fast and fixed for good with Valley Plumbing and Drain Cleaning! We are your Weber County, UT plumbers and drain cleaning specialists focused on delivering high-quality solutions.
Access our latest coupons and save on your upcoming plumbing job!
Serving the Following Areas in Weber County:
Trusted Plumbing Repair & Installation
Valley Plumbing and Drain Cleaning is a full-service plumbing company serving Weber County. We are committed to providing the most cost effective solutions so you are able to return to your normal routine in no time.
From drain cleaning to whole house repiping to sewer line repair to bathroom remodeling and anything in between - we have the technology and skills to help you repair or replace any aspect of your plumbing system. Whether you are looking for a second opinion or you need emergency help fast, you can always count on our team to deliver the peace of mind you deserve.
We are also drain and sewer specialists. Our drain cleaning solutions are safe on your pipes, your home, and the environment. We get to the source of the problem and make sure any blockage is completely removed.
Our thorough hydrojetting and drain cleaning services will get your pipes flowing again, so you can spend less time struggling with recurring plumbing issues and more time focusing on the things most important to you!
Take a look at our customer reviews and see why your neighbors continue to rely on us for all of their plumbing needs.
Water Heater Services
Leave your water heater problems to us. We service tank and tankless water heaters, all makes and models. Our experts provide repair, replacement, and maintenance services. While we try to carry out repairs and keep costs low for you, we will advise you to install a new unit if your existing one is beyond repair.
If you need to replace your water heater, we can help you choose a new one that best fits your needs and install it for you. We take into account your household's hot water demand and recommend products that will give you the best value.
How do you know when it's time to replace your water heater? If your water heater is 8-10 years old and you notice that it's starting to have problems, replacement is often a good idea. You will also need to replace your water heater if the tank has started leaking; this is often the most important sign that replacement is crucial.
Whether it's repair or replacement, we will help you get the hot water you need fast. We are here for you 24/7 to handle any water heater emergency.