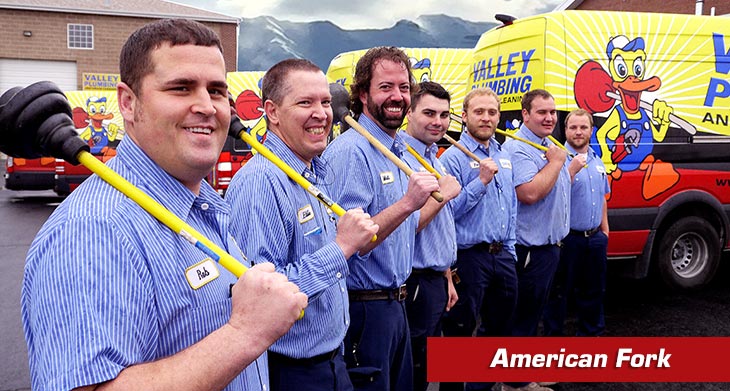 That last thing a homeowner wants to face is plumbing troubles. Having a plumbing issue can be quite inconvenient, but when you have a trustworthy, reliable plumber on your side, you can stay calm knowing your problem will be resolved quickly and efficiently.
At Valley Plumbing and Drain Cleaning, our professional plumbing services ensure that your water flows freely, your drains remain unclogged, and that your water stays hot or warm like you would want it. That's why our customers consistently choose us not only to repair their plumbing issues, but to prevent any potential problems that could arise. Count on us to deliver exceptional plumbing, water heater, and drain cleaning services for your American Fork, UT home. We promise your 100% satisfaction guaranteed.
Save even more on your next service with our exclusive online coupons and promotions.
What Are The Benefits of Water Leak Detection?
One of our leading preventative services deals with searching for existing leaks in your plumbing. We look at every part of your plumbing and gauge how much water is lost, then we meticulously look for the cause of the water loss.
To better understand why this service is so important, here are some of the main benefits:
Lower water bills: The price of water is at an all-time high. Wasting even drops a day can amount to a lot over the course of a year, which can increase your water bill by a sizable amount. Fewer leaks mean a lower bill.
Repairing potential winter damage: When water freezes, there is a certain point where water contracts, then expand before contracting again. This is how most damages to pipes occur, and it can be a signal that there is a larger problem at hand.
Reduce water damage: Like water leaks, it can cause structural damage to your home's foundation and take a toll on the insides of your walls. Mold is another unwanted effect of water damage, which can become a huge health hazard. Fixing these issues before they occur can save you from headaches, health issues and expensive bills.
Save money now: Water leaks happen for a reason. Pipes may become old, corroded, or simply worn down. Leaks are warning that you may need to repair or replace part of your plumbing. Doing so before a catastrophic incident occurs can save you money.
Do You Need Professional Drain Cleaning?
Clean, well-maintained drains can prevent unsightly backups before they happen. If you notice that your drain exhibits any of the following symptoms, then it's time to call us for a drain cleaning:
Slow and backed up drains
Toilets that gurgle
Multiple and frequent clogs
Odd smells from drains
We can accurately diagnose any symptoms that your plumbing might have and pinpoint where the problem lies.
Interested to see what other area residents are saying about our services? Read our customer feedback and reviews to find out why so many homeowners choose us for their home's plumbing needs.
What Are Signs You Need To Replace or Repair Your Water Heater?
Water heaters play a vital role in ensuring that you can do the laundry, wash your hands, and take relaxing showers or baths. When they stop working correctly, you lose an important feature your home should have.
If you notice any of the following signs or symptoms, then it may be time to have us replace or repair your water heater:
Water that isn't as hot as it should be.
Odd noises coming from your heater.
Standing water near your unit.
Hissing noises that often accompany a leaking water heater.
Water that does not warm up.
These signs can mean that your water heater isn't working as it should. Left unchecked, the problems responsible for these symptoms can create even larger issues that require more time, money, and manual labor to fix. We can repair your water heater before these issues occur, or we can replace it when repairing isn't an optimal solution.
When replacing, we ensure that we get the right water heater for you to use after outlining all your options. We will work with you to provide a solution that will benefit you the most.
Local Reviews
for American Fork, UT
Valley Plumbing and Drain Cleaning
Rated
4.9
out of 5 stars based on
33
customer reviews
Powered by Nearby Now
---
Great Service
Maria

-

American Fork

,

UT



Review of Valley Plumbing and Drain Cleaning
Great job
---
Very professional and friendly service
John

-

American Fork

,

UT



Review of Valley Plumbing and Drain Cleaning
This was our first time using them and we were very impressed with the friendly service. They were able to fix our issue very fast and answered all our questions. We have already scheduled them to complete more work for us.
---
Great service
China kitchen

-

American Fork

,

UT



Review of Valley Plumbing and Drain Cleaning
Wilson and Hunter very nice and professional.
---
Great Job! I would call again!
Vicki

-

American Fork

,

UT



Review of Valley Plumbing and Drain Cleaning
I appreciate the time they spent explaining. They where focused, polite, knew what they where doing and Solved my sump pump replacement need.
---
Hard workers
Una

-

American Fork

,

UT



Review of Valley Plumbing and Drain Cleaning
Made sure everything worked. When there was a problem, he explained our options, and we made the right chose for us. in the end everything worked. The water issues were so bad. after it was all done I felt like I had a new home, no more water issues anywhere. Very Very Happy With there Work!
---
Hunter C.
I will use a toilet auger and attempt to clear the blocked toilet in the hall bathroom. I cleared the toilet with a plunger and flushed multiple times. We do not warranty drain cleaning.
Near
N 280 W,

American Fork

,

UT

84003
Hunter C.
I turned the water off to the unit and pulled the toilet. I ran a drain machine through the line a couple times and sent the camera through. I saw that the blockage was in the shared main just before the man hole located outside behind the home. There are roots growing in that location that were catching sewage until the line was blocked completely. 22 is the closest to where the blockage was and thats why only that unit was having issues, the entire lateral upstream, serving multiple units, was blocked. I cleared the roots and cleared the line. The roots will grow back in time until the line is repaired. I reset the toilet with new hardware and a new supply line. I turned the water back on and tested the toilet with no issues and ran water from all the fixtures for several minutes. No warranty on any of the work performed.
Near
E 300 S St,

American Fork

,

UT

84003
Donnie W.
Installation of a commercial kohler pressure assisted toilet with soft close seat. Includes parts and labor.
Near
N 1020 W,

American Fork

,

UT

84003
Neil A.
I'll have to cut some sheetrock on the garage ceiling to make a closer determination of that is leaking. Customer states there is a possible kitchen, laundry or bathroom above her garage. I'll have to do some exploring from the garage and narrow it down. Valley doesn't do sheetrock repair, but I can make a referral. We finally discovered the leak coming from the kitchen hot emergency stop in the condo above the garage of unit #159. The leak is in #157. It's only my opinion, but the leak looks like it's been going on for a little while. The garage has three layers of 1/2" sheetrock in the ceiling. I got permission to go into 157 and I just tightened up the compression fitting on the emergency stop. It appears to have stopped the leak. However, it would be advisable to have the line replaced with a new emergency stop and get rid of the copper line.
Near
930 E,

American Fork

,

UT

84003
Chandlyr T.
We will run the snake down the outside cleanout. No warranty on drain cleaning. We were able to run the snake down the cleanout on the outside of the house. We ran water down while we ran the cable out. There wasn't a backup just preventative maintenance. No warranty on drain cleaning because we have no control over what is put down the drain.
Near
N 400 E,

American Fork

,

UT

84003