Dear Valley Plumbing and Drain Cleaning Customers:
Our Customer Referral Program has started and we want to make sure your friends and family members have the chance to receive the benefit of it. A reward program for our customers who recommend our business to friends and family is underway. All you have do is recommend us to people you know and let us serve them like we have served you. There is no plumbing project too small for us.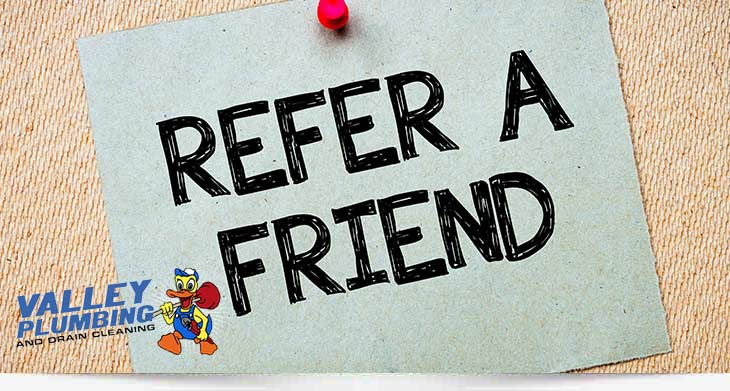 Refer our plumbing and drain cleaning services to your friends and family and have them mention your name when they call us. We will make sure to give them every discount possible for their job. As long as they live in Utah or Salt Lake County we will be able to solve all of their plumbing problems. We want to make sure your friends and family members are taken care of.
We know how important it is to have a good plumber in your home so we want to make it easy for your friends and family members to have the same experience as you. We also know that it is always good to have a friend tell you about someone they have used. It makes it a little easier to invite someone into your home that way. We thank you for giving us a chance to serve you and hope you will let others know about us.
Contact Information