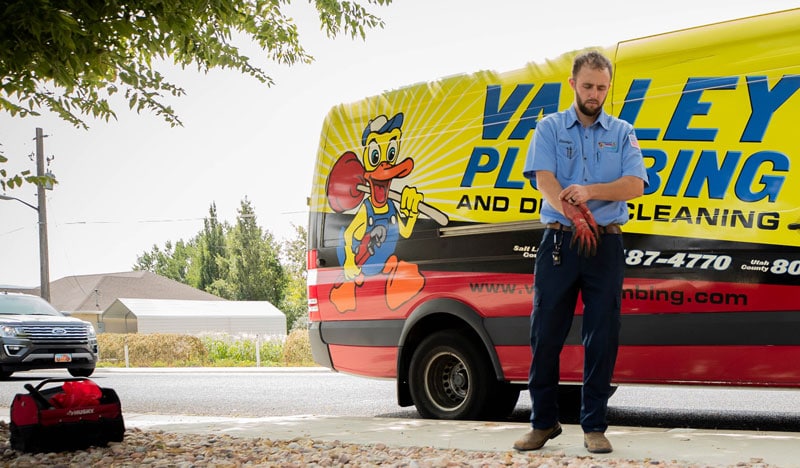 If you've lived in Lehi or the surrounding areas for some time, you know that residents throughout the area choose Valley Plumbing and Drain Cleaning for their plumbing services including state-of-the-art sewer video inspection. This modern technology gives us the ability to see into your drains and pipes allowing us to pinpoint problem areas. This means we can give you honest and accurate recommendations about the best way to solve your problems.
By guiding the waterproof camera into your lines, we can show you on a monitor what is happening inside of your pipes and explain our diagnosis to you. By being able to see the problem with your own eyes, you can feel confident you're booking a necessary service.
Everyone loves saving money. Save on your next service and view our promotions and coupons.
What Leads to Sewer Line Issues?
Your sewer lines are vulnerable to a host of conditions that can create problems within your pipes. Some of the major causes include:
Tree Roots: Tree roots grow towards a source of moisture and nutrients. Unfortunately, your pipes are exactly what tree roots are looking for. They will grow into your pipes causing cracks, blockages, and leaks.
Inconsistent Temperature: The conditions outside can affect your sewer line. For example, heavy rains, freezing conditions, and hot temperatures can all cause the ground to support your pipes to shift. Worst of all, your line is vulnerable to freezing.
Old pipes: If your pipes are deteriorating, you could be facing a problem very soon. Old, cast iron pipes are prone to breakage and cracking.
When Should I Schedule Sewer Video Inspection?
Sewer line inspection involves the use of a camera and monitor to identify and diagnose issues within your pipes or lines. We can use this technology to identify many issues including clogs, obstructions, leaks, and more that can affect your plumbing system's ability to rid itself of wastewater. If this becomes a recurring problem, you could be facing expensive repairs. Here are signs your sewer line needs help:
Sewer Odors
Slow drains
Lush green lawn grass
Swampy yard
Foundation cracks
How to Prevent Sewer Problems
There are steps you can take to avoid costly repairs. Here are some easy, effective steps you can take to keep your sewer line healthy:
Annual sewer line inspection
Using proper flushing practices
Avoid planting trees by your line
Pass by our customer reviews page to see what other homeowners in your area are saying about our team.
Why Work With Us
Emergency Service: We work around the clock to keep you comfortable. We understand that emergencies can happen any time of the day, which is why we have on-call technicians standing by to assist you.
Flat-Rate Pricing: We aspire to make every service hassle-free. That's why we offer straightforward pricing so that you don't have to be confused about what your service will cost.
Knowledgeable Experts: Our experts are experienced in a variety of plumbing services so you can feel confident knowing your service is being completed accurately every time.