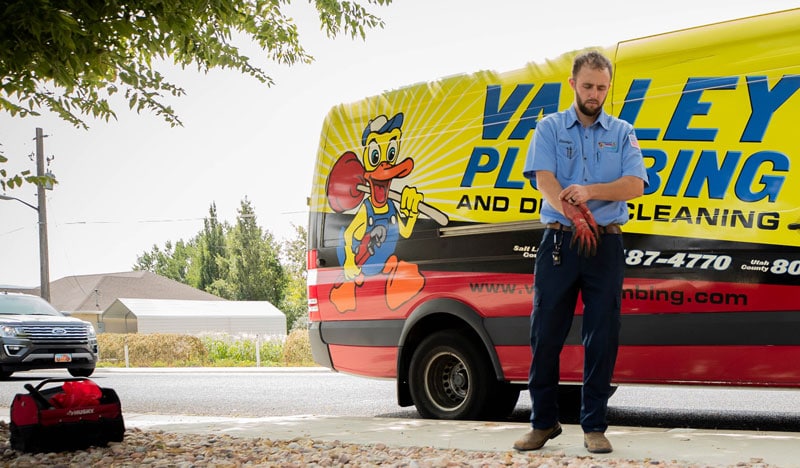 Slow flushing toilets and drains can be a sign of a big problem. What if you're hearing that terrible gurgling sound that means something is definitely wrong with your drains? You might have a clog or blockage that needs immediate attention. Our experts are highly-trained and able to make sure your drains are running seamlessly. Valley Plumbing and Drain Cleaning is your local Lehi drain cleaning company!
Save money on our most commonly cooked services when you visit our coupons page.
Signs You Should Schedule Professional Drain Cleaning
Drains serve an important function in your home. You may not have thought about it, but you use your drains every single day! Leaving them unchecked can lead to a whole host of issues that could seriously affect your plumbing. Our Lehi technicians can help you learn to identify the signs of a blocked drain so that you can catch the issue before it gets out of hand. These signs mean you have a budding plumbing issue:
Slow drains in your tub or sink
Standing water
Toilet takes a while to fill after flushing
Gurgling noises coming from your drains
If you've noticed any of these signs, call us right away!
Do I Need Rooter Service?
Rooter service is different from drain cleaning services. Rooter specifically deals with the problem of tree roots. Tree roots love damp, nutrient-rich water which is why they'll even grow through your drains to reach it. Here's when you should call us:
Widespread drainage issues throughout your home
Backups in tubs, showers, or washing machines
Problems flushing your toilet
Wastewater back-ups
Not ready to take our word for it? Visit our reviews page to see what experience others have had with us!
Why Work With Us
Fair, upfront prices: You have many choices when it comes to drain and sewer cleaning companies. That's why we make our pricing competitive without sacrificing on the quality you've come to expect from our expert technicians. We run regular online specials so that you can save extra!
Emergency service: Plumbing disasters can strike when you least expect it, even when you're in the middle of entertaining. Luckily, our on-call technicians are standing by around the clock to provide you with fast repairs and replacements.
Experienced team: Our plumbers are trained and experienced in a variety of plumbing methods and services. We are continually trained on the latest plumbing techniques and use state-of-the-art tools to bring you the best in class service. Your repair will always be accurate!