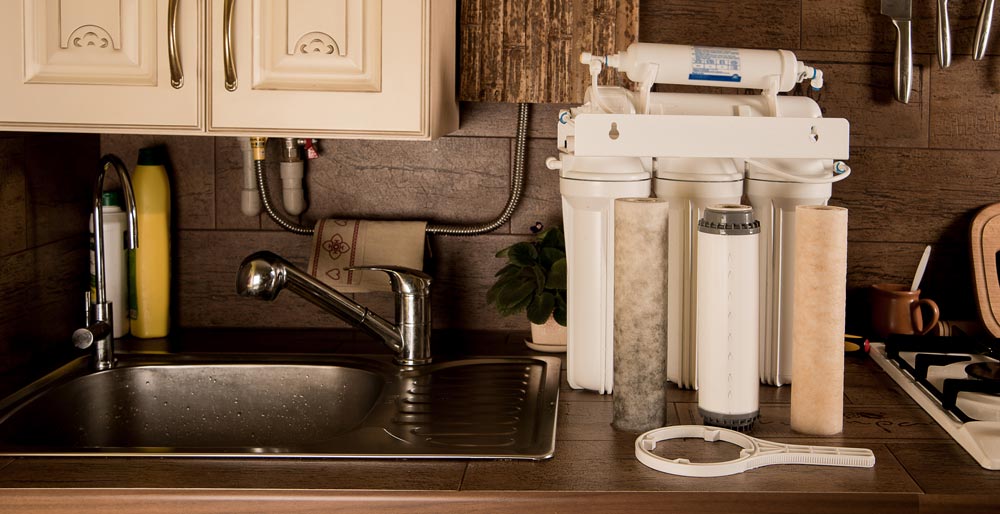 Whole-home water filtration systems have many benefits. If you want easy access to clean, great-tasting, water for drinking, a water filter can eliminate the need for bottled water. You'll enjoy the convenience of being able to turn on your faucet to fill up your water bottle and it's good for the environment. This isn't the only benefit though. You can expect shinier dishes, brighter laundry, and overall better experience when using your water-powered appliances. Regardless of your reasons, you're sure to enjoy the benefits of installing a water filtration system. The experts at Valley Plumbing and Drain Cleaning can help you browse the different systems and models available on the market and get it up and running in no time.
You can save big on your home services when you take advantage of our great online exclusive coupons.
The Benefits of a Whole Home Water Filtration System
Some homeowners might see this as an excess they don't really need, but in many cases, this system is necessary to deliver clean water out to your home. This may be especially true for more rural areas that don't have access to a city line. Whether you need one, or just want one to make your life more convenient, here are some of the benefits you can expect to enjoy:
Great-tasting water: Being able to turn on your faucet to fill your water bottle is convenient and will save you money. Best of all, it tastes great!
Minimize Skin Conditions: There are many compounds in your water that could be irritating skin conditions such as sensitive skin, eczema, and more. Enjoy softer, less irritated skin!
Save the Environment: If you're a bottled water person, you can reduce the amount of waste and plastic you leave behind with a water filter.
Reduce Plumbing Repairs: Hard minerals and chemicals can cause scale and build-up in your pipes and water-powered appliances. Get rid of those compounds with ease.
Disaster Readiness: In the case of a sewer line breach or a boil advisory from your city, you can continue to enjoy clean drinking water!
What Is a Reverse Osmosis Filter?
Reverse osmosis water filters are a popular option for many homeowners. These systems are often affordable and can purify your home's water with ease. There are many different types of filters out there, including the kind you can attach to individual taps. Depending on your needs, you may be considering one system over the other, but our experts can help you make the right choice.
Reverse osmosis is a filtration method that uses semi-permeable membranes to remove compounds from your water. The pressure is applied to reverse the flow of a solution, pushing it through the membrane which filters out the contaminants. Many believe that reverse osmosis has additional benefits for your health but you'll certainly enjoy the easy to use the system in your home.
Still unsure about whether we're the right team? You can visit our reviews page to learn more about how we work for you!
Why Work With Us
When it comes to home services, you deserve the best. Mediocre just isn't good enough. That's why we offer:
Emergency Service: One of the biggest concerns homeowners have about their plumbing is knowing what to do in case of emergency. We make it easy for you with our on-call technicians who can help you around the clock with your plumbing emergencies.
Knowledgeable Technicians: We understand how important it is to trust your plumber. We treat your home as if it was our own. Our experienced technicians can get the job done fast and get it done right so that you can feel confident about your home services.
Transparent Pricing: A free estimate goes a long way in giving you peace of mind. That's why we provide one before we start your service so that you aren't caught off guard by confusing pricing.