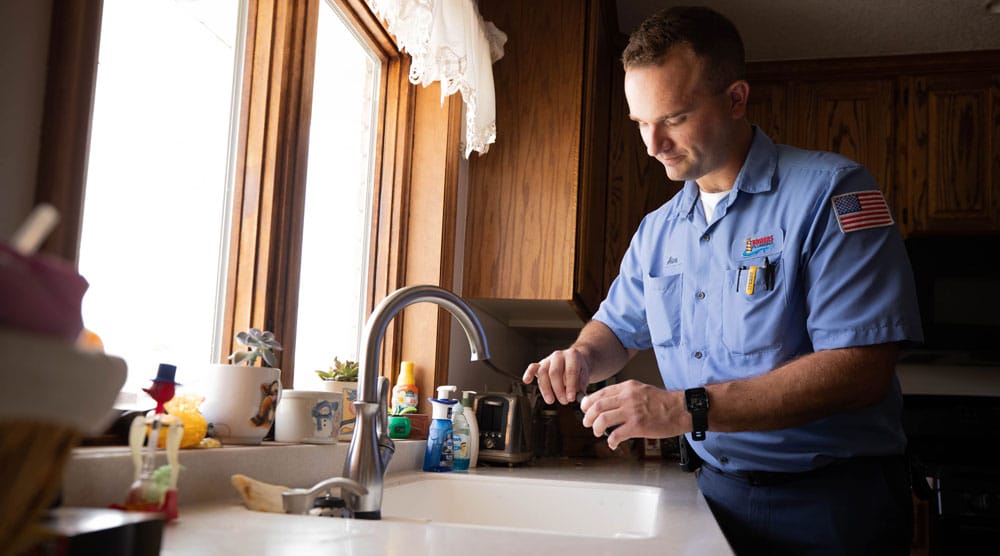 Are you remodeling your kitchen? Looking to give your kitchen a new look by installing a sink? Or do you need to repair your slow drains? Whatever your needs are, we can help transform your kitchen into an attractive, functioning space easily. Whether you want that desired farmhouse sink, or just want it to drain easily, the expert technicians at Valley Plumbing and Drain Cleaning can assist you. Our professionals work quickly and accurately, making sure everything is up to code. Our expert Lehi plumbers deliver expert repairs all while respecting your home.
Don't miss out on extra savings! Download our coupons to take advantage of our current promotions.
Avoiding Clogged Kitchen Sinks
Your kitchen sink gets a lot of use. It is at the heart of your daily preparations. If a frequently clogged kitchen sink is an issue, here are a few preventative steps you can take:
Clear build-up by pouring a solution of baking soda and vinegar or hot water down your drain. This solution will also get rid of any funny smells.
Avoid throwing cooking grease down your drains. It will cool, coagulate, and cause a blockage. Instead, try disposing of the grease.
Never throw unresolved food down your drains. Coffee grounds, fruit peels, chicken skin, and more can clog your drains.
Signs You Need Sink Repair
Whether you have a malfunctioning garbage disposal, a blockage, or a clogged sink, our keen technicians can assist you. From a plumbing standpoint, this is one of the most used plumbing appliances in your home so you want to be sure you can identify an issue. Here are signs you need repair:
Gurgling noises
Smelly drains
Malfunctioning garbage disposal
Low water pressure
Rusty faucet or water
Leaks
Haven't had a chance to share your thoughts with us. Visit our reviews page to tell us what you think.
Why Choose Us
24/7 Service: Plumbing emergencies always strike at an inconvenient time. Is there ever a convenient time? We understand how frustrating this can be, which is why we offer repairs around the clock. You don't have to wait days for help to arrive, we'll get someone out to your home as soon as possible!
Expert Team: Our team of knowledgeable technicians have the experience and tools to deliver quality repairs. We know what we're doing! When you work with us, you can expect accuracy and professionalism. We are licensed and trained to get the job done fast!
Upfront Pricing: No one appreciates an unpleasant surprise. That's why we inform you of our pricing before we even get started so that you'll know exactly what to expect. We offer free estimates so that you'll feel comfortable scheduling your service. Best of all, our prices are affordable.