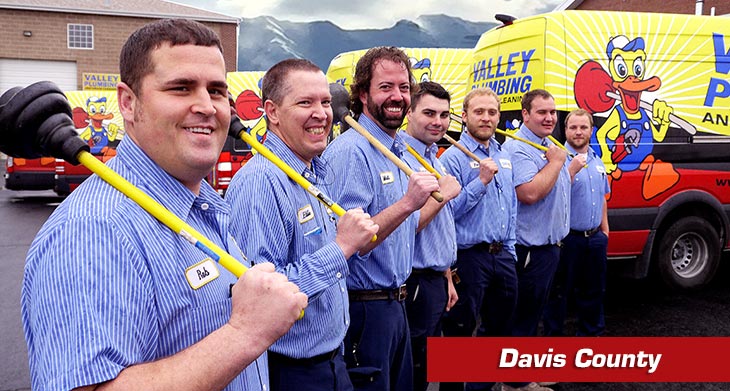 If you have been looking for a reliable plumber in Davis County, UT, you've come to the right place. Valley Plumbing and Drain Cleaning is committed to delivering high-quality solutions to your toughest plumbing problems.
Our services are carried out using safe and proven techniques, by experienced plumbing and drain specialists. We always prioritize your safety and comfort and only provide solutions that meet your specific needs.
Save on your next service with our latest coupons.
Call Us for Dependable Service in Davis County
We only carry out reliable plumbing and drain cleaning services. Davis County residents in the following areas - give us a call to discuss your needs!
Fruit Heights
South Weber
Sunset
West Bountiful
West Point
Professional Plumbing Repair & Installation
Our team is happy to speak with you about your plumbing needs. Whether you need to remove a clog, repipe your home, remodel your bathroom, or anything in between, we'll get the job done.
If you are struggling with a recurring drain issue, we've got the technology and the skill to help your plumbing lines return to normal in no time. Depending on the problem, we will use either a mechanical snake or high-pressure water jetting (hydrojetting) to remove the blockage. We also provide video sewer camera inspection that allows us a detailed look into your plumbing lines so we are able to locate blockages or damaged areas.
What separates us from other plumbing contractors in the area is our focus on providing personal attention to each of our customers. We take the time to listen to your needs and develop the best solution for you.
When you work with us, you can always trust in our accurate solutions and commitment to quality. We work with your best interests in mind so you can enjoy the peace of mind you deserve!
But don't just take our word for it! See what your neighbors are saying about our work by reading their reviews.
Need Water Heater Repair or Replacement?
Is your water heater not working as it used to? If your water heater is 8-10 years old and experiencing problems, we recommend having it replaced by a professional. A failing water heater can end up costing you more in energy and repair costs over time. Our water heater specialists will help you choose and install a new unit that best fits your household's hot water needs.
When is opting for repair the right choice? We do make every effort to carry out repair over replacement when possible. We can repair your water heater if installing a new one is out of the budget at the moment. We provide quality repairs that can help extend the life of your water heater and give you more time until replacement is imperative.