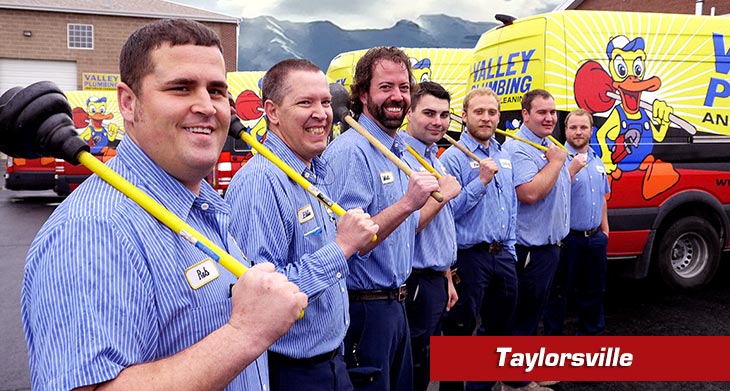 Your plumbing plays a vital role in your comfort at home. That's why it is important to properly maintain your home's plumbing, drainage, and pipe systems. However, even with appropriate care malfunctions and breakdowns will still occur from time to time.
At Valley Plumbing and Drain Cleaning, we understand and value the importance of a well-functioning plumbing system. We have a team of highly-trained, experienced, and knowledgeable plumbers that can provide you with exceptional plumbing, water heater, and drain cleaning services in Taylorsville, UT. No matter the complication, time or day of the week, we've got you covered. Call us today and take advantage of the fact that you won't have to pay a service charge.
Score additional savings when you access our current promos and coupons.
What Are the Benefits of Water Leak Detection Services?
One of the most troublesome plumbing problems you may have is a water leak. Even a slow leak, if not treated immediately, can cause significant damage to your home and to your pocket. Water damage, higher water bills, and even mold growth are all just some of the insidious effects. Detecting the leak is the first step in the repair process. Using our rapid, effective methods, we can quickly locate the damaged area without having to tear away flooring, drywall, or other components in your home. This reduces the damage to your home and allows us to repair the broken pipe more quickly and with less overall cost to you.
In addition, because we can complete the repair work more quickly, the risk of water damage and mold growth is reduced. If you suspect a water leak, take advantage of these benefits by contacting our office today for immediate service.
When Will You Need Professional Drain Cleaning?
With our professional drain cleaning services, we can clear away bothersome clogs in your pipes and drains. These clogs may limit your use of your plumbing features, and they can often cause backup or overflow issues that result in water damage. You may notice that you need professional drain cleaning services if the water does not flow down your drains at a reasonable rate. In some cases, the water may not flow down the drain at all. This problem may be experienced in sinks, bathtubs, and shower basins.
In addition, clogs that develop in your toilets may limit the ability for you to flush the toilet as desired. If you notice any of these signs of a clogged pipe, our team can quickly remedy the situation with professional drain cleaning services.
Read how other customers have benefited from our services in our reviews.
Does Your Water Heater Need Repairs or Replacement?
It may not always be apparent when your water heater needs repair or replacement. That's why it is extremely important to always be mindful and inspect your unit regularly for problems. If you suspect issues, call us right away. Our plumbers can perform a thorough inspection and recommend the best course of action.
Look out for the following signs:
Unit is older than 10 years old and needs frequent repairs.
Little to no hot water produced.
Temperature inconsistencies.
Water leaks coming from the unit.
Brown and odd smelling water.
Local Reviews
for Taylorsville, UT
Valley Plumbing and Drain Cleaning
Rated
4.9
out of 5 stars based on
30
customer reviews
Powered by Nearby Now
---
Great service
Christie

-

Taylorsville

,

UT



Review of Valley Plumbing and Drain Cleaning
We received very prompt and expert service. Zac was very professional and efficient in meeting our needs.
---
Good plumber
Michael

-

Taylorsville

,

UT



Review of Valley Plumbing and Drain Cleaning
Did work correctly
---
Pull toilet and clean plugged sewer line
Christine

-

Taylorsville

,

UT



Review of Valley Plumbing and Drain Cleaning
My experience with Valley Plumbing has been awesome. Each technician that has performed work for me has been knowledgeable and friendly. They do great work!
---
Great job
Karen

-

Taylorsville

,

UT



Review of Valley Plumbing and Drain Cleaning
Pleasant knowledgeable serviceman. Explained what needed to be done and as far as I can see did it well.
---
Absolutely great
Lisa

-

Taylorsville

,

UT



Review of Valley Plumbing and Drain Cleaning
---
Rhett J.
Dave and Elaine showed us in to their mechanical closet. Dave addressed his concern with the the hot water stop valve that links to the humidifier. It wasn't actively leaking but has been leaking on and off. We installed a new valve in its place. Upon completion of job Elaine and Dave decided to purchase 1 year membership with us.
Near
Kaitlyn Ann Cir,

Taylorsville

,

UT

84123
Dean R.
Had to install the drainage to the tub in the master bedroom. There was no drainage connected to the tub. Replace drain in tub and installed pee trap for the tub and connected to the drain pipe under the trailer. Tested and everything is working great.
Near
Mt Baldy Dr,

Taylorsville

,

UT

84123
Rhett J.
Needed new ice maker shut off valve, replacement was completed and there are no leaks
Near
Middlesex Rd,

Taylorsville

,

UT

84123
Dean R.
Have a main line sewer clog. Pulled toilet in hall bathroom and ran auger down drain. Ran it a couple time trying to clear clog. After future investigations the main line run to the other toilet, but there is a wye that everything runs too that I am unable to clear. Angie contacted property management about the situation and Angie will be contacting the builder of the mobile home to come up with a remedy to fix the plumbing issue or she will have us come back out to estimate to repipe drainage on the mobile home.
Near
Mt Baldy Dr,

Taylorsville

,

UT

84123
hartjeremy0322@gmail.com
I will take out the tees from under the sink and put in 3 real mixing valves under each sink to get the water temp where it is supposed to be for health inspector
Near
S Redwood Rd,

Taylorsville

,

UT

84123