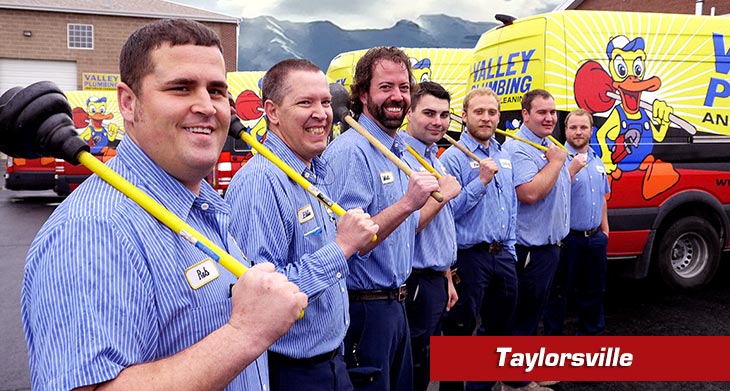 Your plumbing plays a vital role in your comfort at home. That's why it is important to properly maintain your home's plumbing, drainage, and pipe systems. However, even with appropriate care malfunctions and breakdowns will still occur from time to time.
At Valley Plumbing and Drain Cleaning, we understand and value the importance of a well-functioning plumbing system. We have a team of highly-trained, experienced, and knowledgeable plumbers that can provide you with exceptional plumbing, water heater, and drain cleaning services in Taylorsville, UT. No matter the complication, time or day of the week, we've got you covered. Call us today and take advantage of the fact that you won't have to pay a service charge.
Score additional savings when you access our current promos and coupons.
What Are the Benefits of Water Leak Detection Services?
One of the most troublesome plumbing problems you may have is a water leak. Even a slow leak, if not treated immediately, can cause significant damage to your home and to your pocket. Water damage, higher water bills, and even mold growth are all just some of the insidious effects. Detecting the leak is the first step in the repair process. Using our rapid, effective methods, we can quickly locate the damaged area without having to tear away flooring, drywall, or other components in your home. This reduces the damage to your home and allows us to repair the broken pipe more quickly and with less overall cost to you.
In addition, because we can complete the repair work more quickly, the risk of water damage and mold growth is reduced. If you suspect a water leak, take advantage of these benefits by contacting our office today for immediate service.
When Will You Need Professional Drain Cleaning?
With our professional drain cleaning services, we can clear away bothersome clogs in your pipes and drains. These clogs may limit your use of your plumbing features, and they can often cause backup or overflow issues that result in water damage. You may notice that you need professional drain cleaning services if the water does not flow down your drains at a reasonable rate. In some cases, the water may not flow down the drain at all. This problem may be experienced in sinks, bathtubs, and shower basins.
In addition, clogs that develop in your toilets may limit the ability for you to flush the toilet as desired. If you notice any of these signs of a clogged pipe, our team can quickly remedy the situation with professional drain cleaning services.
Read how other customers have benefited from our services in our reviews.
Does Your Water Heater Need Repairs or Replacement?
It may not always be apparent when your water heater needs repair or replacement. That's why it is extremely important to always be mindful and inspect your unit regularly for problems. If you suspect issues, call us right away. Our plumbers can perform a thorough inspection and recommend the best course of action.
Look out for the following signs:
Unit is older than 10 years old and needs frequent repairs.
Little to no hot water produced.
Temperature inconsistencies.
Water leaks coming from the unit.
Brown and odd smelling water.