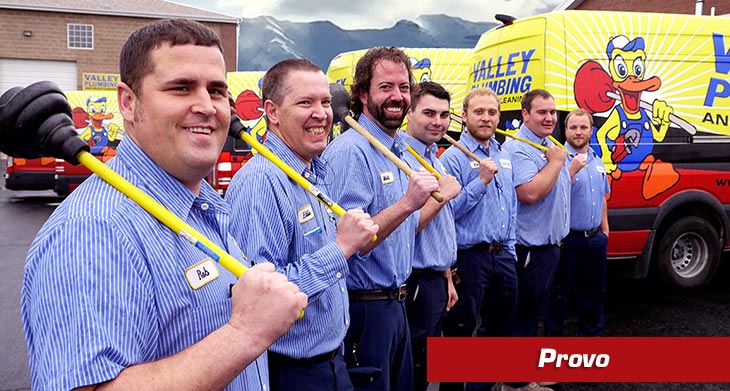 If you've been experiencing plumbing problems, look no further than to Valley Plumbing and Drain Cleaning. We know that a plumbing emergency can arise anytime, day or night. That is why we have a team of experienced, licensed plumbers on hand 24 hours a day, 7 days a week to handle any plumbing emergency. Count on us to deliver quality plumbing, water heater, and drain cleaning services for your Provo, UT home. Your 100% satisfaction is our gratification and goal!
Save even more on your next service when you use our online coupons and specials.
What Are the Benefits of Water Leak Detection Services?
Water leaks are bad news for homeowners as they can cause mold and rot away wood. That's why having your home's pipes checked for water leaks is important.
Other benefits to consider include:
Early detection: Early detection allows you to put a stop to water leaks before they cause major problems which will cost you even more money.
Cause of the water leak: We don't just find the water leak. We find out what caused it in the first place. Maybe it was a busted pipe or perhaps you had a bad clog. Whatever it was, we will help you get to the bottom of it.
Non-destructive:Water leak detection is non-destructive and safe for your home. There is no need to tear up your floors or lawn to find the leak.
Exact location: Sometimes, water leaks can run downpipes, making it appear as if the leak were coming from a different area. Water leak detection helps to pinpoint the exact location.
Signs You Need a Professional Drain Cleaning
Some pipe clogs can be handled with simple drain cleaning chemicals. Other times, clogs have to be handled by professionals. If your drains are slow or clog frequently, this is a sign that you have a problem that will not go away on its own. If you have a lot of pipes in your home that is draining slowly or is clogged up, this could be a sign that one of your main pipelines is backed up.
Failure to have a professional clean your pipes could lead to a sewage backup on your lawn. The most common sign, however, is if the clogs in a drain don't respond to cleaning chemicals purchased at a store. This is a sign that the buildup has to be professionally removed.
Check out our customer reviews to find out what area homeowners are saying about our services.
Do You Need to Repair or Replace Your Water Heater?
Your water heater is one of the most important aspects of your home. If your water heater goes out, you are forced to go without hot water. Thankfully, there are signs that you can look for that will let you know if your water heater needs to be replaced or repaired.
If any of these characterize your water heater, it may be time for a repair or replacement:
Inconsistent temperatures
Little to no hot water
Water leaks
Frequent breakdowns
More than 15 years old
If you are unsure if your water heater is in need of extra attention, call the professionals at Valley Plumbing and Drain Cleaning. We will be glad to thoroughly inspect your unit and provide you with the best course of action.
Local Reviews
for Provo, UT
Valley Plumbing and Drain Cleaning
Rated
4.7
out of 5 stars based on
48
customer reviews
Powered by Nearby Now
---
Great experience!
cactus_happening

-

Provo

,

UT



Review of Valley Plumbing and Drain Cleaning
Yes, yes, yes!! Thank You! Very, very pleased with Valley Plumbing and their attitudes and spirits. Neil brought Ian with him so they could hopefully lift it up and out without having to do anything with the shelves. I didn't know, til they were done, that Ian is a champion weight lifter. He literally picked it up, after they had drained it, and carried it outside on his shoulder by himself. I didn't see him but I was amazed. I would call them back for any plumbing needs in a heartbeat! Again, what a difference a company makes!
---
Great Service, extremely expensive
Beau

-

Provo

,

UT



Review of Valley Plumbing and Drain Cleaning
The service rep, Spencer, was amazing. Cannot say enough good things about him, professional, timely, great communication, etc. A very expensive service though.
---
Very good service
Michael

-

Provo

,

UT



Review of Valley Plumbing and Drain Cleaning
---
Great
Patt

-

Provo

,

UT



Review of Valley Plumbing and Drain Cleaning
Timely and very good!@ We would definitely call again
---
Great service, good price
Tom

-

Provo

,

UT



Review of Valley Plumbing and Drain Cleaning
Neil was kind, efficient, helpful and provided great service. He was patient with the extra "helpers" at our house both of the two legged and for legged kind.
---
Rhett J.
We have a major clog in the drain, its backing in both the lower level shower and the lower leave kitchen drain. remove the toilet and ran my 100 ft auger approx 50 ft. I also ran the auger down the shower to remove any build up from when the drain backed up. I then reset the toilet and used white caulk for the finish (recommended not. To use for 24 hours). I checked the water pressure and noticed its high 98psi. I informed the home owner about the water pressure.
Near
N Canyon Rd,

Provo

,

UT

84604
spklott@gmail.com
They want us to camera their main sewer line. I had to go toetoilet is in the basement. We found roots in the Nose-on piece connecting from the city main to the house. It's a short piece of pipe that connects the house sewer to the city sewer. The root buildup is about 65' from the basement toilet. The toilet has been taken off so that it can be accesses. Our excavation team will be out 8-9. I left a pink dot on the street where I located the root ball with my camera
Near
E 420 N St,

Provo

,

UT

84606
Hardmancodey@gmail.com
Pull old shower cartridge and replace with new cartridge
Near
S 850 E,

Provo

,

UT

84606
spklott@gmail.com
Kitchen sink is backing up when in use also with the dishwasher. I will run my cable down as an attempt to unclog the drain The old tub plug contraption doesn't work anymore. I suggest replacing it with a new waste piece that can plug from there. Or, You can just use a rubber tub stopper to have a tub
Near
N Canyon Rd,

Provo

,

UT

84604
spklott@gmail.com
There is a blockage in the main line causing slow flow. It also tends to back up here and there. I will run my mainline cable through there inside clean out in the basement as an attempt to unclog. I ran my cable down their sewer line and pulled out some roots. I ran my camera down as well and at about 30 feet deep it just turns into water. There seems to be a massive belly from the front steps out to the street. I made a small marking on the step with a black marker to show right where the belly starts. Major sewer repair needed. I highly recommend to have your sewer line replaced/fixed.
Near
E 420 S St,

Provo

,

UT

84606