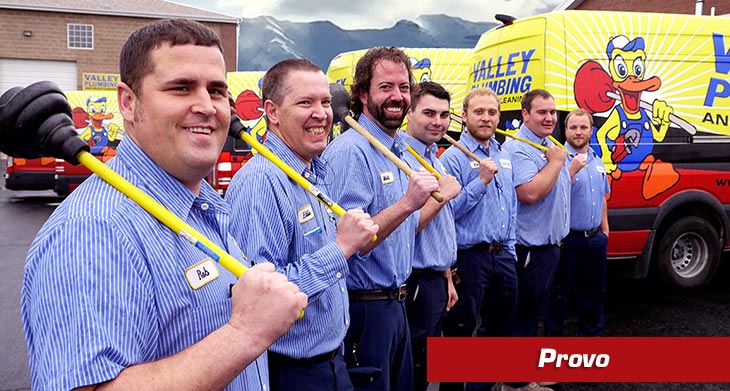 If you've been experiencing plumbing problems, look no further than to Valley Plumbing and Drain Cleaning. We know that a plumbing emergency can arise anytime, day or night. That is why we have a team of experienced, licensed plumbers on hand 24 hours a day, 7 days a week to handle any plumbing emergency. Count on us to deliver quality plumbing, water heater, and drain cleaning services for your Provo, UT home. Your 100% satisfaction is our gratification and goal!
Save even more on your next service when you use our online coupons and specials.
What Are the Benefits of Water Leak Detection Services?
Water leaks are bad news for homeowners as they can cause mold and rot away wood. That's why having your home's pipes checked for water leaks is important.
Other benefits to consider include:
Early detection. Early detection allows you to put a stop to water leaks before they cause major problems which will cost you even more money.
Cause of the water leak. We don't just find the water leak. We find out what caused it in the first place. Maybe it was a busted pipe or perhaps you had a bad clog. Whatever it was, we will help you get to the bottom of it.
Non-destructive.Water leak detection is non-destructive and safe for your home. There is no need to tear up your floors or lawn to find the leak.
Exact location. Sometimes, water leaks can run down pipes, making it appear as if the leak were coming from a different area. Water leak detection helps to pinpoint the exact location.
Signs You Need a Professional Drain Cleaning
Some pipe clogs can be handled with simple drain cleaning chemicals. Other times, clogs have to be handled by professionals. If your drains are slow or clog frequently, this is a sign that you have a problem that will not go away on its own. If you have a lot of pipes in your home that are draining slow or are clogged up, this could be a sign that one of your main pipe lines is backed up.
Failure to have a professional clean your pipes could lead to a sewage backup on your lawn. The most common sign, however, is if the clogs in a drain don't respond to cleaning chemicals purchased at a store. This is a sign that the buildup has to be professionally removed.
Check out our customer reviews to find out what area homeowners are saying about our services.
Do You Need to Repair or Replace Your Water Heater?
Your water heater is one of the most important aspects of your home. If your water heater goes out, you are forced to go without hot water. Thankfully, there are signs that you can look for that will let you know if your water heater needs to be replaced or repaired.
If any of these characterize your water heater, it may be time for a repair or replacement:
Inconsistent temperatures.
Little to no hot water.
Water leaks.
Frequent breakdowns.
More than 15 years old.
If you are unsure if your water heater is in need of extra attention, call the professionals at Valley Plumbing and Drain Cleaning. We will be glad to thoroughly inspect your unit and provide you with the best course of action.
Local Reviews
for Provo, UT
Rated
4.6
out of 5 stars based on
17
customer reviews
Powered by Nearby Now
---
Great service, not so awesome price.
Phyllis

-

Provo

,

UT



Lucas found the problem quickly , was very professional
---
Response from Valley Plumbing and Drain Cleaning:

Thank you for the great review Phyllis! We are so pleased to hear you had a good experience with our team. Call us anytime! All the best, Valley Plumbing
---
Mrs
Bronia

-

Provo

,

UT



Very professional, and thorough. After the bill was paid, they took extra time to help us identify some potential problems.
---
Response from Valley Plumbing and Drain Cleaning:

Thank you for the wonderful review! We are thrilled to hear you had a great experience with our team. Call us anytime! Best Regards, Valley Plumbing
---
Great service. No more clogg
Margine

-

Provo

,

UT



---
Response from Valley Plumbing and Drain Cleaning:

Thank you for the great review Margine! We appreciate your feedback. Call us anytime! Best Regards, Valley Plumbing
---
It was a wonderful experience. I was glad that I used the to fix my leaky toilet.
Margine

-

Provo

,

UT



---
Great communication and service, good prices
Collin

-

Provo

,

UT



I really appreciated Al's willingness to talk through the various options we had, price things out, etc. There was no push to get us to do more than we wanted to and he did great work replacing our main shutoff and pressure regulator.
---
Jon .
Price to Jett building from roof vents and 2 clean outs in parking area we will also Jett the secondary lines to the sewer main. pricing is if a maintenance agreement is made for at least 2 times a year. The secondary lines would only be jetted upon request so the maintenance price will vary only if secondary's are cleaned. 11-13-18 Secondary lines are only the drain lines that penetrate the roof that are not the main line. Price includes the camera of the main lines NO SECONDARY LINES will be camera'd. We were able to Jett a little faster than originally expected and can do the whole maintenance for 825.00
Near
W 200 S,

Provo

,

UT

84601
Jon .
The faucets in the food court area is on the hot side the faucet in the rotisserie is on the hand sink the faucet in the staging area is the 3 compartment sink the faucet in the food court the stem on the hot side of the 3 compartment sink is leaking it needed a new gasket on the stem so I replaced it. Does not leak now the 3 compartment sink in the staging area the nut on the deck that hold the faucet on is loose and neeeded tightened up it does not leak now. The prep sink in the rotisserie area would not shut off on the hot side so I turned the water off to it and removed the stem found that there was no gasket on the bottom of the stem so I installed a gasket and turned the water back on and tested it no leaks and it shuts off now.
Near
S University Ave,

Provo

,

UT

84601
Jon .
The mop sink faucet hot stem is broken and needs to be replaced, I turned the hot water off coming out of the water heater released the pressure in the faucet removed the stem and found the right stem and installed the new stem then I turned the water back on to the faucet and tested the stem turned the water on and off several times it shuts off correctly now there is a 90 day warranty on labor and a one year warranty on parts.
Near
S University Ave,

Provo

,

UT

84601
Jon .
Tub diverter needs to be replaced with a pop up assembly. Moen valve is leaking a little and needs a new cartridge. There is also a small leak coming from somewhere behind the wall causing the wood to get wet. Moen bantford trim kit was installed.
Near
N 100 E,

Provo

,

UT

84606
Jon .
Expansion tank (2 gallon) on the water heater has failed and needs to be replaced. When water is used on any fixture it causes the Pressure Reducing Valve to "hum" that is in the garage. This also needs to be replaced. Fill valve on hallway bathroom toilet is slow at filling, and has a hammering sound when it shuts off. Basement toilet and main level need a new flapper.
Near
Edgewood Dr,

Provo

,

UT

84604