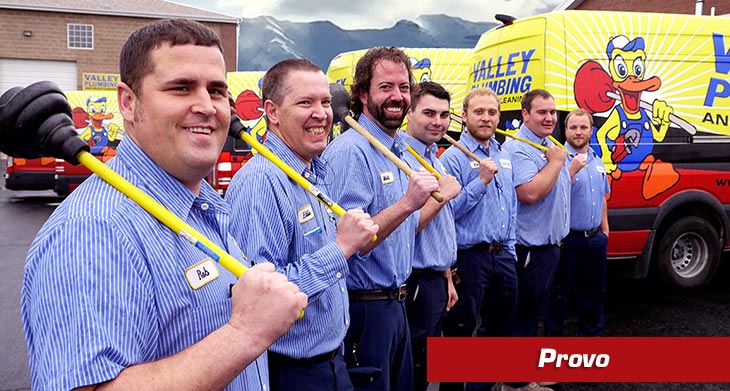 If you've been experiencing plumbing problems, look no further than to Valley Plumbing and Drain Cleaning. We know that a plumbing emergency can arise anytime, day or night. That is why we have a team of experienced, licensed plumbers on hand 24 hours a day, 7 days a week to handle any plumbing emergency. Count on us to deliver quality plumbing, water heater, and drain cleaning services for your Provo, UT home. Your 100% satisfaction is our gratification and goal!
Save even more on your next service when you use our online coupons and specials.
What Are the Benefits of Water Leak Detection Services?
Water leaks are bad news for homeowners as they can cause mold and rot away wood. That's why having your home's pipes checked for water leaks is important.
Other benefits to consider include:
Early detection: Early detection allows you to put a stop to water leaks before they cause major problems which will cost you even more money.
Cause of the water leak: We don't just find the water leak. We find out what caused it in the first place. Maybe it was a busted pipe or perhaps you had a bad clog. Whatever it was, we will help you get to the bottom of it.
Non-destructive:Water leak detection is non-destructive and safe for your home. There is no need to tear up your floors or lawn to find the leak.
Exact location: Sometimes, water leaks can run downpipes, making it appear as if the leak were coming from a different area. Water leak detection helps to pinpoint the exact location.
Signs You Need a Professional Drain Cleaning
Some pipe clogs can be handled with simple drain cleaning chemicals. Other times, clogs have to be handled by professionals. If your drains are slow or clog frequently, this is a sign that you have a problem that will not go away on its own. If you have a lot of pipes in your home that is draining slowly or is clogged up, this could be a sign that one of your main pipelines is backed up.
Failure to have a professional clean your pipes could lead to a sewage backup on your lawn. The most common sign, however, is if the clogs in a drain don't respond to cleaning chemicals purchased at a store. This is a sign that the buildup has to be professionally removed.
Check out our customer reviews to find out what area homeowners are saying about our services.
Do You Need to Repair or Replace Your Water Heater?
Your water heater is one of the most important aspects of your home. If your water heater goes out, you are forced to go without hot water. Thankfully, there are signs that you can look for that will let you know if your water heater needs to be replaced or repaired.
If any of these characterize your water heater, it may be time for a repair or replacement:
Inconsistent temperatures
Little to no hot water
Water leaks
Frequent breakdowns
More than 15 years old
If you are unsure if your water heater is in need of extra attention, call the professionals at Valley Plumbing and Drain Cleaning. We will be glad to thoroughly inspect your unit and provide you with the best course of action.
Local Reviews
for Provo, UT
Valley Plumbing and Drain Cleaning
Rated
4.7
out of 5 stars based on
53
customer reviews
---
Great experience
Jim

-

Provo

,

UT

84604



Review of
Valley Plumbing and Drain Cleaning
---
Fabulous to deal with
Patsy

-

Provo

,

UT

84604



Review of
Valley Plumbing and Drain Cleaning
Great person to have in my home. Very polite and tried to get me a good replacement cost for my toilet.
---
Great service
Steven

-

Provo

,

UT

84601



Review of
Valley Plumbing and Drain Cleaning
Luis arrived on time, kept work area clean and completed the task fast and as agreed.
---
Great service
Otto

-

Provo

,

UT

84604



Review of
Valley Plumbing and Drain Cleaning
Good experiencie good work good man
---
Great
Barbra

-

Provo

,

UT

84606



Review of
Valley Plumbing and Drain Cleaning
I am very please with the work he. It was worthwhile spending the money for peace of mind. Thanks Barbaracofer
---
Pedro U.
Clear laundry drain combo with kitchen sink drain run about 60 feet of cable to clear line
Near

Devonshire Dr,

Provo

,

UT

84604
Dean R.
Pulled and rest the toilet in the upstairs hall bathroom. It was leaking into the basement apartments and was creating water pockets in the paint. So installed a thin and a thick wax gasket as well as new closet bolts and a new supply line for the toilet. Also a new closet bolt caps for the toilet. Tested and there is no leaks.
Near

W 100 S,

Provo

,

UT

84601
McKay B.
I removed the old faulty not working shower cartridge for the Moen posi-temp shower valve. Upon removing the shower cartridge I noticed the inside of the valve was very rough and dirty and also had bits of the rubber gaskets jammed into the side ports that allow water in to the valve. I cleaned out the valve thoroughly and then installed the new Moen Posi-temptemp cartridge and tested it both on my own and with the homeowners son. This price included the cost of the cartridge as well as the labor required to install it. Parts and labor are warrantied for one year under Valley plumbing.
Near

400 N,

Provo

,

UT

84601
Luis G.
I replaced the shower valve in the main level hallway bathroom. I replaced it with a customer supplied shower valve. I had to cut some sheet rock behind the shower wall in the closet. Are used a wall cover over the hole. Are used copper to sweat the new Molly shower valve to the old copper piping. I checked for leaks no leaks found. I called around the shower spout, and cleaned up nicely.
Near

E 150 N,

Provo

,

UT

84606
McKay B.
This price is to install the customer supplied washer/dryer up to the existing washer/dryer connection points. This price includes all labor required to complete the work. Valley plumbing does not warranty customer supplied appliances.
Near

S 1500 W St,

Provo

,

UT

84601