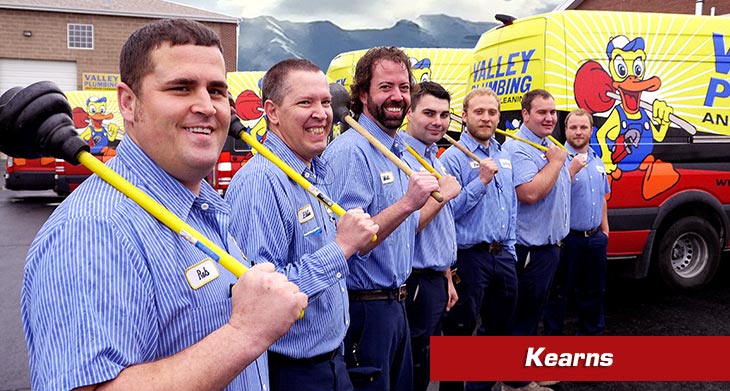 The professionals at Valley Plumbing and Drain Cleaning provide a wide array of plumbing services for your Kearns, UT home. Keeping your home's plumbing working well encourages a more comfortable living experience. We are available to you around the clock to make sure that your pipes, water heater and drains are all working to the best of their ability to provide this experience for you and your loved ones. Count on us to provide you with quality plumbing, water heater, and drain cleaning services. We strive to leave you 100% satisfied.
Snag additional savings on your next service when you use access our online promotions and coupons.
What Are the Key Benefits of Professional Water Leak Detection Services?
Finding a leak that you might have otherwise missed and would have gone unnoticed means that you will be saving money over time. If you pay for your water or get your water from a well, you're still paying for each gallon that comes into the home through a water pump.
You can prevent a lot of future water damage and flooding by having water leak detection done within the home. Even a small leak can cause a ton of water damage, ruining and destroying floorboards and walls in the area of the leak.
By getting water leak detection, you are also preventing future pest and termite problems. Termites love wet, rotting wood. Flooding in an area can make it a prime feeding and breeding ground for these insects.
Detecting a leak means that it will be fixed quickly. Fixing the problem prevents mold from growing in the area that could otherwise become an enormous problem. Mold can be dangerous to live around, especially for people who have breathing problems.
What Signs You Need Professional Drain Cleaning?
When you have issues with the drain system in your home, it could cause an unsanitary and uncomfortable situation for the whole family. One way to tell if you're dealing with drain clogs is if you see backup any time you use water or flush the toilet. Gurgling sounds and other loud whistling noises coming from the drains themselves could be a sign that the drains are clogged and need to be expertly cleaned by our plumbers.
Find out how we've helped other customers in our reviews and testimonials.
Does Your Water Heater Need Repairs or Replacement?
If your shower heads and faucets suddenly stop producing hot water, you could be having issues with the water heater. Many people will notice a gradual change in their hot water in the home, since it will start off very hot and gradually get lukewarm and cold quite quickly. If you're noticing any of these things, you may want to think about contacting our experts to have the water heater repaired or replaced with a new tank or model so that it can provide the home with adequate hot water.
Local Reviews
for Kearns, UT
Valley Plumbing and Drain Cleaning
Rated
4.7
out of 5 stars based on
18
customer reviews
Powered by Nearby Now
---
Friendly and efficient
Brook

-

Kearns

,

UT



Review of Valley Plumbing and Drain Cleaning
Came right out fixed the problem and cleaned up. Very little to worry about, they took care of everything. Just wasn't expecting to pay the whole bill before insurance helped out. Left my bank account dry.
---
Theodora
Theodora

-

Kearns

,

UT



Review of Valley Plumbing and Drain Cleaning
Great service
---
Great service
Andrew

-

Kearns

,

UT



Review of Valley Plumbing and Drain Cleaning
Alex was very professional and informative. He provided service that was exceptional. He explained the process very well and was very courteous
---
Great
Tami

-

Kearns

,

UT



Review of Valley Plumbing and Drain Cleaning
He and McLaren did great! Thank you
---
Great service, took care of my issue with my drain.
Scott

-

Kearns

,

UT



Review of Valley Plumbing and Drain Cleaning
Josh did a great job and helped walk me through some options for some future plumbing work in my basement.
---
Pedro U.
This estimate is to repair a 2" drain line from the kitchen sink to the bottom basement slab the drain is loose from the fitting under the slab
Near
Borax Ave,

Kearns

,

UT

84118
Jessie S.
His hose bib broke so we had to cut it out and replaced it we replaced it with a brand new non-freeze hose bib after we were done we tested everything everything runs good.
Near
S 5415 W,

Kearns

,

UT

84118
Ryan G.
We will install a new gas line for the gas range from the mechanical room in the basement to the floor behind the stove. We will tie into the existing gas line in the mechanical room and run a 1/2" CSST line through the ceiling in the basement and eventually up through the floor of the kitchen. We will need to open the ceiling in the basement to gain access to the route that we need to take the gas line through. We will terminate with a ball valve and check for leaks. The return trip to install the range when it arrives is not included in this price.
Near
S Brass Dr,

Kearns

,

UT

84118
Randy S.
Snaked customers main line and ran a camera. Recommended jetting her main line if and more problems in the future
Randy S.
Rebuilt hose bib on the front of the house checked water pressure its at 65psi
Near
Mountain Men Dr S,

Kearns

,

UT

84118