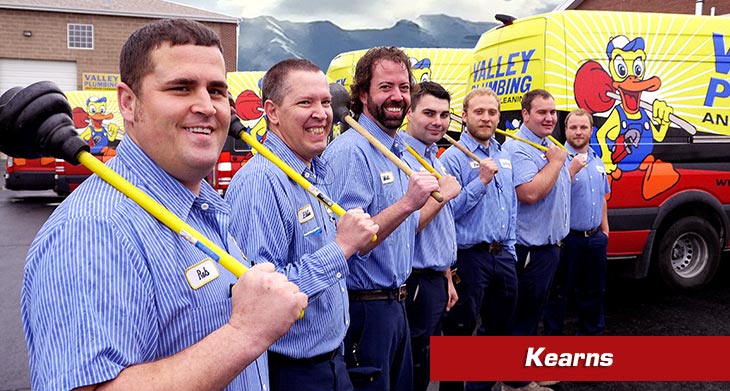 The professionals at Valley Plumbing and Drain Cleaning provide a wide array of plumbing services for your Kearns, UT home. Keeping your home's plumbing working well encourages a more comfortable living experience. We are available to you around the clock to make sure that your pipes, water heater and drains are all working to the best of their ability to provide this experience for you and your loved ones. Count on us to provide you with quality plumbing, water heater, and drain cleaning services. We strive to leave you 100% satisfied.
Snag additional savings on your next service when you use access our online promotions and coupons.
What Are the Key Benefits of Professional Water Leak Detection Services?
Finding a leak that you might have otherwise missed and would have gone unnoticed means that you will be saving money over time. If you pay for your water or get your water from a well, you're still paying for each gallon that comes into the home through a water pump.
You can prevent a lot of future water damage and flooding by having water leak detection done within the home. Even a small leak can cause a ton of water damage, ruining and destroying floorboards and walls in the area of the leak.
By getting water leak detection, you are also preventing future pest and termite problems. Termites love wet, rotting wood. Flooding in an area can make it a prime feeding and breeding ground for these insects.
Detecting a leak means that it will be fixed quickly. Fixing the problem prevents mold from growing in the area that could otherwise become an enormous problem. Mold can be dangerous to live around, especially for people who have breathing problems.
What Signs You Need Professional Drain Cleaning?
When you have issues with the drain system in your home, it could cause an unsanitary and uncomfortable situation for the whole family. One way to tell if you're dealing with drain clogs is if you see backup any time you use water or flush the toilet. Gurgling sounds and other loud whistling noises coming from the drains themselves could be a sign that the drains are clogged and need to be expertly cleaned by our plumbers.
Find out how we've helped other customers in our reviews and testimonials.
Does Your Water Heater Need Repairs or Replacement?
If your shower heads and faucets suddenly stop producing hot water, you could be having issues with the water heater. Many people will notice a gradual change in their hot water in the home, since it will start off very hot and gradually get lukewarm and cold quite quickly. If you're noticing any of these things, you may want to think about contacting our experts to have the water heater repaired or replaced with a new tank or model so that it can provide the home with adequate hot water.
Local Reviews
for Kearns, UT
Valley Plumbing and Drain Cleaning
Rated
4.7
out of 5 stars based on
20
customer reviews
Powered by Nearby Now
---
Excellent Work, great service
William

-

Kearns

,

UT



Review of Valley Plumbing and Drain Cleaning
---
Review
Andrew

-

Kearns

,

UT



Review of Valley Plumbing and Drain Cleaning
---
Friendly and efficient
Brook

-

Kearns

,

UT



Review of Valley Plumbing and Drain Cleaning
Came right out fixed the problem and cleaned up. Very little to worry about, they took care of everything. Just wasn't expecting to pay the whole bill before insurance helped out. Left my bank account dry.
---
Theodora
Theodora

-

Kearns

,

UT



Review of Valley Plumbing and Drain Cleaning
Great service
---
Great service
Andrew

-

Kearns

,

UT



Review of Valley Plumbing and Drain Cleaning
Alex was very professional and informative. He provided service that was exceptional. He explained the process very well and was very courteous
---
hartjeremy0322@gmail.com
I will mount a lid over the sump pump hole and install a new pump with a check valve. With a one year warranty on work done by us…
Near
W Caplan St,

Kearns

,

UT

84118
Alex K.
We will attempt to adapt to the existing galvanized steel drain in the hall bath sink and install a new p-trap to connect the sink drain. We will also install a new garbage disposal in the kitchen sink, adapting to the existing drainage and electrical as necessary. Results: The repairs went well but the bathroom faucet is leaking badly. We offered to replace it but they're going to wait.
Near
S 4280 W,

Kearns

,

UT

84118
Alex K.
We will reconfigure the gas line for the future down stairs stove and adding in a new gas line for the future upstairs stove. We will stub out of the wall/floor, terminating with a shut off valve in each location. We will add a hot and cold water line for the down stairs kitchen that will be located behind the laundry room. We will connect the drain for the downstairs sink to the preexisting laundry drain. We will stub out the water lines and cap them until the finished stage. If we need to remove drywall we are not responsible for repair.
Near
Lodestone Ave,

Kearns

,

UT

84118
Rhett J.
This price is to install a new 40 gallon water heater to replace the leaking one in the basement. This price includes to cost of the water heater itself as well as any other parts needed. This price also covers all labor required to complete the work. We will replace the water heater, install an expansion tank and earthquake straps along with a new shutoff valve and replace the 3" vent with new 4" vent as per code requirements.
Near
Sun Dr,

Kearns

,

UT

84118
zdruce@gmail.com
I will reroute the water lines and drainage behind the wall and install new fixture stops. I will install an 8 inch spread lav faucet. I will connect the drainage to the sink. I will reset the toilet to the flange. I will use a new wax ring I will make a sanitary seal at the base of the toilet.
Near
S Red Zinc Dr,

Kearns

,

UT

84118