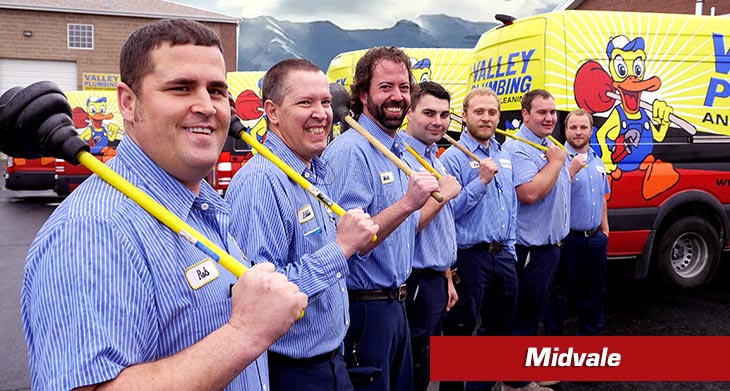 When you encounter an issue with your home's plumbing, it is always best to allow a professional plumber to provide solutions. At Valley Plumbing and Drain Cleaning, our experts can provide a wide array of plumbing services to meet your own individual needs. Rely on us to provide you with top-of-the-line plumbing, water heater, and drain cleaning services in Midvale, UT.
You can expect fast and precise services that will provide you with long solutions. No matter the plumbing severity, the knowledgeable, experienced plumbers from Valley Plumbing and Drain Cleaning has you covered! Enjoy living in your home without the constant worry and hassle of plumbing problems.
Get instant savings when you access our online discounts and coupons.
Advantages of Water Leak Detection Services
Professional diagnosis and repair. A trained plumber can locate and diagnose leaks that homeowners without the proper knowledge or tools otherwise couldn't. This also avoids addressing areas that were not necessary.
Save money. A huge leak can cost you a lot of money in terms of your water bill, but even a small dripping leak can be costing you every month. Even if you don't pay for your water and are on a well, chances are that you use a water pump to draw the water from the well and into the home. When you have a leak, the water pump has to continually work to replace the water being lost in the plumbing lines.
Prevent major problems. As a homeowner, you want to know that you are keeping your home in good condition. Water leaks can do a lot of costly damage over time (i.e. weakening floor boards, beams, and destroying walls).
Prevent insects and mold. Termites and some other insects just love moist, dark areas that might have once been the site of a plumbing leak. The same goes for mold, which is a type of fungus that often grows where dampness is apparent.
When Is Professional Drain Cleaning Necessary?
Your home's drains need to work well at all times so that sewage and waste water gets whisked away from the house and into a septic tank. If you notice that you flush a toilet and it backs up into the tub, it's a sign that professional drain cleaning is needed.
If you notice flooding or a pooling of water in the yard, it could mean that the line is clogged and has burst outside of the home. You may also note gurgling noises and weird sounds coming from the drains and the smell of sewage coming from the drains is definitely a sign to have the drain cleaned by our experts.
Check out our reviews to see why our customers keep coming back to us for their home's plumbing needs.
When Should You Repair or Replace Your Water Heater?
If your family's water heater isn't working properly, you may have taken note by seeing some of the signs. If there is no hot water coming into the taps at all, it's a sign that the heater may need to be replaced. You might notice that you're having electrical issues or the tank is leaking. This is a sign that it has to be repaired or replaced entirely. Our professionals can help decipher what's wrong with the water heater and the best way to fix or replace it.
Local Reviews
for Midvale, UT
Valley Plumbing and Drain Cleaning
Rated
4.8
out of 5 stars based on
32
customer reviews
Powered by Nearby Now
---
Great
Stephen

-

Midvale

,

UT



Review of Valley Plumbing and Drain Cleaning
He was very nice and the work was awesome
---
Dependability and Ethics - Great Combo!
Garden Gnome

-

Midvale

,

UT



Review of Valley Plumbing and Drain Cleaning
We have been utilizing Valley Plumbing Services for quite a few years. I'm not sure if the prices are "reasonable" but I feel confident that they will do a good job .] Highly recommend! As an RN, I do suggest that Valley give its' techs official masks to use routinely (with a logo?). Brian did wear a mask and thanked us for being considerate :] Also recommend getting a service contract - we saved $200!
---
Quality service! Great technical support!
Margaret

-

Midvale

,

UT



Review of Valley Plumbing and Drain Cleaning
I have been using Valley for plumbing needs for over 10 years and find them awesome and trustworthy. Loved the tech (Raiden)! Fast and friendly 👍
---
Great Job!
Moi

-

Midvale

,

UT



Review of Valley Plumbing and Drain Cleaning
Alex was pleasant and very knowledgeable. He went the second mile to get us the faucet we needed. Very satisfied with your service!
---
Excellent service
Brian

-

Midvale

,

UT



Review of Valley Plumbing and Drain Cleaning
---
joshua.ashby@gmx.com
Pressure varies throughout house. Changed prv valve
Near
S Cypress St,

Midvale

,

UT

84047
Eddie D.
Auger out the main drain line up too 100 feet in length too clear the drain line. We pulled back roots from the line, cust didn't want repair/replacement option at this time. Drain is running at this time.
Near
S Enchanted Dr,

Midvale

,

UT

84047
Eddie D.
Replace the toilet in the only bathroom in the house. We turned off the water and removed water from the toilet. Removed the toilet from the house and replaced shut off valve and supply line, new wax ring, and bolts on the toilet flange. Caulking the base of the toilet too the floor. Turned the water back on too the house and checked everything for leaks. Working great.
Near
Countrywoods Cir,

Midvale

,

UT

84047
Eddie D.
Replace the toilet in the only bathroom in the house with new shut off valve, supply line, wax ring, and bolts. Flange is in good condition. Caulk the base of the toilet too the floor test for leaks, everything is working great.
Near
Countrywoods Cir,

Midvale

,

UT

84047
Eddie D.
Garbage disposer replacement; we will remove the old disposer and haul it away, we will remove the mounting ring from the sink and install all new parts and disposer, supplied by customer. After hooking everything back up we ran water in the sink and ran the disposer. Everything is working great. No leaks.
Near
Essex Ct Way,

Midvale

,

UT

84047