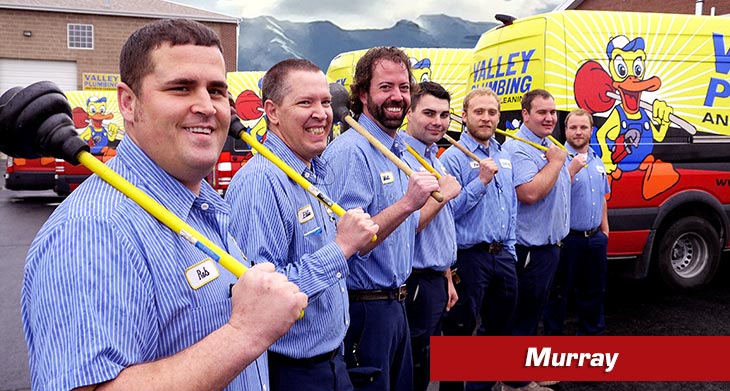 When your home's plumbing encounters problems, it is vital to have a reliable, efficient plumbing company on hand. Whether you are experiencing a clogged drain or water heater trouble, you can trust Valley Plumbing and Drain Cleaning. We strive to deliver exceptional plumbing, water heater and drain cleaning services at a competitive rate. Our team of plumbers are certified, licensed, and experienced to assist you with solutions to your plumbing troubles. Reach out to us today and see why Murray homeowners turn to Valley Plumbing and Drain Cleaning.
Take advantage of extra savings with our exclusive online coupons and promos.
Why Are Water Leak Detection Services Beneficial?
Rotted wood flooring, kitchen/bathroom cabinet rot, and mold/mildew accumulation are just some of the effects of water leak negligence. Further negative results of failing to detect leaks early enough may decrease the possible selling price and market value of your house.
There are many benefits of monitoring for water leaks. Lowering your water bills, avoiding drainage backup problems, and preventing water damage are just some of the perks. Perhaps, the most important benefit of all is that your home will be kept safe, clean, and protected from harmful pollutants. Leaking or corroded faucets, slow-flushing toilets, and above/below groundwater supply pipes can be quickly repaired or replaced by a professional plumber before more extensive damage results.
When Do You Need Professional Drain Cleaning Services?
The need to clean and unclog slow-moving drains is one of the most common drainage issues that require professional drain cleaning. Other reasons include the following:
Water pressure problems.
Main line issues that cause backups.
Clogged, rusted, or damaged plumbing pipes reducing the water pressure in sinks and tub area.
Debris stuck in drains, pipes, or drain traps.
Bad odors coming from drains or sinks.
Read our reviews to find out why our customers return to us for all of their plumbing services.
When Should You Repair or Replace Your Water Heater?
It may not always be clear for homeowners to determine when a water heater will require just repairs or replacement. Fortunately, there are some signs that may alert you that a professional plumber should intervene. A plumber can perform a thorough inspection and provide you with the best course of action.
Most issues can be resolved with a simple repair. However, replacement may be the best option if:
The unit is older than 10 years old and requires frequent repairs.
Heavy sediment deposits cause fluctuating water temperatures.
Banging noises when valves in the system begin shutting off.
No hot water produced by the unit.
Brown, murky water that has a foul odor.
Local Reviews
for Murray, UT
Valley Plumbing and Drain Cleaning
Rated
4.9
out of 5 stars based on
83
customer reviews
---
Great Service
Joseph

-

Murray

,

UT

84123



Review of
Valley Plumbing and Drain Cleaning
---
Great
Jacquline

-

Murray

,

UT

84123



Review of
Valley Plumbing and Drain Cleaning
Jeremy was great! He discussed my options, was personable, professional, and a hard worker
---
Emergency Drain Blockage Service was Excellent
Michael

-

Murray

,

UT

84107



Review of
Valley Plumbing and Drain Cleaning
On a Sunday afternoon, we discovered water in our basement coming from a backed up drain in the floor. We called Valley Plumbing and arranged for someone to come and fix the problem. Although it took 3-4 hours, the plumber came and spent the next 4 hours clearing the blockage. It was a very tough job and heavy duty equipment was needed, but he was polite, efficient, and took great care not to dirty the carpet on the way to the furnace room where the drain was located.
---
Very reliable!
Nita

-

Murray

,

UT

84107



Review of
Valley Plumbing and Drain Cleaning
---
Great Agent
Joey

-

Murray

,

UT

84123



Review of
Valley Plumbing and Drain Cleaning
McKay was great. Very thorough and made sure everything was working. He answered all our questions
---
Jeremy G.
This invoice is for us to take apart old disposal and P-trap. We will then re-hook up new disposal. we were able to fill it up The sink a quarter of the way with water and drained it and it takes it just fine. and the disposal is running much more quieter. this disposal comes with a seven year manufactures warranty, and a one year parts and labor warranty from Valley plumbing. we did replace the P-trap and seals to the piping. we did go through how to unjam the new disposal and reset it if needed. if there are any questions, please give us a call. Thank you so much for your time. Jeremy G.
Near

Sanford Dr,

Murray

,

UT

84123
hartjeremy0322@gmail.com
I will cut out the old pipe where its leaking and replace it with a new 45 and 2 coupling I will then wait for it to dry and test it to make sure the are no leaks there will be a one year warranty on the repair.
Near

S 665 W,

Murray

,

UT

84123
Rhett J.
Upgrade gas line to tankless heater from 1/2 to 3/4. Cut out inch to 1/2 T and mega press inch to 3/4 into inch line, and run about 5 feet of black iron pipe to tie into the tankless water heater to allow proper gas flow into system.
Near

S Rainbow Dr,

Murray

,

UT

84107
Jeremy G.
This estimate is for us to shut off water to toilet and replace wax ring on flange and bolts, then reinstall and test. after talking with Linda, she wanted us to go ahead to do a pull and reset of the toilet. I was then able to take off the toilet and run water all around the flange and at the 90 and found no water leak. this was in the master bathroom. I was able to reinstall toilet and it appeared to be working just fine. I did go downstairs to check for any new leaks, but still found the ceiling completely dry. as of before you could only hear the sound, but everything stayed dry. The 90 and flange were still OK condition being that it is cast. Linda did talk to me about her guest bathroom upstairs. It was hard to flush after I looked at it. I found that the flapper chain was too loose I then tightened it, and it seems to be flushing much better. Thank you so much for your time. Jeremy G.
Near

E 6220 S,

Murray

,

UT

84107
Jordan S.
A water heater has stopped firing because there is a leak somewhere. Upon investigation, I could not find a repairable source of the leak, the tank itself must be compromised. Additionally I found that the heater that was still firing next to it had water in the bottom of the burner as well. The source of this leak could also not be found. I gave an option to have the tanks replaced, as well as a quote for just the single non firing heater to be replaced. We went with a double replacement. We drained and removed the old tanks. Modified the water lines as needed, and put in water heater pans. I put 2x4's under them so the drains of the pan would function well. We added new steel water heater earthquake straps. We installed two new 50 gallon water heaters each with an expansion tank for proper pressure absorption. We also removed the older 3" venting and rebuilt the venting in 4" pipe as per code. The water heaters are both AO Smith manufactures, One being under the same name, and t
Near

Majestic Pine Dr,

Murray

,

UT

84107