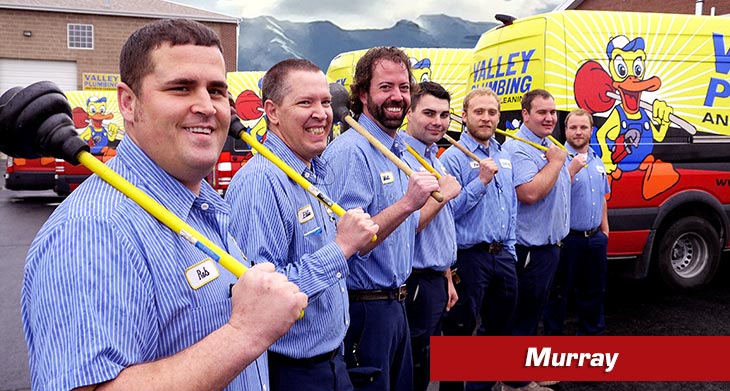 When your home's plumbing encounters problems, it is vital to have a reliable, efficient plumbing company on hand. Whether you are experiencing a clogged drain or water heater trouble, you can trust Valley Plumbing and Drain Cleaning. We strive to deliver exceptional plumbing, water heater and drain cleaning services at a competitive rate. Our team of plumbers are certified, licensed, and experienced to assist you with solutions to your plumbing troubles. Reach out to us today and see why Murray homeowners turn to Valley Plumbing and Drain Cleaning.
Take advantage of extra savings with our exclusive online coupons and promos.
Why Are Water Leak Detection Services Beneficial?
Rotted wood flooring, kitchen/bathroom cabinet rot, and mold/mildew accumulation are just some of the effects of water leak negligence. Further negative results of failing to detect leaks early enough may decrease the possible selling price and market value of your house.
There are many benefits of monitoring for water leaks. Lowering your water bills, avoiding drainage backup problems, and preventing water damage are just some of the perks. Perhaps, the most important benefit of all is that your home will be kept safe, clean, and protected from harmful pollutants. Leaking or corroded faucets, slow-flushing toilets, and above/below groundwater supply pipes can be quickly repaired or replaced by a professional plumber before more extensive damage results.
When Do You Need Professional Drain Cleaning Services?
The need to clean and unclog slow-moving drains is one of the most common drainage issues that require professional drain cleaning. Other reasons include the following:
Water pressure problems.
Main line issues that cause backups.
Clogged, rusted, or damaged plumbing pipes reducing the water pressure in sinks and tub area.
Debris stuck in drains, pipes, or drain traps.
Bad odors coming from drains or sinks.
Read our reviews to find out why our customers return to us for all of their plumbing services.
When Should You Repair or Replace Your Water Heater?
It may not always be clear for homeowners to determine when a water heater will require just repairs or replacement. Fortunately, there are some signs that may alert you that a professional plumber should intervene. A plumber can perform a thorough inspection and provide you with the best course of action.
Most issues can be resolved with a simple repair. However, replacement may be the best option if:
The unit is older than 10 years old and requires frequent repairs.
Heavy sediment deposits cause fluctuating water temperatures.
Banging noises when valves in the system begin shutting off.
No hot water produced by the unit.
Brown, murky water that has a foul odor.
Local Reviews
for Murray, UT
Valley Plumbing and Drain Cleaning
Rated
4.9
out of 5 stars based on
68
customer reviews
Powered by Nearby Now
---
Good service, thoughtful and helpful.
Charlotte

-

Murray

,

UT



Review of Valley Plumbing and Drain Cleaning
The guys were prompt both days and spent their time working. They explained what they were doing and involved me in decisions that needed to be made. They cleaned up after them selves. They went a little beyond essentials when they removed an old vanity I was going to replace and even hauled it away. It is good to have running water and flush toilets again and know I won't have to worry about my pipes. New shut off valves are great. Just one question . . Is the old shut off valve to the toilet in the main bath to be left the way it is or was it going to be removed. It was great to take a shower today with water.
---
Very Good Job.
Terry

-

Murray

,

UT



Review of Valley Plumbing and Drain Cleaning
---
Great service, pleasant personality
Colleen

-

Murray

,

UT



Review of Valley Plumbing and Drain Cleaning
Reasonable price, good work
---
Professional
Darrel

-

Murray

,

UT



Review of Valley Plumbing and Drain Cleaning
---
Excellent Service
Local Business

-

Murray

,

UT



Review of Valley Plumbing and Drain Cleaning
Landon was very professional and was here in a timely manner.
---
Alex K.
We replaced each of the four toilets in the house with ADA height, elongated Toto Drake toilets. We removed and disposed of the old toilets. The new ones installed with no issues and are working well.
Near
S Haven Chase Ln,

Murray

,

UT

84121
hartjeremy0322@gmail.com
I will have to shut the water off by locating the shut off valve. I will then cut out the bad price of copper and repair it with a repair coupling
Near
W 4170 S,

Murray

,

UT

84123
Jessie S.
Her toilet flapper was not working right so we replaced the toilet flapper after I was done I tested everything everything runs good.
Near
E Arrowhead Ln,

Murray

,

UT

84107
Jessie S.
We send estimate to customer and he will look at the estimate and let us know when to put them on the schedule. ABS fittings are leaking in the bathroom of unit W3 where the wall is cut out. We will replace the old ABS pipe and fittings where the wall is cut out and some that extends down into the basement. We completed the job And replace the old bad ABS pipe and fittings with brand new ABS pipe and fittings.
Near
Glendon St W,

Murray

,

UT

84123
musicman1826@gmail.com
We will replace two cleans outs on the 1st floor of the building located next to a utility closet north of the building. We will need to cut out drywall in order to access the existing clean outs for replacement. We install a 2" and 3" ABS clean outs adapting to existing cast iron pipe as needed. We are NOT responsible for drywall repair. We will also install a trap guard onto floor drain to help block and minimize sewer gasses from entering the building. When work is complete we will test for proper operation. After exposing both clean outs, the 3" clean out was not the issue. 3" clean out was not replaced. Adjusted price as necessary. Results: Job went well no issues.
Near
E 6100 S,

Murray

,

UT

84107