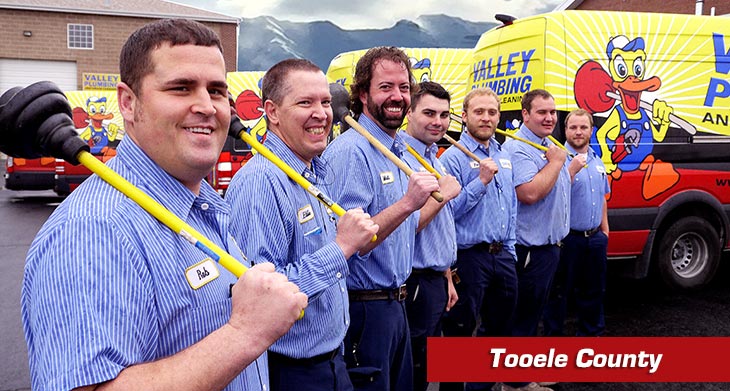 Are you looking for high-quality plumbing solutions in your area? Finding a reliable Tooele County plumber shouldn't have to be a challenge. At Valley Plumbing and Drain Cleaning we make things easy for you.
When you work with us, expect fast turnarounds, clean service, and expert workmanship. We only carry out services that meet your specific needs. This means we won't try to sell you a product or service you don't need.
Access our coupons for instant savings!
Areas We Serve in Tooele County
Tooele
Grantsville
Stansbury Park
Erda
These are just a few of the areas we serve in the county. Give us a call and we will be able to get to your home no matter where you are in Tooele County!
Plumbing Solutions Done Right
Valley Plumbing and Drain Cleaning is a full-service plumbing company providing safe, proven solutions to any plumbing situation. Whether you need basic drain cleaning, main sewer lining, or even bathroom remodeling, you can count on us to get the job done.
Our specialty lies in drain and sewer services. Using trusted cleaning and repair methods, we will get your drain and sewer lines flowing like new again in no time. Our services locate the source of drain blockages and remove them to prevent your plumbing lines from getting blocked again. We use video inspection technology to locate clogs and any damage to your line. Heavy duty drain cleaning is also available - ask about our hydrojetting solutions.
No matter your plumbing or drain needs, Valley Plumbing and Drain Cleaning has the solution for you!
Take a look at our latest customer reviews and see why your neighbors have trusted their plumbing to us since 2011!
Professional Water Heater Repair & Installation
Is your water heater acting up? Get it fixed or replaced by our water heater specialists. We repair and install tank and tankless water heaters of all makes and models.
A common question from customers is when they should repair or replace their water heater. We try to carry out repairs whenever possible to keep costs affordable for you. We will provide repair if it can help extend the life of your water heater.
However, if your water heater is 8-10 years old and experiencing recurring problems, we may recommend replacement to help you avoid more costly repairs. A new, more efficient water heater helps you save more money in the long run.