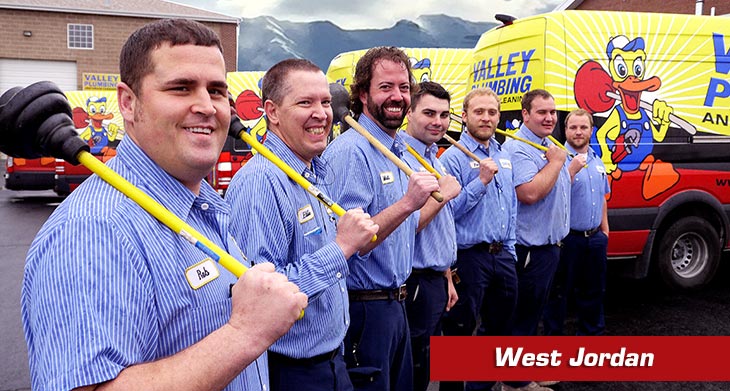 At Valley Plumbing and Drain Cleaning, our highly trained plumbers can help you with even your toughest plumbing problems. We'll fix your clogged drains, clean them out to prevent future clogs, and even help answer your most pressing household plumbing questions.
Are you wondering when it is time to replace that water heater? We can access the unit and give you our professional opinion and perform the installation work for you. For all your West Jordan, UT plumbing, water heater, and drain cleaning services, trust Valley Plumbing and Drain Cleaning. We promise your 100% satisfaction guaranteed!
Save even more on your next service with our online discounts and coupons!
What Are the Advantages of Water Leak Detection Services?
More and more homeowners are learning how advantageous water leak detection services can be for their home. Consider the following benefits of water leak detection services.
Prevents damage. Pipe leaks can cause some pretty severe damage to your home. While slow leaks can go undetected for quite a while, lost water from those leaks can ruin plaster, wood, and sheetrock.
Retains your home's value. Along with the roof and electrical wiring, the plumbing helps determine the market value of a home. We can do a thorough leak detection service so that you can show prospective buyers your 100% appraisal rating.
Saves money. Leaks can cause your water bill to rise. As the years go by, you'll have lost a large amount of money on wasted water.
Gives you peace of mind. With our leak detection services, you will have confidence that your home won't experience any of the issues associated with leaky pipes.
Do Your Drains Need Professional Cleaning?
A professional drain cleaning is recommended for all homes at least once a year. However, it is immediately necessary if you experience the following symptoms:
Frequent clogs. If your drains and showers are experiencing frequent clogs, it is time to have your drains cleaned. Oftentimes, these clogs require a professional cleaning to get rid of them once and for all.
Bad odors. Drainage issues often result in foul odors such as a sewage smell coming into the home. These persistent odors are a good indication of the need for drain cleaning by professional technicians.
Flooding. Drains that need to be cleaned can often result in a flooding problem. This is especially true in lower areas of your home. Clogs can oftentimes be the reason you have a consistently wet basement. This is a problem that can lead to additional issues such as mold and mildew.
Read our reviews and testimonials to see how we have helped other area homeowners.
When Will Your Water Heater Need Repairs or Replacement?
Your water heater plays a vital role in your comfort at home. It is one plumbing unit that should never be neglected and should always be properly maintained and cared for. Despite proper attention, problems may still arise from time to time. It is important to learn the signs and address them accordingly before they worsen and cause damage.
Our experienced plumbers can advise you if your unit is in need of repairs or replacement. If you experience the following signs, call us right away for immediate assistance.
Temperature issues. Too much or not enough hot water can be the first signs that it is time for a new water heater. This may be a simple thermostat problem or it could be a broken heating element.
Noises. Creaks, bangs, and knocking sounds should not be coming from your water heater. These sounds are often caused by a build-up of sediment and debris. Heating elements can also make unusual noises if they are going bad.
Age. Most new water heaters have a five to ten year warranty. Many older homes have a water heater that is 15 years or older. If yours is this old and showing any of the above problems, it is more than likely time to replace it.
Leaks. Once your water heater is leaking, it is definitely time for repairs before household damages occur.
Local Reviews
for West Jordan, UT
Valley Plumbing and Drain Cleaning
Rated
4.9
out of 5 stars based on
172
customer reviews
Powered by Nearby Now
---
Great service
Connee

-

West Jordan

,

UT



Review of Valley Plumbing and Drain Cleaning
Jesse and partners work on our drain issue until it was solved and working probably. Clean up any mess. Thanks again!!!
---
Fantastic customer service
Kristina

-

West Jordan

,

UT



Review of Valley Plumbing and Drain Cleaning
Very good customer service took time to explain work order and very friendly
---
Great Service, friendly and was able to quickly identify the problem and solve it for us.
Becky

-

West Jordan

,

UT



Review of Valley Plumbing and Drain Cleaning
---
Good job and well done.
Trisha

-

West Jordan

,

UT



Review of Valley Plumbing and Drain Cleaning
Friendly and very helpful to answer questions.
---
Quality service , communication was great , cleaned up after himself like it was his house. Over all a great experience with Valley Plumbing !!
Matias

-

West Jordan

,

UT



Review of Valley Plumbing and Drain Cleaning
Communication was great ! Kevin cleaned up after himself like it was his house. Over all a great experience with Valley Plumbing !! 👍
---
Jeremy G.
This invoice was for me to replace all the water heater with new A.O. Smith water heater. Joseph the homeowner had already drained out the water heater and unhook the supply lines to the water heater. After talking price Joseph then agreed to the price I then started taking out the old water heater and then installing the new water heater There are several upgrades that needed to be done for code one was for expansion tank and also earthquake straps in addition the gas valveI need it to be as well. I was being able to do all of the code upgrades and after fully installing the whole water heater I then turned on both shut off valves and let all the air and water heater. I look for water leaks and found none. I also turn on the gas to the house and was looking for any gas leaks and found none. Water heater has been on for approximately 20 minutes and everything is working fine. this water heater comes with a six year manufacturers warranty and a one year parts and labor warranty with Val
Near
Dewdrops Dr,

West Jordan

,

UT

84081
Alex K.
We will replace the hose bib on the back side of the house with a Woodford frost free yard hydrant. We will need to open the ceiling in the basement bathroom in order to gain access to the piping. We will check for proper operation when completed.
Near
Jacquelyn St,

West Jordan

,

UT

84088
Kevin D.
There was a leak in a 90* fitting on the water line that services the home. Once the outside shut off was located, we shut the water off and removed the failed fitting and installed a new fitting. We turned the water back on with no leaks. There is a 90 day warranty on parts and labor.
Near
S Kristilyn Ln,

West Jordan

,

UT

84084
Pedro U.
I came to finish the rough plumbing for the upstairs laundry and the downstairs kitchen sink drain and the vent for the upstairs dryer
Near
W Carson Ln,

West Jordan

,

UT

84084
Justin W.
We left several quotes with Heber to perform various requested work.
Near
Nottingham Dr,

West Jordan

,

UT

84084