When you need quality plumbers in Utah County, Valley Plumbing and Drain Cleaning is your go-to company. As a family owned and operated company, we prioritize your comfort and safety above all else! Whether it's something as simple a clogged toilet or something as complex as a water heater installation, you can always expect the same level of care and customer support. With years of local plumbing experience, experienced technicians, and 24-hour availability, you'll rest easy when you choose us as your Utah County plumbing company.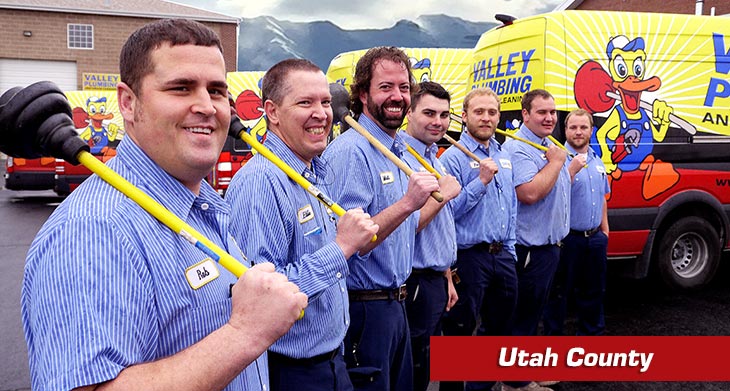 Save on your plumbing services with our coupons and specials.
Fast, Dependable Plumbing Services in Utah County:
When Should You Service Your Water Heater?
Realizing you need water heater repairs mid-shower is the last thing any homeowner wants, but for most, that's often the case. There are a few indicators you should be on the lookout for, and they include:
Rust: Because your water heater is continuously in contact with water, rust is a common issue for many homeowners. Whether there's rust in the water, on the valves, or on the outside of your tank, you'll need fast repairs to avoid emergencies.
Water Leaks: What starts as a small water leak can quickly turn into significant water damage to your home and even the risk of mold. Always look for water around the base of your tank, around valves, or even near your fixtures. The earlier you catch a leak the less damage your susceptible to in your home.
Hard Water: Does your water have a foul smell? Are there constant stains in your fixtures? Hard water is a mineral buildup that's common in traditional hot water heaters - and can eventually lead to a burst water heater.
High Energy Costs: Your water heater is continually heating water throughout the day, which is why it's one of the larger consumers of energy in your home. If your bills are skyrocketing, chances are it could be because your old water heater is no longer working at optimal efficiency.
At Valley Plumbing and Drain Cleaning we offer expert water heater repair in Utah County. Our plumbers can also help you upgrade your plumbing system with tankless water heater installation services, which is a great way to upgrade your system and enjoy an endless supply of hot water.
Don't just take our word for it. Visit our reviews page and see what some of our satisfied customers have to say about our services before your next call.
Expert Plumbing Services in Utah County
When plumbing issues strike in your home, you need a reliable Utah County plumbing company that can help. At Valley Plumbing and Drain Cleaning we have years of local experience, a full staff of highly skilled plumbers, and 24-hour availability to help with all your common plumbing issues. Some of our top services include:
Drain cleaning
Garbage disposal repairs
Water softener installation
Septic tank plumbing
Hot water heater services
Tankless water heater installations
And more!
Whether it's a small issue or a plumbing emergency, you can count on our staff to help you. We work diligently to get you a long-lasting result the first time we come to your home.