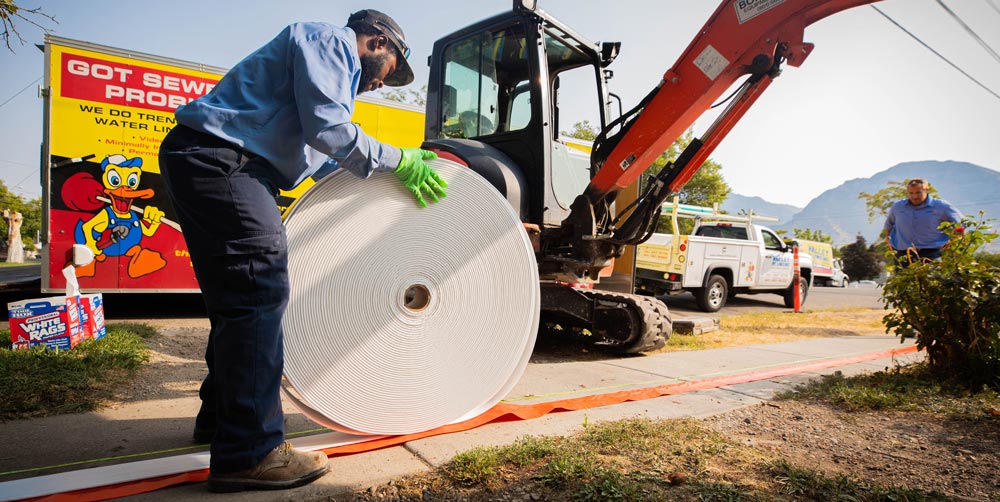 The traditional way of replacing pipes is likely to include messy digging and trenching across your yard. At Valley Plumbing and Drain Cleaning, we prefer the trenchless method which saves time, effort, money, and won't leave a mess in your yard. Sewage problems cause enough headaches on their own. To avoid even further headaches, you want to hire a company you can trust. Our friendly, knowledgeable technicians conveniently serve homeowners in Salt Lake City, UT and the surrounding areas. They are well-equipped to spot any problem in your sewer line and fix it on the spot.
Get instant savings on your next service with our exclusive online coupons and specials.
What Are the Advantages of Trenchless Sewer Repair?
Everyone wants to save time and money, but the benefits of trenchless sewer repairs do more than just that. Here are a few other ways these types of repairs will make your life better and save yourself a headache in the long run:
Minimize any potential mess to your yard, lawn, or general property. We want to complete the service with as little damage to your property as possible.

Specialized cameras look into the pipes and find the exact problem. By locating the specific issue, we can guarantee the proper repair.

Less labor means it will cost less to repair your sewer line. Since there is no time wasted digging trenches, these repairs and replacements cost less because it takes less time to get the job done.
High quality piping is used to replace your old line. The new technology prevents tree root invasions and cracks that traditional piping materials is susceptible to.
When our plumbers perform trenchless sewer repairs, we use advanced plumbing tools that make the process fast and simple. Our experts will handle the problem without significantly disturbing your property or taking too much of your time.
We aren't the only ones who think we are pretty great - our customers think so too! Read our recent reviews and feedback to find out what other homeowners in the area are saying about us.
Why Would You Need This Service?
If your drains are slow or you smell sewage around your property, you may need a sewer line inspection from licensed professionals. Other signs you may need a repair or replacement include:
One or more of your drains is backed up frequently.
Your lawn has become indented.
Your grass is wet, even though it hasn't rained.
Gurgling noise when you flush the toilet or use the sink.
Why Choose Us?
24-7 Emergency Service: We are fully aware that sewage and plumbing issues do not always take place during regular business hours, so we always have someone available to take your call no matter the time of night or day.
Experienced technicians: Our skilled technicians have years of experience under their belts and are always being trained on new technologies and methods. You can be confident knowing the person working on your home will get the job done right.
Honest, upfront pricing: Our fast, reliable service is made even better because we do it all at a reasonable rate, agreed upon ahead of time. You do not have to worry about any surprise charges after the fact, because we always provide you with a complimentary estimate before we move forward with a project.