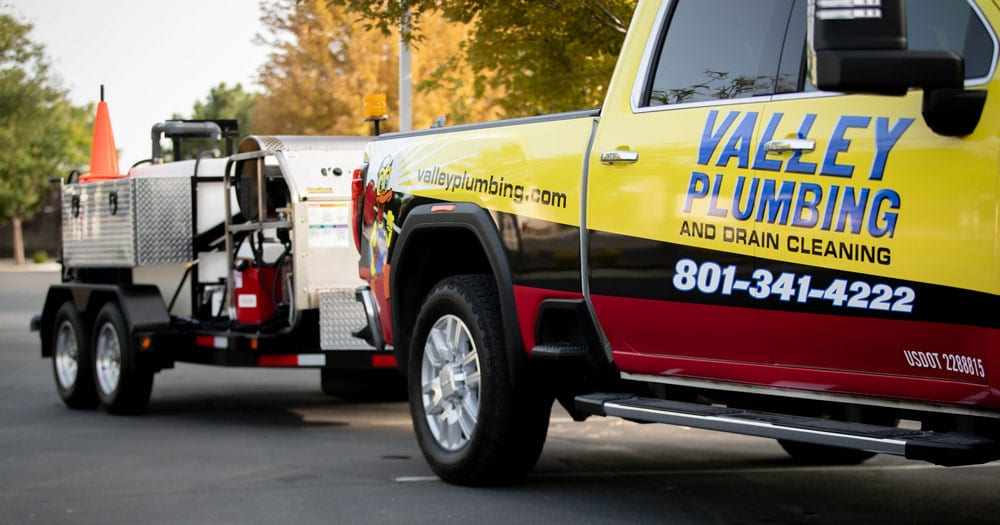 Do you have years of debris building up in your pipes? Blast it all away with our professional hydro-jetting services. Our expert technicians have years of experience in this safe, modern high-pressure method. Our honest, up-front pricing, combined with expert, friendly service makes us a top choice for homeowners and commercial site owners throughout Salt Lake County and Utah County.
Take advantage of our current specials and coupons and enjoy instant savings on your next service.
What Is Hydro-Jetting?
Hydro-jetting is a highly effective method of cutting through some of the greasiest, toughest sewer lines using extremely high-pressure water. This process helps clear the line for immediate use and ensures a smooth, clean pipeline, preventing future backups.
Why Is it Better Than Chemical Drain Cleaners?
Chemical drain cleaners are a quick fix to blockages in your drains. The active ingredient, lye, eats away at clogs, making it a convenient, often cheap way to get your drains back up and running fast. However, the chemical which eats away at the blockage also eats away at your pipes. In addition, it creates an environment perfect for hair, grease, and other materials to get stuck, creating more clogs. In the long run, chemical drain cleaners are not the ideal solution to your drain problems since your pipes will wear out faster and you will have more clogs. On the other hand, Hydro-jetting is a safe, effective method that blasts away years of blockages. It also does more than just clear our drain, and actually smooths the interior of your pipes preventing organic and inorganic material from being dislodged.
Is Hydro-Jetting Right For You?
Maintaining your drain lines will go a long way in eliminating blockages, and prevent sewage backups. It is currently the only effective method used for cleaning sewer lines, often caused by grease, tree root invasion, and other materials. There are various occasions in which you may want to use hydro-jetting. Our licensed professionals can help you determine if hydro-jetting is right for your situation.
Don't take our word for it! Read our latest customer reviews and feedback to find out why our customers keep coming back to us for their tough clogs.
Why Choose Us?
In addition to the excellent care and attention we give every customer, every time, we also offer additionally the following benefits and guarantees that build trust with our customers and keep them coming back for our services:
24-7 Emergency Service: We know that emergencies aren't always convenient. That is why we make ourselves available at all hours of the day for our customers. In a pinch, our customers choose us for our reliable, expert service.
Experienced, Expert Technicians: No job is too large or too small for our skilled team of plumbers. We take the same care and attention with us in each job, regardless of the complexity.
Honest, Upfront Pricing: When you choose us for your plumbing needs, you can count on fast, reliable service at an honest, upfront rate. We always give you a free estimate before we start any work. This small, but important step takes out any room for confusion and ensures you won't be left with a surprise bill after the job is done.