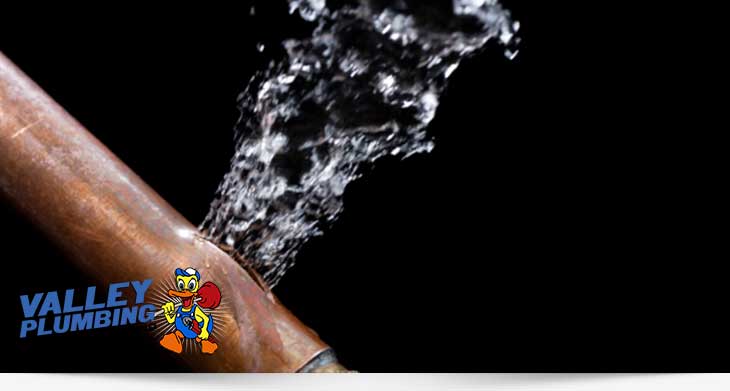 Your home's pipes have one of the most important household jobs. They carry gallons of water throughout the whole house, and have to transport even more when multiple sources are in use. Pipes are usually forgotten until they stop working altogether from a leak or burst. When that happens, you have a plumbing nightmare on your hands. Since personal property and home structures can be severely damaged, it is essential to hire a professional to make the repairs to avoid further damages to your home. Our licensed, trained professionals have years of experience repairing burst pipes throughout Salt Lake City, West Jordan, UT and the surrounding areas. You can count on us to find the leak, perform a swift repair, and restore functionality and convenience to your home.
Save money on your service call when you access our exclusive online coupons and promotions.
What are Common Causes of Burst Pipes?
There are several reasons why a pipe could burst. Below you'll find some of the most common causes behind burst pipes.
Age: Generally, plumbing that is over 40 years old is a likely candidate for a sudden burst. Older steel, clay, and cast iron pipes can thin with age due to rust or water wear. Hard minerals and scale can build up and cause a pressure burst.

Tree roots: Tree roots search for moisture. Once water is detected, they may entangle a pipe and invade it, causing a clog which can lead to added pressure, and eventually results in a burst pipe.

Debris: All pipes accumulate debris from a range of different sources. A clog combined with forceful and repeated DIY plunging has been known to break a weakened pipe.
How Can You Avoid Burst Pipes?
Burst pipes don't have to be a part of owning a home. The following are ways we can help you avoid burst pipes and other pipe problems in the future.
Regular inspection: The best way to avoid a problem is through prevention and inspection of your pipes on a regular basis.

Advanced techniques: We have certified technicians trained to use non-invasive techniques to find clogs and analyze the condition of pipe lining through the use of pipe cameras.

Mind what goes down the drains: When we inspect your pipes, we'll advise you on which items you should avoid throwing down your drains, whether it's your toilet or sink drain, and what items are safe to use for your garbage disposal unit.
Find out what homeowners in your area have to say about us in the comments and reviews.
Professional Pipe Repair
The older, standard method of repairing burst pipes involved opening up walls, digging up floors or slabs, or trench digging with heavy equipment. Once the pipe was accessed, either splicing in a new section or complete replacement was performed. In rare instances, digging or wall demolition is called for, particularly if multiple pipes and sections are equally damaged.
A benefit of our professional pipe repair service:
Trenchless sewer and pipe repair is non-invasive.The process involves a tube covered in resin that can be inflated in order to conform to the pipe, creating a new lining. This process will require only one hole.
Trenchless pipe repair is a fast, clean process. There is no need to uproot trees or tear out walls, flooring, or slab foundations. We guarantee pipe longevity for many years, and provide warranties in addition.