Valley Plumbing and Drain Cleaning is a well experienced and trusted plumbing contractor in Hooper, UT. We are your trusted plumbing contractor with experience in both residential and commercial plumbing. We pride ourselves on client satisfaction and strive to provide premier services to all our clients. We are fully licensed and certified to care for all your plumbing needs.
Some of our services include:
Hot water heater repair
Water heater maintenance
Hot water tank replacement
Clogged drain repair
Emergency plumbing repair
And more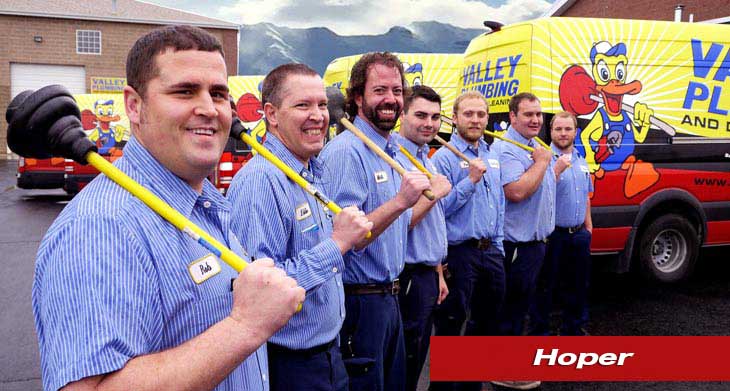 To see our latest customer testimonials, take a look at our customer reviews page.
Emergency Plumbing Services
If you find yourself in need of a 24 hour plumber, look no further. Valley Plumbing and Drain Cleaning is always available to tackle your plumbing emergency. Whenever disaster strikes, call our friendly customer service team and we'll get you the help you need. We'll dispatch a plumbing technician right away to save your plumbing and get things back to normal as fast as possible.
Tankless Water Heater Benefits
Not sure if a tankless water heater is right for your home? Consider the following benefits:
Instant hot water: A tankless water heater can provide an unending stream of hot water almost instantly.
Space savings: Tankless water heaters are much smaller than relatively larger tanked models.
Endless hot water: While storage tanks limit the hot water to tank's size, tankless water heaters can provide continuous hot water as long as there's fuel or energy to heat the water.
Lower costs: While tankless systems have higher initial costs, they are more efficient than tanked units in the long run.
Our customers trust us for all their plumbing needs. Find out why by reading more about us.
What Are the Signs You Need Professional Drain Cleaning?
Backflow: once you spot water bubbling up from your drain, chances are the water has nowhere else to go due to a serious clog and that means you need professional help.
Slow drainage: A slow drainage is perhaps one of the most common signs of a clogged drain. You need to hire a professional to fix the problem before it worsens and results in severe damage.
Foul odors: When you smell foul odors coming from your drain, it's likely because there's food or waste caught in the pipe. This may point to a severe problem that needs the intervention of a professional.
Low water pressure: This may be caused by a natural buildup of minerals in the line and can affect fixtures such as the shower head and sink faucet. If you experience a significant drop in water pressure, it's time to call a plumber.