Plumbing issues are worrisome for the health of your home, and can also be incredibly inconvenient to deal with. Most people have been stuck with clogged drains at one point or another, or a leaky pipe. These simple problems are more difficult to clear up than you would think and everyday homeowners struggle to get their pipes working properly once again. At Valley Plumbing and Drain Cleaning, we're a professional plumbing service provider for the Layton area, and we have an expert solution for you. We offer a range of services including emergency repairs and drain cleaning, and always offer personalized help.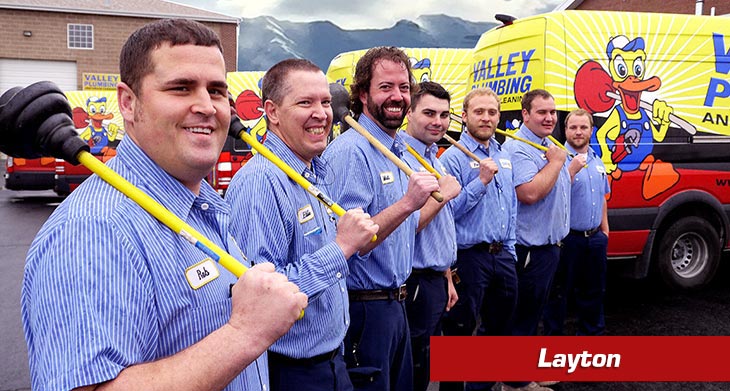 Don't just take our word for it. Visit our reviews page to see what our happy customers are saying about our work.
Tips for Preventing Drain Clogs
Every day that you use your shower or bathroom sink, you're clogging its drain just a bit more. Drains fill with hair, food, dirt, and grime. They fill up and stop functioning like they're supposed to, often leaving you with standing water in your tub or slow drainage from your sinks. While some clogged drains will require professional service, others can easily be prevented.
Start by blocking your drains with mesh screens to keep hair from going down. You can also be careful not to pour grease, oil, or food down the drains whenever possible. If your home is currently not equipped with a garbage disposal, it may be a good time to have one installed for kitchen scraps.
If those preventive measures don't help - then a professional drain cleaning will be needed. At Valley Plumbing and Drain Cleaning, we offer top-rated services with long-lasting results. We get to the root of the problem to ensure you're clogging issues are resolved once and for all. Best of all, we're also available for emergency services, so if you have a clog that's wreaking havoc on your home, we'll be there to help.
Signs Your Hot Water Heater Needs Repairs
Hot water heaters don't last forever. Over time your heater will fail. Below is an overview of what to look for to determine when you're in need of a hot water tank replacement or a hot water heater repair.
Rusty Water - When your hot water tank begins to rust it is on its way out. Rusty water can indicate that your reservoir tank is close to a total loss.
Minor Leaks - Pooling water or small puddles around the heater is a sure sign that a seal or the tank itself is wearing out and failing.
Poor Water Pressure - A lack of water pressure suggests there is a blockage, often within the water heater itself.
These simple signs let you know that your hot water heater is likely going bad. If you notice any of them you should have a professional to your home for hot water heater maintenance work. Our plumbing contractors can let you know if you have a problem that needs fixing or if you need to get a new hot water heater.
We also offer coupons and specials to help make investing in a new water heater affordable.
Finding a Reliable Emergency Plumber
A plumbing emergency is one of the more damaging issues your home can face, not only because it requires expensive repairs, but also because it can damage your floors, walls, and even electronics. For homeowners in Layon, frozen pipes can be a concern as well as burst pipes. These plumbing issues require fast responses, and Valley Plumbing and Drain Cleaning are here to help.
We are your expert Layton plumbing contractors. When you call, day or night, you can expect a live response and immediate attention. We have a full staff of plumbing pros in fully stocked trucks that can get your home back up and running. Best of all, we offer competitive pricing so we can keep costs down and affordable for you and your family.
Whether you need standard drain cleaning or a full plumbing overhaul, look no further than Valley Plumbing and Drain Cleaning.