Most of the time serious plumbing issues seem to come out of nowhere. These problems can cause you to lose sleep and worry about how you're going to resolve them. The only difference is whether or not you know a quality emergency plumber that you can call. At Valley Plumbing and Drain Cleaning, we want to be that reliable professional that you contact when things aren't going perfectly. Our team of specialists understands drain clogs, burst pipes, water heater issues, and other serious plumbing problems, and will do the work to resolve them all.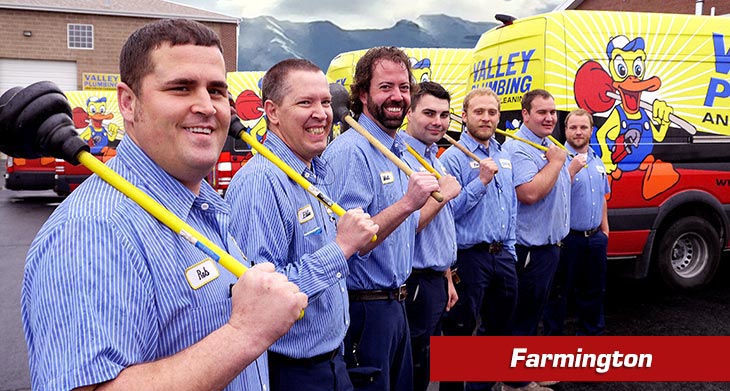 Want to know more about our work? Visit our reviews page before your next plumbing service call.
Signs You Have a Clogged Drain
Clogged drains can cause serious problems throughout your home and they develop more frequently than you may realize. If your drains aren't behaving like they normally do, there's a good chance that you might be experiencing a clog that could require professional repair. Signs you have a serious drain issue include:
Gurgling sounds in your toilet or sink
Foul smells from any sewer lines
Standing water in your tub
Overflowing toilets
If you're suffering from a clogged drain, it's best to call in a drain cleaning company to sort out the issue. Our experts can wipe out the problems quickly and easily, leaving you with fully-functioning drains in no time.
The Importance of Water Heater Maintenance
The hot water heater in your home is working constantly to provide you with hot water to keep you comfortable and help make life just a bit easier. Hot water heaters are great to have around, unfortunately, they have to work pretty hard. This means that over time they will wear out and could fail. That's why it's so important to invest in hot water heater maintenance.
By paying for maintenance you will help keep your hot water tank in better shape and prevent more issues from developing than necessary. Not only that but with a pro looking over your tank you will know when it's time to have a hot water heater repair made. This preventive care can mean the difference between extending the life of your system and preventing major water damage in your home.
Want some more helpful maintenance tips? Be sure to visit our blog for some advice you can implement in your home today.
Who to Call for 24-Hour Emergency Plumbing
Everyone's home suffers from plumbing issues now and then. That's why it's so important to know of a professional plumbing team to help you out. At Valley Plumbing and Drain Cleaning, we are your 24-hour emergency plumbers. We can help with major issues, including:
Frozen water lines
Gas line damage
Burst pipes
Sewer line repairs
Clogged drains and toilets
Leaking water heaters
And more
Whether you need extensive work done on your home's plumbing system or you just have a simple clogged drain that needs a little care, Valley Plumbing and Drain Cleaning will deliver high-quality plumbing services straight to your door. We're dedicated to offering you the best level of care and services that you can rely on to resolve all your plumbing needs.
Local Reviews
for Farmington, UT
Valley Plumbing and Drain Cleaning
Rated
5.0
out of 5 stars based on
3
customer reviews
Powered by Nearby Now
---
Great Service
Laura

-

Farmington

,

UT



Review of Valley Plumbing and Drain Cleaning
Brian is knowledgeable, thorough, and professional. He told us our options, with pricing, and answered our questions.
---
Professional, knowledgeable, fast and tidy.
Dan

-

Farmington

,

UT



Review of Valley Plumbing and Drain Cleaning
Brian diagnosed the issue, communicated the fix, cost and expected timeframe and then got things done with no mess!
---
Response from Valley Plumbing and Drain Cleaning:

Thank you for your review. I am glad to hear that we met your expectations and were able to get everything taken care of.
---
Very good customer service
Rae

-

Farmington

,

UT



Review of Valley Plumbing and Drain Cleaning
Eric was very proffessional and efficient.
---
Brian U.
We will hydrojet the mainline through the inside cleanout in the bathroom. We will run the jetter out to the sewer in the street. This will clear any buildup our debris in the line. We will run a camera down the line after jetting to make sure we got it cleaned. Warranty depending on findings. The 1003.15 is the minimum charge to jet. This will include 2 hours of jetting. If the jetting needs to go past 2 hours it will be an additional $387.07 per hour. We will get with the customer if this is the case before proceeding. Added membership to save the customer money on this job. Membership is 79 dollars but saves the customer a total of 93.99 Membership is good for a year and does not automatically renew. Benefits include 15% off plumbing services, priority dispatching, and reduced emergency rates. ******When we cut out a ball of roots we discovered that a section of piping is broken. This is not our responsibility. Gave the customer an option to dig and repair the pipe. They will be pro
Near
Compton Rd,

Farmington

,

UT

84025
Brian U.
Cleanout out main sewer line through inside cleanout. Need to send George out to give estimate. Camera'd the line and there is root balls. For this reason we can not warranty the cleaning today. I had sent an estimate on Saturday for a hydrojet. This is still good for 90 days from Saturday.
Near
Compton Rd,

Farmington

,

UT

84025
Brian U.
When I got here the sprayer head was constantly leaking even with hot and cold handles turned off. Both the hot and cold side were leaking through the stems. The sprayer head was allowing water through even without depressing trigger. Had to run off and get a new sprayer head. Replaced both the hot and cold stems. Parts include the sprayer head and the two stems. 90 day warranty on this job. Showed manager that the sprayer is now functioning.
Near
Central Ave,

Farmington

,

UT

84025
Brandon Y.
Ball valve for cook station on the left side is not operational and leaking. Replace with new ball valve.
Near
Central Ave,

Farmington

,

UT

84025
Brandon Y.
Trip fee for no drainage issue in coke machine drain pan. Floor drain is draining properly and coke machine drains fine as well. Stoppage could have been caused by a piece of ice in front of the drain.
Near
Central Ave,

Farmington

,

UT

84025