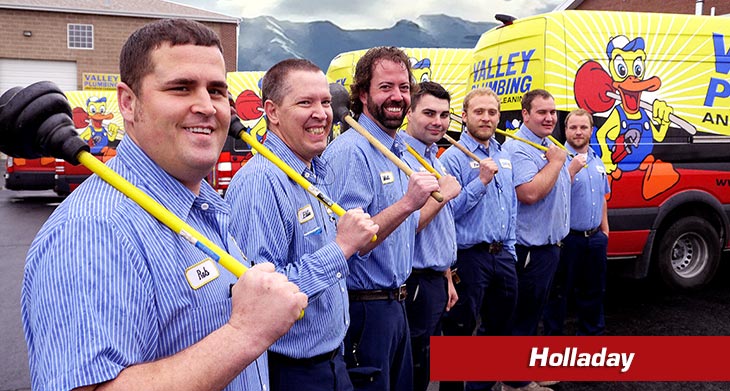 Keeping your drains and water heater in excellent condition can help you avoid inconveniences and costly plumbing repairs. At Valley Plumbing and Drain Cleaning, we strive to provide our customers with quality plumbing, water heater, and drain cleaning services in Holladay, UT. We understand and value your safety and comfort at home. Our experienced, trained, and licensed plumbers can tackle and resolve plumbing issues of all severities. Schedule your consultation with us and let your plumbing issue be a thing of the past.
Save on your next service when you access our online discounts and coupons.
Why Should You Consider Water Leak Detection Services?
Water leak detection services are highly beneficial, yet many homeowners are unaware of their many advantages. Reflect on just some of the gains you can earn from this service.
Lower utility bill. Water lost through leaks in your plumbing system can cost you money in increased utility bills.
Avoid mold and mildew damage. Leaks in your home can cause moisture buildup, which is the primary cause of the mold and mildew growth.
Lengthen the lifespan of units. By fixing leaks as soon as possible, you will prevent problems from developing in your units, such as your water heater.
Prevent mechanical damage. Leaking water can cause corrosion and damage the valves and electrical equipment in your home.
Do You Need Professional Drain Cleaning?
If you're unsure whether or not you should invest in professional drain cleaning, call us for immediate relief if you are experiencing any of the following signs:
Frequent clogs. You need to have your drains cleaned if you are frequently experiencing clogs or if clogs that develop are particularly tough to remove.
Several clogged drains at a time. If you don't get your drains cleaned when you need it, you will probably start to see clogs form in several different areas of your home such as your sinks, toilets, tubs, and more.
Slow drains. If it takes a long time for water to flow down your drains, you probably have clogs in your pipes that need to be cleaned out.
Floods. Sewage backup in your drains could cause enormous problems. Ideally, you will have your drains cleaned long before you experience flooding in your basement.
Odors. Unpleasant odors coming out of your drains indicate that you need to have your drains cleaned as soon as possible.
Read how other customers have benefited from our services in our reviews.
Signs You Need To Repair or Replace Your Water Heater
It is not always clear when exactly your water heater will require repairs or replacement. However, there are a few signs that can alert you that a professional intervention is best. If you experience the following signs, call us and one of our skilled, experienced plumbers will thoroughly inspect your unit
Age. You can expect your water heater to last about 10 years. After that, you may start to experience malfunctions with your water heater. If you're water heater is less than 8 years old, you might want to try remedying problems through repairs rather than replacement.
Temperature problems. If your water is not getting hot, you might need to simply adjust or replace the unit's thermostat. However, problems producing adequate hot water could indicate more serious problems.
Unusual noises. Water heaters that make banging, creaking, or knocking noises might have sediment built up in their tanks. This can often be repaired by flushing the tank.
Leaks. Leaks require immediate attention and often indicate that you need to have your water heater replaced.
Dirty water. Brown or murky water accompanied by a bad smell is a sign that your water heater needs to be replaced as the unit makes your water unsanitary and unfit to use.
Local Reviews
for Holladay, UT
Valley Plumbing and Drain Cleaning
Rated
4.9
out of 5 stars based on
33
customer reviews
Powered by Nearby Now
---
Great service
Allan

-

Holladay

,

UT



Review of Valley Plumbing and Drain Cleaning
---
Great serbice
Rene

-

Holladay

,

UT



Review of Valley Plumbing and Drain Cleaning
Mitch our plumber was expert, articulate and honest. Best plumbing service I have ever used.
---
Floor drain repair
Bob

-

Holladay

,

UT



Review of Valley Plumbing and Drain Cleaning
Jeremy and Andre were very easy to work with. They got ready first by covering all walking areas so as to not get anything dirty. Brought in the equipment they needed and started work. If they had a question or wanted to show me something they did and I could make a decision on it. Nice guys both of them. The work was finished in a timely manner. and looks good. Both were very nice to my dad whom is 91 and was having the work done.
---
Very Professional
Dean

-

Holladay

,

UT



Review of Valley Plumbing and Drain Cleaning
---
Happy Customer
Tatiana

-

Holladay

,

UT



Review of Valley Plumbing and Drain Cleaning
Jeremy was great: replaced food disposal quickly, everything works great now! He took time to answer my questions regarding other plumbing issues. Thank you.
---
hartjeremy0322@gmail.com
I will will replace the tank on the back of the toilet. It is a Toto elongated toilet.
Near
E Murray Holladay Rd,

Holladay

,

UT

84117
Mitch F.
Tighten the cold supply hose no charge missed it on the last visit
Near
S 2700 E,

Holladay

,

UT

84124
hartjeremy0322@gmail.com
I will take out the old hose bib and replace it with a new woodruff hose bib
Near
Colony Dr,

Holladay

,

UT

84117
Rhett J.
We will move the gas line that's connected to the floor we will move it to the wall so they could connect their stove in the kitchen.
Near
E 5600 S,

Holladay

,

UT

84121
hartjeremy0322@gmail.com
I will have to tak the tank off and replace the seal in the flusher
Near
S Holladay Blvd,

Holladay

,

UT

84117