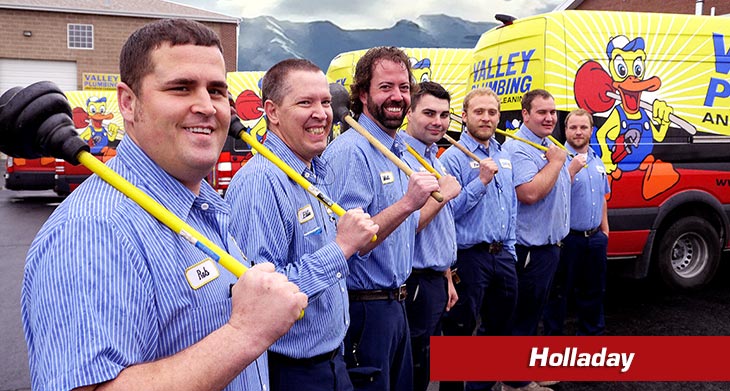 Keeping your drains and water heater in excellent condition can help you avoid inconveniences and costly plumbing repairs. At Valley Plumbing and Drain Cleaning, we strive to provide our customers with quality plumbing, water heater, and drain cleaning services in Holladay, UT. We understand and value your safety and comfort at home. Our experienced, trained, and licensed plumbers can tackle and resolve plumbing issues of all severities. Schedule your consultation with us and let your plumbing issue be a thing of the past.
Save on your next service when you access our online discounts and coupons.
Why Should You Consider Water Leak Detection Services?
Water leak detection services are highly beneficial, yet many homeowners are unaware of their many advantages. Reflect on just some of the gains you can earn from this service.
Lower utility bill. Water lost through leaks in your plumbing system can cost you money in increased utility bills.
Avoid mold and mildew damage. Leaks in your home can cause moisture buildup, which is the primary cause of the mold and mildew growth.
Lengthen the lifespan of units. By fixing leaks as soon as possible, you will prevent problems from developing in your units, such as your water heater.
Prevent mechanical damage. Leaking water can cause corrosion and damage the valves and electrical equipment in your home.
Do You Need Professional Drain Cleaning?
If you're unsure whether or not you should invest in professional drain cleaning, call us for immediate relief if you are experiencing any of the following signs:
Frequent clogs. You need to have your drains cleaned if you are frequently experiencing clogs or if clogs that develop are particularly tough to remove.
Several clogged drains at a time. If you don't get your drains cleaned when you need it, you will probably start to see clogs form in several different areas of your home such as your sinks, toilets, tubs, and more.
Slow drains. If it takes a long time for water to flow down your drains, you probably have clogs in your pipes that need to be cleaned out.
Floods. Sewage backup in your drains could cause enormous problems. Ideally, you will have your drains cleaned long before you experience flooding in your basement.
Odors. Unpleasant odors coming out of your drains indicate that you need to have your drains cleaned as soon as possible.
Read how other customers have benefited from our services in our reviews.
Signs You Need To Repair or Replace Your Water Heater
It is not always clear when exactly your water heater will require repairs or replacement. However, there are a few signs that can alert you that a professional intervention is best. If you experience the following signs, call us and one of our skilled, experienced plumbers will thoroughly inspect your unit
Age. You can expect your water heater to last about 10 years. After that, you may start to experience malfunctions with your water heater. If you're water heater is less than 8 years old, you might want to try remedying problems through repairs rather than replacement.
Temperature problems. If your water is not getting hot, you might need to simply adjust or replace the unit's thermostat. However, problems producing adequate hot water could indicate more serious problems.
Unusual noises. Water heaters that make banging, creaking, or knocking noises might have sediment built up in their tanks. This can often be repaired by flushing the tank.
Leaks. Leaks require immediate attention and often indicate that you need to have your water heater replaced.
Dirty water. Brown or murky water accompanied by a bad smell is a sign that your water heater needs to be replaced as the unit makes your water unsanitary and unfit to use.
Local Reviews
for Holladay, UT
Valley Plumbing and Drain Cleaning
Rated
4.9
out of 5 stars based on
28
customer reviews
Powered by Nearby Now
---
Great service
Dave

-

Holladay

,

UT



Review of Valley Plumbing and Drain Cleaning
Kevin did a FANTASTIC job
---
Toilet reseated.
Bicknell

-

Holladay

,

UT



Review of Valley Plumbing and Drain Cleaning
Arrived on time. Had the parts they needed. Worked very quickly.
---
Tom is the Bomb! After a failure to launch , which had Nothing to do with Tom . He took it upon himself to do whatever to make things , not only rig
Jill

-

Holladay

,

UT



Review of Valley Plumbing and Drain Cleaning
---
Friendly excellent service!
Leslie

-

Holladay

,

UT



Review of Valley Plumbing and Drain Cleaning
---
So fast and so knowledgeable
Neil

-

Holladay

,

UT



Review of Valley Plumbing and Drain Cleaning
He arrived on time, was quick, clear, and provided fast service and advice about the issue. Fixed in less than 30 mins!
---
Eddie D.
We will have too dig up at the meter and stop and waist and another hole at the house and in the crawl space too get the pipes too where they need too go. We will have too remove the grass at the meter location but will attempt too put the grass back as best we can, all final landscaping too be done by others. The sprinkler line is about 2 feet from the meter towards the house. Line is approx 30 feet from the meter too the crawl space where it comes up inside the house. We will replace all water lines from where it comes up in the crawl space with new shut off valve and pressure regulator valve. We will run pex water supply too 3 bathrooms, kitchen, laundry, and hose bibs. We will run the water lines too the water heater and bring the 2 year old water heater up too code; expansion tank and new shut off valve. We will replace the 2 tub/shower valves on the south side of the house, the valve on the north side is already modernized with single handle valve. If we have too cut out any shee
Near
Meadowmoor Rd,

Holladay

,

UT

84117
Jeremy G.
This invoice is for us to cut out and inspect for week in sheet rock ceiling we will need to remove the dresser and put down our dropcloth and protect the bed as well. we will then cut out old sheet rock in bedroom West side overlooking pool. After further inspection we then found a manual leak spraying onto the duck work. We then went over what we could do and we then were able to repair the bad section of pex pipe. We did need to shut off the water to the home after repairing the pipe we then turn back on the water to fully pressurized the system. We did not find any more leaks and is all working properly. We also did test the water pressure and I found it at 112 pounds will be coming back on this Monday to re-install a new PRV as well as a new shower trim and cartridge. Came back on January 10 to replace PRV or pressure reducing valve and also installed customer supplied shower trim. After we shut off the water to the home we then cut out the old pressure reducing valve and re-sold
Near
Wallace Ln,

Holladay

,

UT

84117
Jeremy G.
This invoice was for me to unclog the upstairs master bedroom right hand sink this was also for me to install the new kitchen faucet that we supplied and to uninstall the old sink. This is also for me to rebuild one toilet, addition as well I installed a new flush valve but no flapper on the other do to parts not being made anymore I did tell her as well that the flapper that was installed was not the correct flapper and that is why it is constantly leaking. I did recommend i'm getting a new toilet the old flapper is continuously leaking and homeowner does know about it. On the second toilet as well I did install a new handle. I did make sure to check the drainage upstairs with no clogs and no leaking. I also made sure that all the waterlines that I unattached are reattached and no leaks. And the Fossett was secured. We do not warrantee the drain cleaning work. we will warrantee the parts that we did install and the new Fossett for one year.
Near
S Park Pl W,

Holladay

,

UT

84121
Jeremy G.
When we first arrived Judy brought us into her master bathroom and then showed us that her tub spout on her master Jacuzzi had failed and wanted us to install a new tub valve. And then told her what we could do and then she agreed to the price and we went ahead with the work we had to shut off the water to the home and we then installed and secured the new tub valve. After soldering it all together we then pressure tested it and it is all working great. We found no leaks.
Near
Havenwood Ln,

Holladay

,

UT

84117
Ryan G.
I'll need to drill a new hole in the kitchen sink floor next to the cold supply. I'll need to remove the garbage disposal and items stored under the sink to get access to the flooring to drill through. Work will take a few hours. Most of the Sheetrock is taken out, valley does not repair Sheetrock if we need to cut more. Work will take a few hours because of the tight location and the disconnection and instillation of the garbage disposal again. I'll need to drill a new hole in the kitchen sink floor next to the cold supply. I'll need to remove the garbage disposal and items stored under the sink to get access to the flooring to drill through. Work will take a few hours. Most of the Sheetrock has already been previously taken out by the general contractor, valley does not repair Sheetrock if we need to cut more. Update: Valley didn't need to cut anything else out. Work will take a few hours because of the tight location and the disconnection and instillation of the
Near
Newman's Ln,

Holladay

,

UT

84121