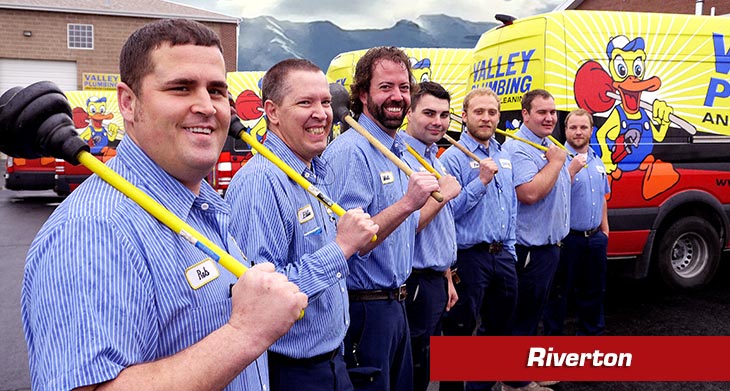 Is your plumbing experiencing  frequent clogs and leaks? You need a plumber that you can count on and trust so that whenever trouble arises, you can get fast, honest solutions. At Valley Plumbing and Drain Cleaning, we put customer satisfaction first. Here are some of the ways we guarantee top notch service:
We never charge customers for work they don't need.
We always wear shoe covers to keep your home clean.
We always take the time to explain why each project is necessary.
We always charge a fair price.
Rely on us for first-rate plumbing, water heater, and drain cleaning services in Riverton, UT. Your 100% satisfaction is our gratification and goal!
Access our online discounts and coupons and save even more on your next service.
What Are the Benefits of Water Leak Detection Services?
At Valley Plumbing and Drain Cleaning, we want to ensure that your home's plumbing is always in good working order. If you have reason to believe that there is a leak, call us right away. Some of the benefits of water leak detection services include:
Lower utility bills. If you have even the smallest leak in your home, wasted water will show up in higher water bills. When the leak is detected and repaired, you will see a significant drop in your bill.
Mold and mildew prevention. Leaks create the perfect moist environment that helps breed mold and mildew. By addressing a leak right away, you can also stop the potential mold growth.
Prevent structural damage. Over time, a leak can cause structural damage to your roof, cabinets, walls, floors, and even to your home's foundation.
Saved time. Finding a well-hidden leak can be a near impossible task for homeowners. Our team has the right equipment to find the leak fast.
What Are Signs You Need Professional Drain Cleaning?
Your home's drains handle a lot on a daily basis. Eventually, they need to be cleaned. If you notice any of the following, call us right away.
Frequent and multiple clogs.
Foul odor from drains.
Backing up sinks and tubs.
Gurgling noises from toilets when water is running.
Visible gunk in drains.
Find out why other homeowners in the area continue to call us for their plumbing services by reading our customer reviews.
How to Know If You Should Repair or Replace Your Water Heater
A water heater is one of the most necessary units of a home. It is recommended for homeowners to schedule an inspection at least once a year. However, if you experience any of the following signs, call us right away for an inspection as repairs or replacement may be necessary.
Smelly or brown water.
Little to no hot water from unit.
Higher utility bills.
Temperature inconsistencies.
Leaks from unit.
Local Reviews
for Riverton, UT
Valley Plumbing and Drain Cleaning
Rated
4.5
out of 5 stars based on
36
customer reviews
Powered by Nearby Now
---
Awesome!
Steven

-

Riverton

,

UT



Review of Valley Plumbing and Drain Cleaning
Jesse was very courteous and hardworking. Analyzed the situations and took care of it very pleasantly. He'll be my first call next time.
---
Great service
Marilyn

-

Riverton

,

UT



Review of Valley Plumbing and Drain Cleaning
Jesse was very helpful and we are pleased with his work. He left the work area clean. We feel that we have found a new friend. His partner was very helpful as well. Thank you
---
Great service!!
Colleen

-

Riverton

,

UT



Review of Valley Plumbing and Drain Cleaning
On time. Friendly. Cleaned up after installation and would definitely call again for any plumbing service! Thanks!
---
Excellent service from Neil!
Travis

-

Riverton

,

UT



Review of Valley Plumbing and Drain Cleaning
I've used Valley Plumbing for years and it has always been good, but this time it was great. Neil came over this week to help with installation of a washer. I am big on clear transparent communication and Neil provided that. I would recommend Neil to family and friends.
---
Disappointed
Travis

-

Riverton

,

UT



Review of Valley Plumbing and Drain Cleaning
The service took linger than it should have. It was over priced. I ended up with a low flow sink faucet on my bath tub and it takes to long to fill.
---
Justin W.
We cleaned the laundry room drain with our mid sized snake and we ran water through to prevent further backups. We then removed the old 40 gallon water heater and replaced it with a new 50 gallon water heater. The water and gas lines were also replaced at this time. The 50 gallon water heater was placed on a water heater pan. The customer was satisfied and seemed happy with our work.
Near
W 12310 S,

Riverton

,

UT

84065
Hunter C.
I a pulled the toilet in the basement and ran a camera through the line. I pushed through a soft blockage at about 60' and was able to clear it with my camera while running water through the line. The line has lots of solids and small pieces of gunk all throughout the line which are snowballing into each other until they create blockage in the line. I returned with the hydro jetter unit and jetted the line through the same toilet all the way out to the city tie in. The floor drain in the mechanical closet in the basement has been blocked by some construction material that entered the drain and filled the p trap and has now hardened in the line. I ran a drain machine and the jetter but was unable to clear the p trap. I reset the toilet with new mounting hardware and supply line and tested it. No warranty on drain cleaning.
Near
Country Classic Dr,

Riverton

,

UT

84065
Kevin D.
I ran my toilet auger through the toilet and pushed something through. I flushed multiple times with no issues. We do not warranty drain cleaning as we have no control over what is flushed.
Near
W Duncan Meadow Ln,

Riverton

,

UT

84096
Raiden H.
We will be roughing in two bathrooms in the upstairs of the garage building (two toilets, two bathtubs, two vanities). We will rough in the drains for each fixture and stub out of the wall and floor, capping the drain until the finish stage. We will tie the drains into the existing 3 inch ABS stack and vent them as necessary. One bathroom will be vented to atmosphere through the roof and one bathroom will be vented via air admittance valve. We will rough the hot and cold water lines in accordingly, stubbing out until the finish stage. We will rough in Moen Positemp tub/shower valves. This price does not include the installation of any trim, fixtures or fixture emergency shutoff valves. This price includes only the rough in piping. The only fixtures that will be provided and installed during this process are the two bathtubs and surrounds, which will be 32" American Standard brand, or equivalent. We will pressurize the system and test for leaks. We will be roughing in a full bath nea
Near
Myers Ln,

Riverton

,

UT

84065
Hunter C.
I removed the trap and ran the drain machine approximately 30' and back. I ran water down the line as well and after to confirm it was draining. I reassembled the trap and tested the sink and found it draining sufficiently. I did find that the faucet has a leak from the supply hoses rubbing against the edge of the countertop where the faucet comes through. This faucet does not have supply lines that are replaceable and will need to be replaced as an entire unit. I will be providing estimates to replace the faucet. We do not warranty drain cleaning as we cannot control the condition of the pipe or what go down a drain.
Near
W 14080 S,

Riverton

,

UT

84096