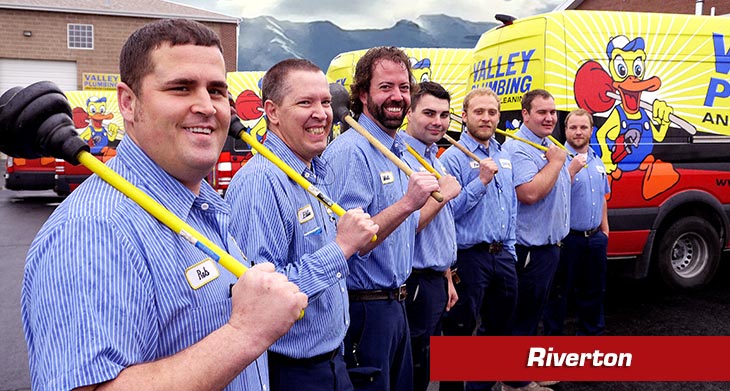 Is your plumbing experiencing  frequent clogs and leaks? You need a plumber that you can count on and trust so that whenever trouble arises, you can get fast, honest solutions. At Valley Plumbing and Drain Cleaning, we put customer satisfaction first. Here are some of the ways we guarantee top notch service:
We never charge customers for work they don't need.
We always wear shoe covers to keep your home clean.
We always take the time to explain why each project is necessary.
We always charge a fair price.
Rely on us for first-rate plumbing, water heater, and drain cleaning services in Riverton, UT. Your 100% satisfaction is our gratification and goal!
Access our online discounts and coupons and save even more on your next service.
What Are the Benefits of Water Leak Detection Services?
At Valley Plumbing and Drain Cleaning, we want to ensure that your home's plumbing is always in good working order. If you have reason to believe that there is a leak, call us right away. Some of the benefits of water leak detection services include:
Lower utility bills. If you have even the smallest leak in your home, wasted water will show up in higher water bills. When the leak is detected and repaired, you will see a significant drop in your bill.
Mold and mildew prevention. Leaks create the perfect moist environment that helps breed mold and mildew. By addressing a leak right away, you can also stop the the potential mold growth.
Prevent structural damage. Over time, a leak can cause structural damage to your roof, cabinets, walls, floors, and even to your home's foundation.
Saved time. Finding a well-hidden leak can be a near impossible task for homeowners. Our team has the right equipment to find the leak fast.
What Are Signs You Need Professional Drain Cleaning?
Your home's drains handle a lot on a daily basis. Eventually, they need to be cleaned. If you notice any of the following, call us right away.
Frequent and multiple clogs.
Foul odor from drains.
Backing up sinks and tubs.
Gurgling noises from toilets when water is running.
Visible gunk in drains.
Find out why other homeowners in the area continue to call us for their plumbing services by reading our customer reviews.
How to Know If You Should Repair or Replace Your Water Heater
A water heater is one of the most necessary units of a home. It is recommended for homeowners to schedule an inspection at least once a year. However, if you experience any of the following signs, call us right away for an inspection as repairs or replacement may be necessary.
Smelly or brown water.
Little to no hot water from unit.
Higher utility bills.
Temperature inconsistencies.
Leaks from unit.
Local Reviews
for Riverton, UT
Rated
4.3
out of 5 stars based on
13
customer reviews
Powered by Nearby Now
---
Hardworking and very friendly
Kim

-

Riverton

,

UT



Great attitude... I would use them again...
---
Response from Valley Plumbing and Drain Cleaning:

Thank you for the wonderful feedback Kim! We are so pleased our team was able to help you with your plumbing problem. Don't hesitate to call if anything ever comes up; we are more than happy to help! All the best, Valley Plumbing
---
Great experience. Professional service.
Spencer

-

Riverton

,

UT



Fast response. Did a great job and reasonably priced for the job done. Worked hard to get it done quickly. I would definitely use them again.
---
Response from Valley Plumbing and Drain Cleaning:

Hi Spencer! Thank you for the great review! We are so glad to hear you had a great service experience with our team. Call us anytime! Have a great day, Valley Plumbing
---
great but...
Tina

-

Riverton

,

UT



We were able to get service in a very timely manner, the job was done quick and efficiently - we were just a bit shocked at the cost of a service call plus a quick 5 minute fix.
---
Response from Valley Plumbing and Drain Cleaning:

Hi Tina, We are thrilled to hear you were satisfied with your service from our team. We do our best to keep prices fair for both our customers and our technicians. Please feel free to call us if you would like to discuss further. We are happy to help our customers! All the best, Valley Plumbing
---
Makes me wonder
Ronda

-

Riverton

,

UT



The serviceman that came had to come back as the job was not completed when he left. Additionally he told me that my friend that works for the same company could have done the job cheaper?!
---
Great
Jeff

-

Riverton

,

UT



They did a great job thanks
---
Travis W.
Tightened hose end on spay on kitchen faucet. We installed faucet in June last year. No charge.
Near
2656 Dry Creek Drive,

Riverton

,

UT

84065
Eddie D.
Master bathroom toilet repair, fill valve and supply line and Mansfield flapper disposer replacements. Turn on water and test for proper function, working great.
Near
W Margaret Rose Dr,

Riverton

,

UT

84065
Eddie D.
Quote only, Utah disaster has been called to remove wet sheetrock and then we can come make repairs.
Eddie D.
Finish the job of the shower drains moved.
Near
S Critters Cove,

Riverton

,

UT

84096
Eddie D.
Move the drain lines under the floor to the new location for the shower with shower drain supplied by customer, running the water lines from the old shower to the new location in wall which will be furred out for vent and water lines purposes, shower valve to be supplied by customer as well. Quote is for rough in work only, finish work can be quoted when work is ready to be done.
Near
S Critters Cove,

Riverton

,

UT

84096