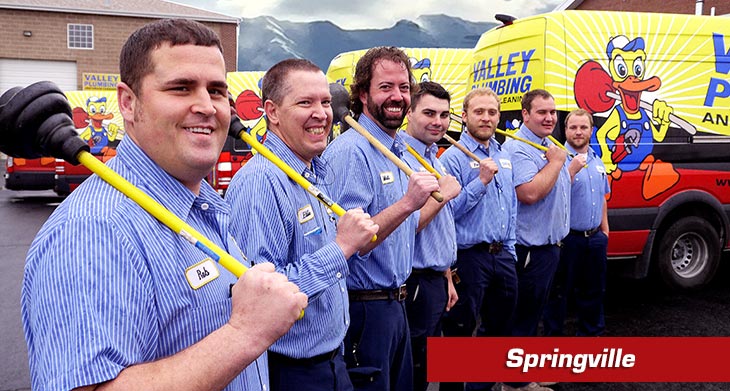 Your plumbing system is an important part of your home. Investing in proper maintenance is key to ensuring it remains working at its peak efficiency. At Valley Plumbing and Drain Cleaning, we understand the importance your plumbing plays in your daily comfort at home. Count on our team of experienced, licensed team of plumbers to deliver quality Springville, UT plumbing, water heater, and drain cleaning services.
No matter how extensive or minimal your plumbing problem may be, we can provide fast, thorough diagnosis and remedies that are guaranteed to last long term. We strive to offer excellent quality at a great value, so we do not charge you a service fee and we offer financing options.
Save instantly on your next service when you access our current online coupons and special promotions.
Benefits of Water Leak Detection Services
Homeowners may not be aware of the advantages of water leak detection services. Some of the main benefits include:
Removes guessing: With the help of our water leak detection services, you can easily pinpoint which pipe is leaking and take appropriate action.
Accurate Detection: Enjoy peace of mind knowing the leak detection services are electronic and extremely accurate.
Uncovers unforeseen leaks: Sometimes, homeowners have small leaks that can be detected before they cause major damage.
Prevents damage to your home: When leaks are not caught early on, the excessive water can severely damage your walls, flooring, ceiling, and foundation.
If you suspect a leak in your home, call us right away and one of our experienced professionals will provide you with the fast relief you need.
What Are the Signs That You Need Professional Drain Cleaning?
Preventive maintenance goes a long way in keeping your drains clean, but sometimes, you need professional service when you experience the following issues:
Multiple clogged drains: Drains that often get clogged desperately need cleaning. Multiple clogged drains can pose quite a problem and you should contact our emergency services immediately in such a case.
Water flooding: Flooding often follows clogging. If you don't contact us, it could end up ruining your furniture, flooring, and carpets.
Recurring clogs: If there is a particular drain that always gets clogged and regurgitates, it's time to use our professional services.
Foul odor: Drain cleaning is essential for the health of your home and family. Diseases and infections can spread from unclean drains. When your drain starts emitting a foul odor, it is time to call the professionals.
Check out our recent customer reviews to see why area residents love to work with us.
Does Your Water Heater Need Repairs or Replacement?
Traditional water heaters have a life of about 8 – 12 years. However, as soon as the heater crosses the 10-year mark, you can expect small problems to start occurring. Ultimately, replacing water heaters that are more than a decade old with energy efficient models is recommended because they help you save money in the long run.
Frequent leaks are the most important sign to note. The base of your water heater's tank is where most leaks occur. Sometimes they can be repaired and at other times, replacement might be a better option. Other signs include slow water heating, rusty pipes, rust colored water, and sizzling sounds.
Local Reviews
for Springville, UT
Valley Plumbing and Drain Cleaning
Rated
4.6
out of 5 stars based on
14
customer reviews
---
superb service technician
Ronirvine

-

Springville

,

UT

84663



Review of
Valley Plumbing and Drain Cleaning
Very qualified
---
The Drain is Running well now so great Job!! Thank you
Kim Frost the

-

Springville

,

UT

84663



Review of
Valley Plumbing and Drain Cleaning
---
Great Service
Frank

-

Springville

,

UT

84663



Review of
Valley Plumbing and Drain Cleaning
The technicians were experienced and efficient. Their advice saved us quit a bit of money. They treated us as friends and valued customers. We've dealt with Valley Plumbing before and never been disappointed.
---
Great
Springville

-

Springville

,

UT

84663



Review of
Valley Plumbing and Drain Cleaning
Amazing! Absolutely amazing! Thank you so much. He was professional and fast and did an excellent job.
---
Great
Gary

-

Springville

,

UT

84663



Review of
Valley Plumbing and Drain Cleaning
Personable and knowledgeable. Very satisfied with his efforts
---
Luis G.
We installed a sump pump in the mechanical room. We broke concrete in the top left corner of the mechanical room, there we placed the basin for the pump along with the pump it self. We built the piping for the pump, we added a 90 joint going in to the bedroom next to the mechanical room on the south side. We cut open the ceiling and drilled through the wood to get the pipe through. We then added another 990 joint, this time out towards the front of the house where we terminated the line. We installed both a check valve and a ball valve to the system. We then filled the hole with gravel and some dirt and cemented for a nice finish. We then tested the pump and it is a good working order.
Near

S Brookside Dr,

Springville

,

UT

84663
Ian C.
I will jet through the downstairs clean-out to clear block at 90 ft. I will run my camera down the line at several intervals to check progress and view cause of the block. We cannot guarantee the cast iron pipe will not be damaged as it is older and has significant scale. We will then determine if further work is needed through camera scope. We will run main line auger with 150 feet of cable down main line clean out located in downstairs main area. We will do this in an attempt to clear blockage at 97 foot mark. We will then determine whether or not further jetting or excavation is required.
Near

W 200 S St,

Springville

,

UT

84663
Ian C.
I will auger the downstairs bathroom toilet to clear the blockage. I will also use a drill snake to clear block In laundry stand pipe.
Near

E 300 N,

Springville

,

UT

84663
Ian C.
I cut open the drywall directly where water bubble appeared and observed the leaking pipe to confirm leak was coming from waste and overflow. The overflow was loose. We do not repair drywall
Near

W 550 N,

Springville

,

UT

84663
Codey H.
Remove old garbage disposal and replace with new one
Near

W 600 S,

Springville

,

UT

84664