An important part of owning a home is knowing who to call for your plumbing repair concerns. While dealing with a plumbing issue is already stressful, adding an unreliable contractor to the mix can be even worse. At Valley Plumbing and Drain Cleaning, we're dedicated to your indoor comfort. Whether it's a simple drain cleaning or a complete burst pipe repair, you can count on our staff to offer effective and long-lasting solutions the first time you call us out. Best of all, we're also available 24/7, which means that when you need us most, you can count on us to arrive on time and ready to get your plumbing flowing in no time!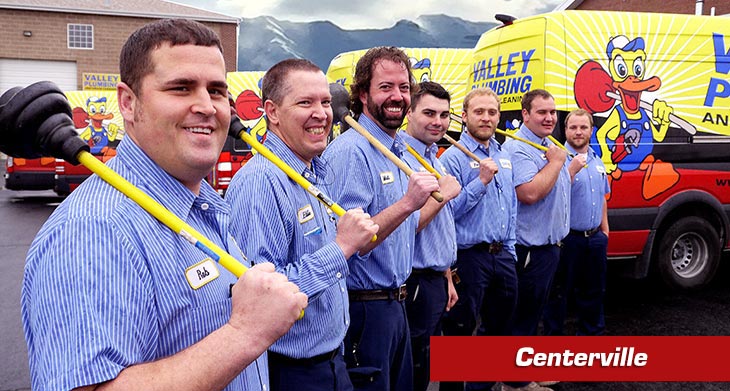 We have earned the trust of our long-time customers. Want to hear from them? Visit our reviews page today!
How to Prevent Plumbing Emergencies
Emergency plumbing repairs are not only expensive but also they can damage your home and hamper your indoor comfort. As such, you want to do your best to prevent finding yourself in the middle of the night with no running water. With regular plumbing maintenance and care, you can improve the health of your plumbing and avoid major repair issues.
Some simple examples can range from adding clog prevention devices, schedule annual inspections, and ensuring your pipes are prepared for the winter. Also, as soon as you notice any change in performance from fixtures such as water heaters or issues with your gas-powered appliances, you should call for an immediate inspection.
Preventing emergencies is key, and with the help of an experienced plumbing contractor, you can enjoy efficiency performance and improve peace of mind.
Signs You're Dealing with a Clogged Drain
While standing in a puddle of water every shower is an obvious indication that you're having a drainage issue, there are some other, more subtle signs you should be on the lookout for. These include:
Low water pressure
Foul smells from your drains
Gurgling noises
Noisy pipes
Rust or deterioration in the water
In many cases, a clog will be caused by something simple like excess hair or hardened cooking grease. While other scenarios are more serious like scale buildup in your plumbing. At Valley Plumbing and Drain Cleaning, we are your drain cleaning pros. We offer detailed services that get to the root of your issue, restoring the flow of water to your plumbing in no time!
The Benefits of Water Heater Replacement
Many homeowners do their best to avoid expensive purchases, but in some instances, a water heater replacement will be a better fit for your home. For starters, a new water heater will eliminate the risk of regular expensive water heater repairs. Most new appliances are built with improved durability, and with the right care and maintenance, it can last even longer.
Another perk of water heater installations is improved energy performance. New water heaters are designed to help you save big on monthly energy costs, without affecting performance. Our plumbing professionals can help you with all your water heater needs, including repairs and installations, ensuring your indoor comfort with every use.
Want some more helpful tips for your home? Be sure to visit our blog for actionable advice you can use for your home.
Your Centerville Plumbing Pros
At Valley Plumbing and Drain Cleaning, our goal is to offer our customers reliable plumbing repairs, installations, and maintenance without breaking the bank. We're available for 24-hour emergency plumbing services, and do our best to work with your budget to find an affordable and reliable plumbing solution. As homeowners, we understand how challenging plumbing issues can be, and go the extra mile to treat your home like our own!
Local Reviews
for Centerville, UT
Valley Plumbing and Drain Cleaning
Rated
4.5
out of 5 stars based on
6
customer reviews
---
self , I own condo where service was done
Jim Whitelock

-

Centerville

,

UT

84014



Review of
Valley Plumbing and Drain Cleaning
great service , both techs were awesome, very knowledgeable and very good people, I enjoyed my interactions with them , I got a 5 star job from a good company with great employees ! thank you Valley Plumbing !!!
---
Leak
Brian

-

Centerville

,

UT

84014



Review of
Valley Plumbing and Drain Cleaning
Mitch was very professional, knowledgeable and kept me informed through the entire visit. Helped determine the problem, and gave a recommended resolution. Thanks Mitch
---
Great service!
Nicole

-

Centerville

,

UT

84014



Review of
Valley Plumbing and Drain Cleaning
Loved getting an email prior to arrival. It was great knowing whom to expect and that they were on the way. Thanks.
---
Fast Service
Wilford

-

Centerville

,

UT

84014



Review of
Valley Plumbing and Drain Cleaning
---
water main line
Bryan

-

Centerville

,

UT

84014



Review of
Valley Plumbing and Drain Cleaning
These people are the best!
---
Pedro U.
We will clear the main sewer line and then we will scope to see why it's backing up so soon we cleared the main sewer line and scooped it and found that the sewer line is bad with a lots off debris and a couple of bellies
Near

N Main St,

Centerville

,

UT

84014
musicman1826@gmail.com
We will replace the kitchen faucet with a homeowner supplied Moen faucet. We will dispose of the old faucet during this process. Once work is compete we will test for proper operation. We do NOT warranty homeowner supplied faucet.
Near

N 500 E,

Centerville

,

UT

84014
musicman1826@gmail.com
We will cut out some of the existing cooper pipe in order to make a repair to the water line. We will solder new pipe and fittings adapting to the water line as necessary. We will need to cut out drywall in order to make the repair. We are not responsible for drywall repair. Once work is complete we will test for proper operation. Results: Job went well, no major issues. PRV was replaced during water line repair. I recommend installing a new main water shut off vale to the home.
Near

N Parkway Dr W,

Centerville

,

UT

84014
Jordan S.
We can remove the existing 3 handle set, and install a new single handle valve, with spout. We will also replace the downstairs faucet, and repair two upstairs drains and traps. Results: opened the wall behind the tub/show for access and removed the 3 handle set, cur a larger hole in the tile for the single handle valve, and a new one for the spout. Installed the new single handle valve, and spout, attached to the existing lines exposed in our wall opening. Tested for leaks. We rebuilt the kitchen drain, and the upstairs bathroom sink drain, and checked for leaks. We installed a new two handle faucet in the bathroom downstairs. Water pressure is still good, but consider replacing the Pressure reduction valve in the near future to prevent over pressurizing the house. I also left a quote for a water softener as well just for your consideration. This could really help the lifespan of all your plumbing valves and appliances!
Near

E 300 S,

Centerville

,

UT

84014
Aaron S.
We drained the water heater and disconnected it in the maintenance room on the third floor of apartment J. We installed the new water heater with new supply lines, new gas flex and new expansion tank. We pressurized the system lit the pilot light and noted the pressure was 70 with our water gauge. Loaded up the old water tank connected parts for disposal. All work done and parts put in by us is guaranteed for 1 year. AO smith typically warranty's the parts of the water heater and the tank for up to 6 years from the manufacturer date. The manufacturer date for this unit is 12/20/2021 warranty should end 12/20/2027 to check when warranty ends you may call 800-527-1953.
Near

W 650 S,

Centerville

,

UT

84014