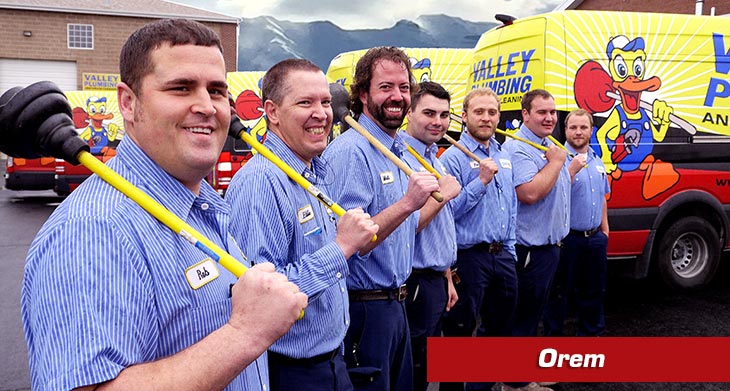 When plumbing troubles arise, a trustworthy plumber on your side is key. A qualified professional can bring order to your household when you're experiencing a broken pipe, flooding, or clogged drain. Not only will we come to the rescue when things have gotten out of hand, we provide reliable preventative maintenance to prevent future catastrophes.
Count on Valley Plumbing and Drain Cleaning to provide you with superior plumbing, water, and drain cleaning services in Orem, UT. We strive to provide you with quality workmanship that leaves you 100% satisfied. Don't let plumbing issues wreak havoc on your life - call us today for immediate service.
Save even more on your next service when you access our online discounts and coupons.
What Are the Benefits of Water Leak Detection Services?
One of the most obvious benefits of calling a plumber to perform a leak detection service is verifying the presence of a suspected leak. Sometimes homeowners contact their plumber in search of answers to their plumbing issue, but it may not necessarily be caused by an obvious leak. In this case, a leak detection service can be used to either pinpoint the exact location of the leak or rule out a leak as a cause of the issue.
In addition to scheduling a leak detection service in the event that a plumbing problem arises, having the service performed annually can allow a plumbing expert to repair a small leak before it becomes a larger problem. When leaks go unnoticed until they cause visible damage, the consumer is left with the predicament of making costly repairs. Therefore, having an annual leak detection service performed can ultimately save money.
What Are the Signs Professional Drain Cleaning Is Needed?
There are several signs that indicate the need for professional drain cleaning. Some signs are more obvious than others. Slow water drainage in a fixture may seem like a minor problem but it can be an early sign of serious buildup in the underlying pipes. Drains that are frequently clogged often need professional intervention to remove an obstruction further down in the pipe. If multiple fixtures simultaneously exhibit signs of a slow drain, there may be buildup in the main drain system instead of the fixture itself.
An unpleasant odor may be caused by a buildup of pollutants. Flooding is one of the most urgent signs that drain cleaning may be needed. Contact a plumbing technician immediately if flooding is believed to be caused by a sewage backup.
Do you wonder what all of the hype is about? Check out our reviews and see why Orem homeowners rely on us for our expert services.
When Is It Time To Repair or Replace Your Water Heater?
Determining whether to repair or replace a water heater is mainly dependent on the age of the heater and the cost of the repair. If a water heater is still under warranty and the necessary repair is covered under the warranty, the repair is justified. If the repair cost is less than 50% of the cost of replacing the water heater, the consumer should also opt to have the unit repaired.
Another reason for choosing to repair instead of replacing is if the consumer simply likes his or her current water heater and does not want to purchase a new one. Water heaters that are nearing the end of the life cycle require expensive repairs or are no longer energy and cost-efficient should be replaced.
Local Reviews
for Orem, UT
Valley Plumbing and Drain Cleaning
Rated
4.8
out of 5 stars based on
44
customer reviews
Powered by Nearby Now
---
Exorbitant cost
Karen

-

Orem

,

UT



Review of Valley Plumbing and Drain Cleaning
Very pricey for 2 hours of work. We won't use you again.
---
Great Work!
Janeen

-

Orem

,

UT



Review of Valley Plumbing and Drain Cleaning
I had an issue with a rental I own after a remodel. Water was leaking into the unit below. Cory came and had everything fixed within a couple of hours. So I asked him for a bid to replace an old water heater. His bid was less than I was expecting and he fixed all of the problems I have been worrying about for months. Well worth the money spent!
---
He was great
Mary

-

Orem

,

UT



Review of Valley Plumbing and Drain Cleaning
---
Good
Mary

-

Orem

,

UT



Review of Valley Plumbing and Drain Cleaning
---
it was OK
Linda

-

Orem

,

UT



Review of Valley Plumbing and Drain Cleaning
The drain was finally cleared but the $500 charges seemed high. He also tracked mud on the kitchen floor.
---
joshua.ashby@gmx.com
Rebuild on Moen Posi temp main floor tub valve 1 year warranty
Near
Quail Rd,

Orem

,

UT

84097
Tom A.
We ran our medium drain machine down the line approximately 75' down the line from the upstairs kitchen cleanout. We felt a semi solid blockage at around 60 feet. After a few minutes we were able to pass through and clear it. There was also a fair amount of grease buildup at the cleanout we accessed. We cleaned that out before putting the cap back on. Everything is draining great. No warranties on drain cleanings.
Near
N 1100 E,

Orem

,

UT

84097
Tom A.
We replaced the kitchen faucet with a new homeowner provided kitchen faucet. We replaced the shutoff valves under the sink, sink strainer, and replumbed the drainage under the kitchen including replacing wye fitting, approximately 1 foot of 1 1/2" abs pipe, and 2 p traps. We tested everything for leaks when we were done. No warranty on homeowner provided fixtures. All other additional parts have a 1 year warranty parts and labor. Service Membership takes 15% off this invoice and any other plumbing work for the next year.
Near
W 1640 S,

Orem

,

UT

84058
collis.bobby@yahoo.com
We looked at toilet with customer and realized that the toilet does not allowed enough water per flush to wash down waste. Customer does not want quotes for new toilets. He will be moving soon. Customer does not have a place to check water pressure we checked water heater with no drain and there is not a hose bib on front of strip mall.
Near
E University Pkwy,

Orem

,

UT

84058
Trevor M.
Removed cartridge as per customer request. Customer did not have new filter on hand to change it out. Will leave filter cartridge here with mode and serial number so customer can find new cartridge.
Near
N 1080 E,

Orem

,

UT

84097