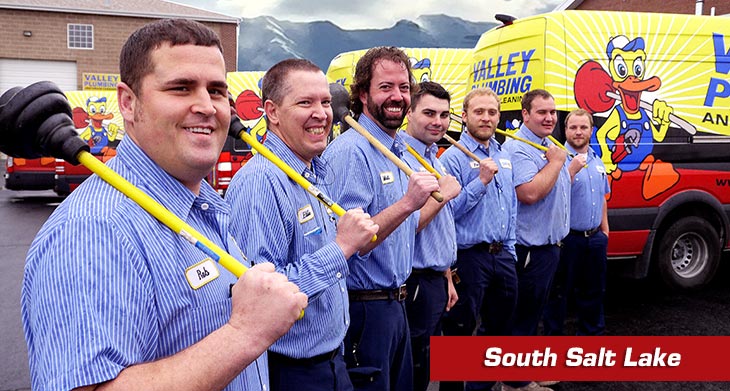 Leaks from plumbing issues within your home and clogged drains can be a complete nightmare to try and deal with, but our friendly professionals at Valley Plumbing and Drain Cleaning are here to help. Our team of qualified, experienced plumbers can provide you with reliable South Salt Lake, UT plumbing, water heater, and drain cleaning services that are guaranteed to last. No matter how severe or simple the issue, count on us for immediate relief.
Don't miss out on instant savings on your next service with our current specials and coupons.
Why Should You Get Water Leak Detection Services?
One of the main benefits of water leak detection services is helping make sure your water bill does not spike. A water leak in your home that has not otherwise made its presence known can make your water bill rise without you knowing why. Water leak detection services help pinpoint where the leak is and get the issue resolved quickly and effectively.
Another benefit of water leak detection services is avoiding water damage to your home. Unknown leaks can start in one area of the home and seep through walls and floors damaging a much larger area of your home. Water leak detection services help you avoid expensive water damage restoration costs by pinpointing the issue and resolving it to keep it from spreading.
Traditional ways of detecting a leak include digging and destruction to find exactly where the leak is, but with modern water leak detection services, that is no longer necessary.
Water leak detection services also help prevent a catastrophic leak from occurring. Leaks can start small and steady, but once there has been enough damage to the pipe or fixture that is leaking, the leak can turn into a burst pipe for instance and cause water loss of incredible amounts per minute. Water leak detection services help prevent this from happening.
Do Your Drains Need Professional Drain Cleaning?
There are several different signs to look for when deciding if you need professional drain cleaning. One of the first signs to look for is if your drains are draining slowly or not draining at all. Slow drains are usually a result of a clogged drain. Professional drain cleaning services can help clear the clog the first time to ensure that your drains get back to working condition and do not lead to more serious issues such as burst pipes.
Foul odors that come from your drains is another sign that you need professional drain cleaning services. Your drains should never give off odors that smell of sewage. This is a sign that the drains are not draining properly and that you are dealing with an important drainage problem.
Multiple clogged drains at once is also a sign that you need professional drain cleaning. Multiple clogs at one time are a sign that your drainage system has a block in it somewhere. Professional drain cleaning services can pinpoint the issue and resolve it to ensure the drainage issue is taken care of instead of just masked temporarily.
Take a look at what other South Salt Lake residents have to say about our services in our comments and reviews.
Signs You Need to Repair or Replace Your Water Heater
When your water heater begins less and less hot water, you need to repair the heater. When the heater is in prime working condition, you will get a consistent amount of hot water every time you use hot water.
Another sign you need to repair your water heater is if the heater does not keep water in the tank hot. If you have not used hot water in a certain amount of time, the water heater should automatically turn on to keep the water hot.
If your water heater is over the age of 10 years and is needing repairs, it is time to be replaced. Water heaters typically last between 10 to 12 years. Once the heater gets older in age and repairs become more costly, it is better to replace the water heater than to try and repair it.
Local Reviews
for South Salt Lake, UT
Rated
4.8
out of 5 stars based on
6
customer reviews
Powered by Nearby Now
---
Job well done, compassionate service!
Ruth

-

South Salt Lake

,

UT



Lucas was considerate and really helped my mom with her plumbing problems. He went above and beyond!
---
Response from Valley Plumbing and Drain Cleaning:

Hi Ruth! Thank you for the positive review! Lucas is a fantastic member of our team, and we are glad you think so too! Call us anytime! Best Regards, Valley Plumbing
---
Great service
Lauren

-

South Salt Lake

,

UT



They came out 3 hours after I called them initially. They Gave me 2 options and prices before they started their work and were finished fixing my drain and pipe in under an hour. Great to work with and very nice guys.
---
Great service
Pam

-

South Salt Lake

,

UT



---
Easy to work with. Great service
Creative Services Bureau

-

South Salt Lake

,

UT



---
Great service. Very friendly down to earth. Affordable price
Robert

-

South Salt Lake

,

UT



---
Travis W.
Gave estimate for stack rebuild
Near
S 200 E,

South Salt Lake

,

UT

84115
Trevor M.
Installed price fister two handle rebuild kit. No warranty due to age of valve.
Near
700 E,

South Salt Lake

,

UT

84106
Trevor M.
Clear main line stoppage using Hydro Jetter, jetted main line cleared all obstructions once cleared there was one spot that seemed to be separating a little bit from the fitting its connecte to I will attach a picture to solve this we would have to break up the concrete I am not thinking this,is causing an issue as far as I can tell but I am making you aware. Discount per James
Near
State St,

South Salt Lake

,

UT

84115
Alex K.
We will hydrojet the main line through the manhole on the west side of the building.
Near
S 200 E,

South Salt Lake

,

UT

84115
Jon .
We will remove all drywall needed but we don't replace it we will have to make access in multiple areas and do not know how much drywall we will need to remove. We will assess the drainage for the laundry and repair as needed we also will run a dryer vent thru the south wall brick we have spoke with an hoa rep named jay he gave approval to make the penetration. I also suggest running gas for the dryer instead of electrical (saves money over replacing electrical box). Price is based on a guess of worse case to fix the plumbing properly it may be able to lower if piping is more accessible. Original estimate was to run connections in spare bedroom we moved them to the master closet and so pricing has changed we also had to replace the main shutoff for the unit as well as repipe the water to the water heater. I ran an extension cord to the pump system and tested the system every thing is functioning properly
Near
3335 S,

South Salt Lake

,

UT

84115