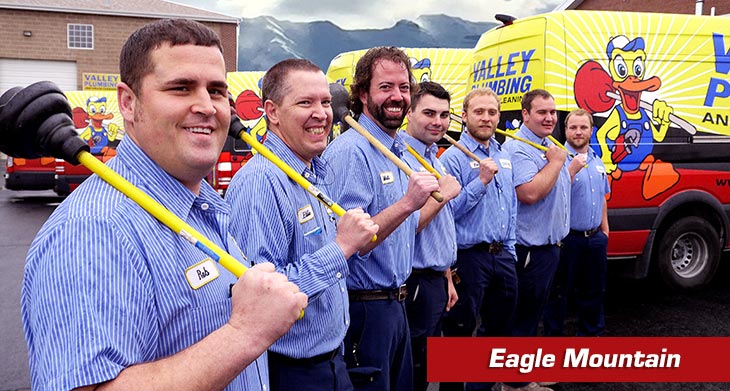 Plumbing problems can cause major damage to your home not to mention daily routine. When you're in need of serious plumbing repair, seek only the best service that goes beyond that of the standard plumber. At Valley Plumbing and Drain Cleaning, we have the tools and experience to handle a variety of issues. Our leak detection services stop water damage before it becomes more severe. Extensive drain cleaning, and repair or replacement of damaged water heaters are just a few of the services we offer. Count on us for your all your Eagle Mountain, UT home plumbing, water heater, and drain cleaning needs. We guarantee your 100% satisfaction!
Save even more when you access our exclusive online promotions and coupons.
Advantages of Water Leak Detection Services
Water leak detection spots leaks without the need for uprooting the soil and base of the home. This is done with advanced equipment that finds leaks and any damage they have already caused. Not all standard plumbers carry this advanced equipment, but we have the tools to give clients the security and peace of mind they desire.
Other benefits of water leak detection services include:
Catching excess moisture before it causes hazardous mold.
Preventing residents from using more water than necessary and running up utility bills.
Averts sudden flooding in the home.
Spots leaks before they lead to irreversible damage of the home's structure.
Do You Need Professional Drain Cleaning Services?
Simple drain problems can cause issues with the entire plumbing system in a home. There are numerous ways to tell when it may be time for drains to be cleaned. Recurring clogs are a problem common to sinks and showers. Trying to remove the clog is usually not effective enough without professional tools that can reach the source deep down and prevent future clogging.
Flooding is another major sign. Water may back up in basements or near floor drains. The drain may stop working and leave stagnant, contaminated water on floors or in your tub. Frequent foul odors coming from drains is also signals that they should be cleaned.
Are you curious to know what others think of us? Read our reviews and see why your Eagle Mountain neighbors keep coming back for our services.
Do You Need To Repair or Replace Your Water Heater?
When a water heater begins to function abnormally, it may be a sign that there is damage that needs to be repaired. If this damage is severe, the unit may stop working altogether and it will have to be replaced. When the damage is neglected, the problem will only get worse. If the unit is repaired repeatedly, these repair costs add up and it becomes more beneficial to replace the unit with a newer one.
Simple problems that require repair include leaking valves, loose fittings, and debris buildup. More serious issues that signify the need for replacement include corroded tank walls and large leaks around the base of the unit. A standard water heater should last from 8 to 12 years with normal use and proper maintenance.
Local Reviews
for Eagle Mountain, UT
Valley Plumbing and Drain Cleaning
Rated
4.8
out of 5 stars based on
32
customer reviews
Powered by Nearby Now
---
Ice Maker Installation
Suzanne

-

Eagle Mountain

,

UT



Review of Valley Plumbing and Drain Cleaning
Although it was a challenge to find the water lines, Mason and Hayden were persistent and competent! Very nice and knowledgable and am happy with their service.
---
Great service!
Brandon

-

Eagle Mountain

,

UT



Review of Valley Plumbing and Drain Cleaning
Andy was really great to work with and even waited for me to drive out there as we left the wrong key for him to get in our house. I will definitely be using this company again for any future needs!
---
Response from Valley Plumbing and Drain Cleaning:

Thank you so much for your loyalty. As a company, our goal is to always provide a service at a high enough level that our customers return. Please let us know if there is anything else we can do for you.
---
Service
Colleen

-

Eagle Mountain

,

UT



Review of Valley Plumbing and Drain Cleaning
Neil was very helpful, through, and professional. I will continue to utilize their services for any plumbing issues I have.
---
Response from Valley Plumbing and Drain Cleaning:

Thank you for letting us know how Neil did. We truly appreciate you as a customer and we thank you for your review.
---
Attentive to my every need
Jared

-

Eagle Mountain

,

UT



Review of Valley Plumbing and Drain Cleaning
Fast friendly service with a smile. It is very obvious that customer service is a top priority. I felt like I was talking to a friend of 9 years.
---
Response from Valley Plumbing and Drain Cleaning:

We are so happy to hear that you had great customer service. You are correct that this is something that we focus on. We want to make sure our customers get the service they deserve.
---
Kitchen Sink Intall
Glenn

-

Eagle Mountain

,

UT



Review of Valley Plumbing and Drain Cleaning
Neil is a super nice guy. Put on his paper shoes before walking in. Polite guy.However, the price quoted to install a new kitchen sink is extreme. $1000.00 is exorbitant...
---
Response from Valley Plumbing and Drain Cleaning:

Thank you for letting us know your experience with Valley Plumbing. Please give us a call so we can go through the estimate with you. We want to make sure that it was quoted correctly and that we are on the same page.
---
Tom A.
Hospice it outside by the front door had frozen and cracked. The water was leaking outside the foundation and making its way down the exterior wall in the basement. We cut out approximately 12" x 12" worth of sheet rock to expose the piping that was connected to the hose spigot. We shut the water off to the home and drained the water distribution system. We removed the old hose bibb and replaced it with a new one. We modified the existing water distribution piping as needed to complete the repair. We sloped the piping down towards the spout to help the water drain out in the future to minimize freezing in the future. We observed that the previous hose bibb was not fastened to the exterior wall so we added additional anchors. We added some expanding spray foam around the spigot to help keep it From freezing. We also added an access panel to cover up the hole in case the homeowner wanted access in the future. One year "can't write a check" guarantee on parts and labor. Warranty
Near
E Jacob's Ct,

Eagle Mountain

,

UT

84005
Geroge K.
Septic is full of debris at the entrance/inlet and is clogging up the baffles. I got it partially open with the camera and the water drained down from the home, but there is a good deal of debris still at the opening. This system will need to be dug up, the top opened, and pumped out. There could be problems with the distribution box or the leach fields being plugged also, which could be a strong indicator of why it keeps backing up at the baffles or "entrance" of the tank. Tank inlet is directly under the brown brick retaining wall 10.5' and about 7-8' away from the home.
Near
Gooseberry Dr,

Eagle Mountain

,

UT

84005
Hayden B.
We will add an ice maker box in the kitchen behind the fridge. We will need to cut into the wall to find the cold water line. (There is no water softener) afterwards we will tie into the cold line and tee off to the ice maker. We will install the ice maker behind the fridge at 12 inches to center. This estimate is for 2 hours or less of work. Price will adjust if job takes longer. We followed the water lines from the manifold and cut a whole in the wall in order to connect for the ice maker. We then cut a couple more holes in the Sheetrock so we could drill through the studs and pull the line from where we connect. We also cut a whole for the ice maker itself. After the water lines and the ice maker box were connected we tested the fridge to make sure it was working properly. We also verified our new connections were not leaking.
Near
N Ridge Loop E,

Eagle Mountain

,

UT

84005
Hayden B.
We will use the auger to break up the clog in the drain. If that does not work we will have to pull the toilet to remove the obstruction. We ran the auger through the toilet. We were able to break the obstruction after a couple passes. We then ran through again a couple more times to ensure the obstruction was fully taken care of. Afterwards we flushed the toilet a few times verifying we were successful.
Near
E Autumn St,

Eagle Mountain

,

UT

84005
Jules M.
We will remove the old water heater and replace with a new state 50 gallon water heater. We will also replace and correctly hook up the expansion tank, we will replace the old water supply lines with new ones, as well as replace the gas hose. The customers have been having issues with their water pressure. I checked the PRV and noticed it was leaking. We will cut out the old one and replace it with a new 3/4 PRV. We replaced the old water heater with a new state 50 gallon. We installed a new expansion tank and put it on the cold side. We replaced the supply lines for both water and gas. Fired up the water heater and checked for leaks as well as ensure the water heater was working properly. We then cut out the old PRV and installed a new 3/4 PRV.
Near
Western Gailes Dr,

Eagle Mountain

,

UT

84005