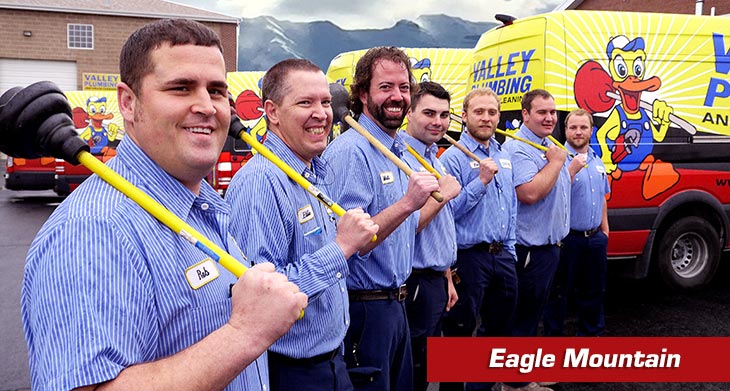 Plumbing problems can cause major damage to your home not to mention daily routine. When you're in need of serious plumbing repair, seek only the best service that goes beyond that of the standard plumber. At Valley Plumbing and Drain Cleaning, we have the tools and experience to handle a variety of issues. Our leak detection services stop water damage before it becomes more severe. Extensive drain cleaning, and repair or replacement of damaged water heaters are just a few of the services we offer. Count on us for your all your Eagle Mountain, UT home plumbing, water heater, and drain cleaning needs. We guarantee your 100% satisfaction!
Save even more when you access our exclusive online promotions and coupons.
Advantages of Water Leak Detection Services
Water leak detection spots leaks without the need for uprooting the soil and base of the home. This is done with advanced equipment that finds leaks and any damage they have already caused. Not all standard plumbers carry this advanced equipment, but we have the tools to give clients the security and peace of mind they desire.
Other benefits of water leak detection services include:
Catching excess moisture before it causes hazardous mold.
Preventing residents from using more water than necessary and running up utility bills.
Averts sudden flooding in the home.
Spots leaks before they lead to irreversible damage of the home's structure.
Do You Need Professional Drain Cleaning Services?
Simple drain problems can cause issues with the entire plumbing system in a home. There are numerous ways to tell when it may be time for drains to be cleaned. Recurring clogs are a problem common to sinks and showers. Trying to remove the clog is usually not effective enough without professional tools that can reach the source deep down and prevent future clogging.
Flooding is another major sign. Water may back up in basements or near floor drains. The drain may stop working and leave stagnant, contaminated water on floors or in your tub. Frequent foul odors coming from drains is also signals that they should be cleaned.
Are you curious to know what others think of us? Read our reviews and see why your Eagle Mountain neighbors keep coming back for our services.
Do You Need To Repair or Replace Your Water Heater?
When a water heater begins to function abnormally, it may be a sign that there is damage that needs to be repaired. If this damage is severe, the unit may stop working altogether and it will have to be replaced. When the damage is neglected, the problem will only get worse. If the unit is repaired repeatedly, these repair costs add up and it becomes more beneficial to replace the unit with a newer one.
Simple problems that require repair include leaking valves, loose fittings, and debris buildup. More serious issues that signify the need for replacement include corroded tank walls and large leaks around the base of the unit. A standard water heater should last from 8 to 12 years with normal use and proper maintenance.
Local Reviews
for Eagle Mountain, UT
Rated
4.8
out of 5 stars based on
22
customer reviews
Powered by Nearby Now
---
Great service, great response time!!!!!
Dean

-

Eagle Mountain

,

UT



To find someone on a Sunday, right before Christmas, you guys rock. Your price beat the competition and saved me a substantial amount. My water heater was a smaller version that was not readily available anymore and you plumber Travis took the time to make a standard version fit and fit well. Thank you guys so much.
---
Response from Valley Plumbing and Drain Cleaning:

Thank you for the kind words Dean! We are so glad we could give you a great service experience. Call us anytime! All the best, Valley Plumbing
---
Great service a bit pricey
Jeff

-

Eagle Mountain

,

UT



We called for a drain clean and spent almost 300
---
Response from Valley Plumbing and Drain Cleaning:

Hi Jeff! Thank you for your feedback. We would be more than happy to go over any questions or concerns you may have about your bill. Feel free to call us anytime! All the best, Valley Plumbing
---
Fabulous service!
Trisha

-

Eagle Mountain

,

UT



Valley plumbing was there right when we needed them. Our water heater went out last night. I called Valley Plumbing as soon as we discovered the problem. They were here this morning and took care of the water heater and our pressure release valve. They were upfront and honest. Truly a pleasure to work with.
---
Response from Valley Plumbing and Drain Cleaning:

Thank you for the outstanding review Trisha! We are so glad to hear our team was able to help you with your plumbing issue. Call us anytime! All the best, Valley Plumbing
---
Great, Honest service!
Rick

-

Eagle Mountain

,

UT



On time, fast, helpful with choices, clean and willing to work till it was fixed. Even discovered a hidden problem and brought that to our attention to help us plan.
---
Job well done
Ami

-

Eagle Mountain

,

UT



Al was great, he took the time to make sure everything was done correctly and fixed an number of problems.
---
Trevor M.
I was getting error code 90. In the trouble shooting guide that comes up as a combustion air issue. The unit was not shutting down because of the issue. My diagnosis is that there was an abnormality in the airflow and caused a momentary fault in the unit. To reset the code the instructions said to disconnect the power and then turn the power back on. I did this at the breaker and the code did not come back. We checked the combustion air outside and there is no obstruction. Could have been snow or wind etc. if the problem happens in the future first try shutting the breaker to the heater off for 15 seconds and then back on. If the problem persists call us back and we will look into other avenues. We may need to direct vent the combustion air to the outdoors which would require us to cut the ceiling open and run the 3" pvc to the outdoors the same as the flue.
Near
2369 Hitching Post Drive,

Eagle Mountain

,

UT

84005
Neil A.
3" flange 3" 90x2, Y, 45's, 3" couplings,
Near
7647 Silverlake Parkway,

Eagle Mountain

,

UT

84005
Jon .
This bid is to install 2 inch pressure reducing valves on the fire risers in rock creek buildings A thru o ,h is done already we would put in a 2 inch valve and re pipe with copper pipe and but an brace with uni-strut and a uni-strut clamp to anchor pipe
Near
3561 East Rock Creek Road,

Eagle Mountain

,

UT

84005
Neil A.
Emailed estimates
Near
Silverlake Pkwy,

Eagle Mountain

,

UT

84005
Rob S.
i installed toilet and new angle stop in main bathroom. tested after and all is great
Near
Royal Aberdeen Rd,

Eagle Mountain

,

UT

84005