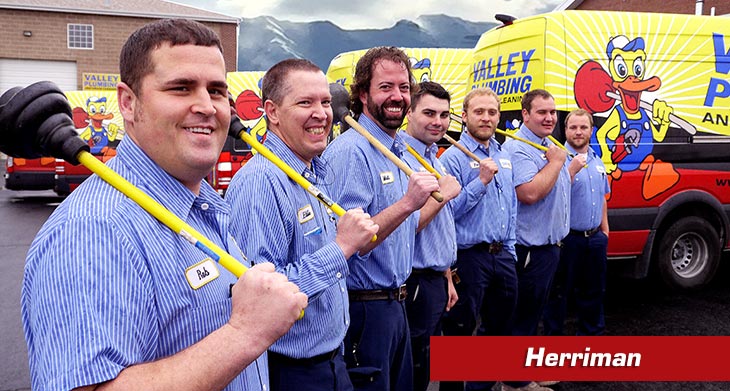 At Valley Plumbing and Drain Cleaning, our professional plumbers can provide an array of routine and urgent services for homes in Herriman, UT. Water leak detection could prevent some major problems such as structural damage of walls and floors due to excessive moisture accumulation. Drain cleaning services can minimize the need to call for emergency plumbing at odd hours due to clogged toilets or sinks.
Our licensed, trained plumbers also take care of problems with gas and electric powered water heaters that should work all year long. Trust us for your plumbing, water heater, and drain cleaning services. We are only happy when you are, so we guarantee your 100% satisfaction.
Access our online specials and coupons and save on your next home service.
Why Are Water Leak Detection Services Beneficial?
Spot mold and mildew. A water leak detection test can be useful in identifying the growth of mold and mildew in between walls and floors that cover up plumbing pipes.
Costly replacements. When a leak is detected in a supply or drain pipe, minor repairs could prevent costly replacements of entire pipes. Small holes can be sealed and joints or connectors can be tightened.
Save money. A leaky supply pipe can waste a significant amount of water in as little as a month. Homeowners surely don't appreciate paying extra for water bills as a result of leaky pipes.
Keep your home sanitary. A leak in a drain pipe could lead to the spread of foul smells throughout a home. When such a problem is detected, the source of unpleasant odors can be precisely located.
Do You Need Professional Drain Cleaning?
If water seems to flow back into the toilet bowl after each flush, you need to thoroughly clean drain pipes. Professional plumbers can remove the bowl and gain easy access to the trap that might be clogged. In addition, if you have multiple or frequent clogs and backup in your sinks and tubs, a professional drain cleaning is vital.
Even if there isn't any back flow into a toilet or sink after a flush, some unpleasant odors might make their way into a bathroom or kitchen. Sticky wastes can accumulate along the insides of drain pipes and vent stacks. Professional plumbers can dissolve these repulsive wastes by pouring special chemicals that aren't abrasive on PVC pipes.
Sink bowls and bathtubs that take a lot of time to fully drain implies the need for professional plumbing service. Traps under sinks can be disassembled and cleaned by a plumber.
Read our reviews and see why your area homeowners are so pleased with our services.
Should You Repair or Replace Your Water Heater?
A weak or explosive flow of hot water indicates a major issue with the water heater. The storage tank might be clogged with scale, something that leads to pressure accumulation and possible explosive hazards. Also, if your water comes out brown or with an odd smell, there is sediment buildup in your unit and that will require the need for replacement.
Problems with a pilot burner of a gas-powered water heater require immediate repairs because there is no way to heat up the reservoir in the storage tank. Electric heating anodes and other elements can also get burned out in water heaters. If the hot water faucet handle is turned on and cool water comes out, it is clear your heater needs to be serviced by a trained professional.
If you suspect trouble with your water heater, our expert plumbers are skilled to work on units of all makes and models. They can thoroughly inspect and evaluate any issues you're experiencing and provide you with the best course of action.
Local Reviews
for Herriman, UT
Rated
4.4
out of 5 stars based on
10
customer reviews
Powered by Nearby Now
---
fantastic service
Sherrill

-

Herriman

,

UT



Lennox arrived earlier than expected which was great, he was very friendly and professional. He walked me thru everything he did..I am very happy with the service I received and would definitely recommend him.
---
Response from Valley Plumbing and Drain Cleaning:

Thank you for the detailed review Sherrill! We are so pleased you had a great experience with Lennox. He is a fantastic member of our team. Call us anytime! All the best, Valley Plumbing
---
Eddie was efficient, prompt and even cleaned up! Great service!
Jan

-

Herriman

,

UT



---
Response from Valley Plumbing and Drain Cleaning:

Hi Jan! Thank you for the positive review! Eddie is a fantastic member of our team, and we are glad you think so too! Call us anytime! Best Regards, Valley Plumbing
---
Great job with the installation and very knowledgeable on plmbing and very respectful.
Wally

-

Herriman

,

UT



---
Paid $$ and toilet is still clogged
John

-

Herriman

,

UT



Paid almost $220 to unclog a toilet and it still is clogged.
---
New forever customer
Sarah

-

Herriman

,

UT



Eddie and Kadin were AMAZING! On time, friendly, informative. They were scheduled to do my rough-in plumbing for finishing my basement and it turned into drilling a hole to move pipes. They didn't let it phase them and continued working all day until it was completed in full. I had even purchased the wrong part for our tub and they went and purchased the correct one for no charge! It's those small things that keep a customer hooked and will spread the word. Reasonably priced bids made right there and then. They even gave a final install bid before they left and reassured us that we could probably do the job ourselves if our budget didn't allow for their services again. You've got yourselves a forever customer.
---
Jon .
The customer's expansion tank has a pin hole in the top. We will replace it with a new one. We also installed a new 1 inch Pressure reducing valve. The customer is purchasing two fifty gallon water heaters. We will hold them for him at the shop until he is ready to have them installed. At which time, we will charge him for installation. I repaired the hose bib in the back yard at no extra charge.
Near
Secret Canyon Cir,

Herriman

,

UT

84096
Jon .
Cut and remove line with hole and make appropriate repair Cut and coupled fridge line removing section of pipe that was damaged represurized and tested for leaks non found collected payment in full by credit card
Near
Blayde Dr,

Herriman

,

UT

84096
Jon .
The toilet needs to have the flapper replaced I turned the water off to the toilet removed the old flapper and install the new one turned the water back on to it and made a small chain adjustment so the toilet would flush properly. 90 day warranty on the flapper and the labor.
Near
Window Arch Ln,

Herriman

,

UT

84096
Joel B.
I will remove drywall in the basement ceiling to try to loceate the leak. Once the leak is found, we can give an estimate for the repairs. We do not know the origin of the leak and cannot give an estimate for the repairs until it is located.We do not repair or replace the drywall . ***opened up the drywall in the ceiling downstairs. The trap and line for the shower drain were not leaking. There was water coming down the wall roughly 18 inches from the window near the hole I cut. The insulation in the wall and the surrounding wood were wet. Water also runs through the bottom of the stucco on the outside of the house. I then chased the drain line for the master lav sink (between the shower and the garden tub) . Spoke with the homeowner about opening up the back of the vanity on the right side to see if the leak was in the lav line. It was not. I believe that the leak is coming from the shower pan. I contacted Jeffery with Utah disaster and asked him to follow up with the customer.
Near
Moonlite Hill Ct,

Herriman

,

UT

84096
Lennox J.
I will send my camera down to take a look and figure out if the rubber test tube is blocking the sewage from leaving the new bathroom in the garage. After I find out what is in the line I will try to push it out to the main and pop the rubber. I will not be responsible for any other stoppages in the main line after I pop the rubber test tube. Got only a piece of the test tube out and did not fully take it out so I will not charge the snake job.
Near
Pioneer Peak Cir,

Herriman

,

UT

84096