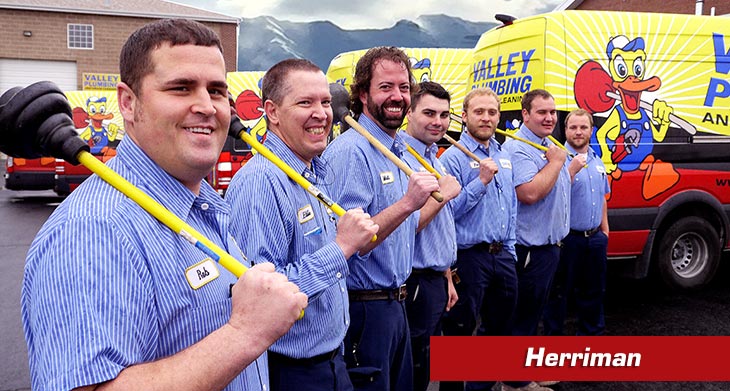 At Valley Plumbing and Drain Cleaning, our professional plumbers can provide an array of routine and urgent services for homes in Herriman, UT. Water leak detection could prevent some major problems such as structural damage of walls and floors due to excessive moisture accumulation. Drain cleaning services can minimize the need to call for emergency plumbing at odd hours due to clogged toilets or sinks.
Our licensed, trained plumbers also take care of problems with gas and electric powered water heaters that should work all year long. Trust us for your plumbing, water heater, and drain cleaning services. We are only happy when you are, so we guarantee your 100% satisfaction.
Access our online specials and coupons and save on your next home service.
Why Are Water Leak Detection Services Beneficial?
Spot mold and mildew. A water leak detection test can be useful in identifying the growth of mold and mildew in between walls and floors that cover up plumbing pipes.
Costly replacements. When a leak is detected in a supply or drain pipe, minor repairs could prevent costly replacements of entire pipes. Small holes can be sealed and joints or connectors can be tightened.
Save money. A leaky supply pipe can waste a significant amount of water in as little as a month. Homeowners surely don't appreciate paying extra for water bills as a result of leaky pipes.
Keep your home sanitary. A leak in a drain pipe could lead to the spread of foul smells throughout a home. When such a problem is detected, the source of unpleasant odors can be precisely located.
Do You Need Professional Drain Cleaning?
If water seems to flow back into the toilet bowl after each flush, you need to thoroughly clean drain pipes. Professional plumbers can remove the bowl and gain easy access to the trap that might be clogged. In addition, if you have multiple or frequent clogs and backup in your sinks and tubs, a professional drain cleaning is vital.
Even if there isn't any back flow into a toilet or sink after a flush, some unpleasant odors might make their way into a bathroom or kitchen. Sticky wastes can accumulate along the insides of drain pipes and vent stacks. Professional plumbers can dissolve these repulsive wastes by pouring special chemicals that aren't abrasive on PVC pipes.
Sink bowls and bathtubs that take a lot of time to fully drain implies the need for professional plumbing service. Traps under sinks can be disassembled and cleaned by a plumber.
Read our reviews and see why your area homeowners are so pleased with our services.
Should You Repair or Replace Your Water Heater?
A weak or explosive flow of hot water indicates a major issue with the water heater. The storage tank might be clogged with scale, something that leads to pressure accumulation and possible explosive hazards. Also, if your water comes out brown or with an odd smell, there is sediment buildup in your unit and that will require the need for replacement.
Problems with a pilot burner of a gas-powered water heater require immediate repairs because there is no way to heat up the reservoir in the storage tank. Electric heating anodes and other elements can also get burned out in water heaters. If the hot water faucet handle is turned on and cool water comes out, it is clear your heater needs to be serviced by a trained professional.
If you suspect trouble with your water heater, our expert plumbers are skilled to work on units of all makes and models. They can thoroughly inspect and evaluate any issues you're experiencing and provide you with the best course of action.
Local Reviews
for Herriman, UT
Valley Plumbing and Drain Cleaning
Rated
4.6
out of 5 stars based on
37
customer reviews
Powered by Nearby Now
---
Tankless water heater
Tom

-

Herriman

,

UT



Review of Valley Plumbing and Drain Cleaning
Very cordial person. Promised more than he delivered. Work did not pass city inspection. Stole my functioning shock suppressor.
---
very smart, helpful
Dawn

-

Herriman

,

UT



Review of Valley Plumbing and Drain Cleaning
He was kind and explained the problems well. Thanks
---
Great service u have 2 great employees
Ron

-

Herriman

,

UT



Review of Valley Plumbing and Drain Cleaning
Very nice to work with and did an outstanding. I hope they get told what a great job they did. Thanks again Ron N.
---
Good service and was very informative
Scott

-

Herriman

,

UT



Review of Valley Plumbing and Drain Cleaning
Goog
---
Great service! Nice guy
Lindsey

-

Herriman

,

UT



Review of Valley Plumbing and Drain Cleaning
Neil Andersen showed up on time, worked fast, got it done, and was very personable. Couldn't ask for anything more
---
Jeremy G.
This invoice is for us to cut out the old drain and move it about four inch up and we moved the water lines. After we talked to the home owner they did like our plain and price. We then shut off the water to the home and drained all the water. We then cut out the water lines and moved it up to the drain hight. We then pressurize the home with water and it looks like there are no leaks. We can't warranty the lines that are over 75 pounds we did tell them about what could happen with the pressure at 90 pounds, they did like the pressure where it was.
Near
Tilton Dr,

Herriman

,

UT

84096
Tom A.
Estimate to replace 3" Cast Iron Sewer line that feeds 3 laundry trays, 1 laundry sink, and 1 bathroom over the span of 3 floors. We will modify the sewer piping as needed to complete work. We will repipe the basement laundry drains to separate connections so they do not have a chance to back up into each other. We will need to pull and reset the toilet on the 3rd floor to replace the toilet flange and piping in that area. We will be replacing each individual laundry box and floor drains as needed. We will also be replacing shutoff valves that needed to be removed and replaced in the affected areas of the bathroom and laundry room. We will modify water piping in the wall as needed while it is exposed. All work described above will have a 1 year warranty on parts and labor. Update (01/20/22): We completed above described work. We did not need to pull and reset the toilet and replace the toilet flange but we did install a new Western Pottery elongated bowl toilet in the upstairs son
Near
S 7300 W,

Herriman

,

UT

84096
Dean R.
Kitchen sink was not draining and the laundry sink is backed up and not draining. Ran auger down kitchen drain to main to clear clog. Ran water from both sinks and draining well. The laundry sink in the garage was backing a little but was settling out for when I ran the kitchen faucet. Took studor vent under the kitchen sink to see if that was the problem with drainage. It was restricting the air to drain. no warranty on drain cleaning.
Near
Tempest Ridge Cir,

Herriman

,

UT

84096
Tom A.
Completed Following Scope of Work: 1. Replaced Master Bathroom Lav Faucet with new 1 handle chrome faucet. Replaced Drain Assembly, P-trap, and shutoff valves under the sink 2. Replaced Master Bathroom Toilet Canister seal and cleaned canister 3. Rebuilt Half bathroom toilet next to laundry room: replaced fill valve, flapper, and water supply line. 4. Cut sheetrock in basement laundry room to expose a leak. Provided estimate for repair work. Arranged for UTDR to drop by and assess water damage. 5. Assisted in helping place an order for a replacement bypass valve for existing water softener. (Customer paid for order out of her own pocket) 1 year warranty on parts and labor for the new faucet installation. 90 day warranty on parts and labor for the toilet rebuilds. Sheetrock Repairs are the responsibility of the homeowner.
Near
S 7300 W,

Herriman

,

UT

84096
Justin W.
I replaced the handle on the master bathroom toilet. I pulled out the cartridge in the basement bathroom shower. There was some hard water buildup in the valve that I removed and then installed a new cartridge. The temperature control is now functioning properly. I installed a customer supplied U Moen Smart Faucet in the kitchen. Checked for leaks. 1 year warranty on all work performed.
Near
W Single Leaf Dr,

Herriman

,

UT

84096