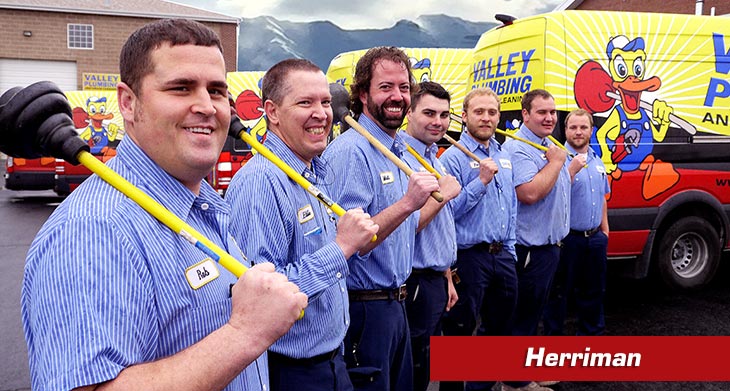 At Valley Plumbing and Drain Cleaning, our professional plumbers can provide an array of routine and urgent services for homes in Herriman, UT. Water leak detection could prevent some major problems such as structural damage of walls and floors due to excessive moisture accumulation. Drain cleaning services can minimize the need to call for emergency plumbing at odd hours due to clogged toilets or sinks.
Our licensed, trained plumbers also take care of problems with gas and electric powered water heaters that should work all year long. Trust us for your plumbing, water heater, and drain cleaning services. We are only happy when you are, so we guarantee your 100% satisfaction.
Access our online specials and coupons and save on your next home service.
Why Are Water Leak Detection Services Beneficial?
Spot mold and mildew. A water leak detection test can be useful in identifying the growth of mold and mildew in between walls and floors that cover up plumbing pipes.
Costly replacements. When a leak is detected in a supply or drain pipe, minor repairs could prevent costly replacements of entire pipes. Small holes can be sealed and joints or connectors can be tightened.
Save money. A leaky supply pipe can waste a significant amount of water in as little as a month. Homeowners surely don't appreciate paying extra for water bills as a result of leaky pipes.
Keep your home sanitary. A leak in a drain pipe could lead to the spread of foul smells throughout a home. When such a problem is detected, the source of unpleasant odors can be precisely located.
Do You Need Professional Drain Cleaning?
If water seems to flow back into the toilet bowl after each flush, you need to thoroughly clean drain pipes. Professional plumbers can remove the bowl and gain easy access to the trap that might be clogged. In addition, if you have multiple or frequent clogs and backup in your sinks and tubs, a professional drain cleaning is vital.
Even if there isn't any back flow into a toilet or sink after a flush, some unpleasant odors might make their way into a bathroom or kitchen. Sticky wastes can accumulate along the insides of drain pipes and vent stacks. Professional plumbers can dissolve these repulsive wastes by pouring special chemicals that aren't abrasive on PVC pipes.
Sink bowls and bathtubs that take a lot of time to fully drain implies the need for professional plumbing service. Traps under sinks can be disassembled and cleaned by a plumber.
Read our reviews and see why your area homeowners are so pleased with our services.
Should You Repair or Replace Your Water Heater?
A weak or explosive flow of hot water indicates a major issue with the water heater. The storage tank might be clogged with scale, something that leads to pressure accumulation and possible explosive hazards. Also, if your water comes out brown or with an odd smell, there is sediment buildup in your unit and that will require the need for replacement.
Problems with a pilot burner of a gas-powered water heater require immediate repairs because there is no way to heat up the reservoir in the storage tank. Electric heating anodes and other elements can also get burned out in water heaters. If the hot water faucet handle is turned on and cool water comes out, it is clear your heater needs to be serviced by a trained professional.
If you suspect trouble with your water heater, our expert plumbers are skilled to work on units of all makes and models. They can thoroughly inspect and evaluate any issues you're experiencing and provide you with the best course of action.
Local Reviews
for Herriman, UT
Valley Plumbing and Drain Cleaning
Rated
4.7
out of 5 stars based on
41
customer reviews
Powered by Nearby Now
---
Great service
Jason

-

Herriman

,

UT



Review of Valley Plumbing and Drain Cleaning
Problem was solved
---
Great service
Matt

-

Herriman

,

UT



Review of Valley Plumbing and Drain Cleaning
---
Great service
Robert Bissell

-

Herriman

,

UT



Review of Valley Plumbing and Drain Cleaning
Great work, showed up on time.
---
Honest and Professional
John

-

Herriman

,

UT



Review of Valley Plumbing and Drain Cleaning
Raiden and Zac tested my water softener and found it to be broken. They gave me options and up front pricing and time line to complete. They answered all of my questions and helped me feel confident about the new water softener purchase. We really appreciated the service and to not have to deal with any sales gimmicks or pressure to buy was refreshing. We made our decision based on the factual information provided and benefits that the new system would offer us and our appliances. My wife and I are now enjoying the benefits of soft water in our home for the first time in years. We will choose Valley Plumbing again specifically because of Raiden. Thank you
---
Tankless water heater
Tom

-

Herriman

,

UT



Review of Valley Plumbing and Drain Cleaning
Very cordial person. Promised more than he delivered. Work did not pass city inspection. Stole my functioning shock suppressor.
---
Raiden H.
Search for leak in unit 490. Open up the back of the cabinet to search for water leak. Water is coming down in the unit below when water is running through bathroom sink in unit 390. Unit 490 in bathroom behind sink vanity there is a drain stack with a broken tee fitting. Cut out and replace tee fitting and Repipe the branch line feeding the sink to raise it up to avoid putting stress on the line that caused the fitting to break. Tested for leaks.
Near
Freedom Park Dr,

Herriman

,

UT

84096
hartjeremy0322@gmail.com
The 90 split on Monday. Under warranty I repaired the pipe and checked the water pressure
Near
W Deon Ct,

Herriman

,

UT

84096
Rhett J.
Water heater needed a warranteed part installed in order to stay lit, part was installed, no error codes popped up and i was able to show the blue indicator light to marcus showing that there is no longer any errors
Near
S Koppers Ln,

Herriman

,

UT

84096
Raiden H.
Sent quote to perform work
Near
W Cannavale Ln,

Herriman

,

UT

84096
Kevin D.
This estimate is to replace the t&p valve on a 50 gallon water heater. I removed the failed t&p valve and installed a new one. I turned the water back on to the water heater filled it up and relit the water heater. There is a one year warranty on the t&p valve unless it fails due to an issue with the water heater itself.
Near
Ari Cir,

Herriman

,

UT

84096