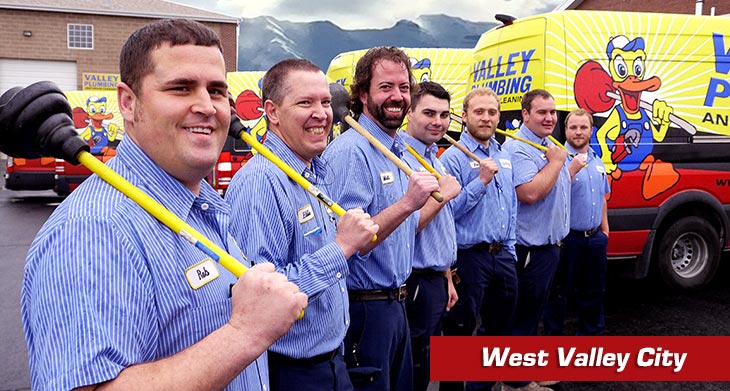 Whether you're having issues with your home's drains or you suspect your water heater needs replacing, the experts at Valley Plumbing and Drain Cleaning can do the job for you. Restoring your home's plumbing back up to its former working glory can help make your home a lot more comfortable for you and your family. Trust us for all your West Valley City, UT plumbing, water heater, and drain cleaning services. We guarantee long-term solutions that leave you 100% satisfied.
Save instantly on your next service when you use our exclusive online coupons and promos.
Why Should You Consider Water Leak Detection Services?
Water leak detection services are highly beneficial. Consider the following advantages:
Prevents major flooding. By having your home's leaks detected, they can be dealt with right away. This can prevent a flood in the future if the leak were to continue to go unnoticed.
Prevents mold growth. A constant leak, even if it's a small one, can create many undesirable issues including mold growth. Mold thrives in damp areas, and the area around a leak is a perfect place for it to begin to grow.
Saves money over time. Even a very small leak can cost you a ton of money over time. This is especially true if you pay for your water by the gallon, since the leak is constantly taking water into the home. For those on a well, the water pump may work overtime because of a leak.
What Are Signs You Need Professional Drain Cleaning?
The drains in your home are responsible for getting waste water away from the house and into a septic tank or other holding tank. If you're having issues with the drains, this could cause a lot of issues for you as a homeowner. One sign to look for when dealing with drain problems is if you're getting a backup flowing into the tubs or sinks any time you flush the toilet or use another sink in the house.
You might find that you have a slow drain as well, and water takes a lot longer to drain because the line needs to be professionally cleaned. Also, if your drains frequently clog, emit a foul odor, or have visible gunk, a drain cleaning is crucial for the functionality and sanitization of your home.
Check out our reviews and see why West Valley homeowners love to work with us.
Should You Repair or Replace Your Water Heater?
A water heater is essential for your daily routine. If yours is not working properly, it can be a major inconvenience and disruption. It is important to take action at the first sight of trouble. Our trained, experienced plumbers will thoroughly inspect and diagnose your unit and provide the best course of action for you. Be mindful of the following symptoms and call us right away.
Temperature inconsistencies.
Older than 15 years old and needs frequent repairs.
Little to no hot water.
Leaks.
Faulty thermostat.
Higher than usual water bill.
Local Reviews
for West Valley City, UT
Valley Plumbing and Drain Cleaning
Rated
4.8
out of 5 stars based on
71
customer reviews
Powered by Nearby Now
---
prompt service for a plugged sink
Tedi

-

West Valley City

,

UT



Review of Valley Plumbing and Drain Cleaning
Jeremy came right out to my home for a plugged sink. He surveyed the problem, went right to work, and was quick at solving the problem. He also offered other services we will look into. He was done in about 30 minutes. One happy sink Drain is now functioning.
---
Surprisingly great service.
Lyle

-

West Valley City

,

UT



Review of Valley Plumbing and Drain Cleaning
I believe you can count on these guys.
---
Wonderful and timely service
Katie

-

West Valley City

,

UT



Review of Valley Plumbing and Drain Cleaning
Great company to work with. Timely scheduling. Omari on the phone was great at keeping me updated. Alex did fantastic work installing our new sink and faucet.
---
GREAT AND FRIENDLY SERVICE
Arther

-

West Valley City

,

UT



Review of Valley Plumbing and Drain Cleaning
These guys are great. Very knowledgeable, friendly, and perfect. Couldn't ask for better service.
---
Great service. Thanks Landon
Zw

-

West Valley City

,

UT



Review of Valley Plumbing and Drain Cleaning
Landon was our plumber and we really appreciated his service. I know nothing about this kind of stuff so I was grateful that Landon assessed and considered multiple possibilities of what the cause of my issue could've been, and that he then took the time to explain each of the possible diagnoses to me thoroughly and clearly and in a way I could easily understand. After that, not only did he get the job done quickly and efficiently, he was friendly, patient with my loud barking dog, and genuinely enjoyable to talk to. Having to get things like that fixed in your home is a giant pain in the ass and pretty stressful, but the fact that Landon was such a personable, chill dude pretty much took all the pain and stress out of the equation. Thanks again!
---
Jeremy G.
This estimate is for us to replace the old cartridge with a new cartridge turn back on the water and check for any leaks. After going to Mone once we found out that the cartridge that we thought was it was the wrong style of cartridge we had to order one of the new cartridge to come out within a week or two and we will contact Andy when the new cartridge is in. This is to try to stop the original leak there is no guarantee that this new cartridge it'll stop the leak. There may be damage already done inside the valve from running all that time before we got there. If we cannot get it to stop running with the new cartridge we will need to replace cartridge with a moen positive temp valve. Ariel to come back on Wednesday, May 25 with new cartridge after looking at it closer it did need to be modified and then the original cartridge was discontinued. After modifying it I was able to reinstall it into valve body after turning on water to the valve, we did notice that there was still a slig
Near
W Red Flower Cir,

West Valley City

,

UT

84120
Donnie W.
We snaked out the aw line 75'. Ran hot water for 10 mins at full blast and water was draining.
Near
S 3900 W,

West Valley City

,

UT

84120
hartjeremy0322@gmail.com
Replace water heater in restroom with a 4gal electric water heater under the sink 1/2 in inlet and out
Near
S Constitution Dr,

West Valley City

,

UT

84119
Pedro U.
Arrived at home and pulled toilet. Ran auger through toilet drain hit a clog around 18' and cleared the line flushed upstairs toilet while having auger feeding in. No signs of blockage. Camera the line, there is signs of tree roots. Drain I working great suggested jetting line and getting liner installed. No warranty on drain cleaning.
Near
Charles Way,

West Valley City

,

UT

84120
Hunter C.
I shut the water off at the meter and cut out the existing main shut off. I installed a new ball valve and PRV in the box out area. I cut out the failed shower valve and installed the Moen valve in the same location centered over the drain. I also cut out and replaced the water heater shut off with a ball valve. I purged the shower valve of any debris and installed the cartridge and trim. I pressurized the system and checked for leaks and found none. I installed a customer supplied shower head on the new valve. We do not warranty any parts or materials not supplied by us and we are not responsible for the water damage from the previous shower valve. I also replaced the two hose bibs with Woodford Model 17 faucets. I removed the existing faucets and installed the new faucets. 1 year warranty parts and labor on materials supplied and installed by us.
Near
S 4800 W,

West Valley City

,

UT

84120