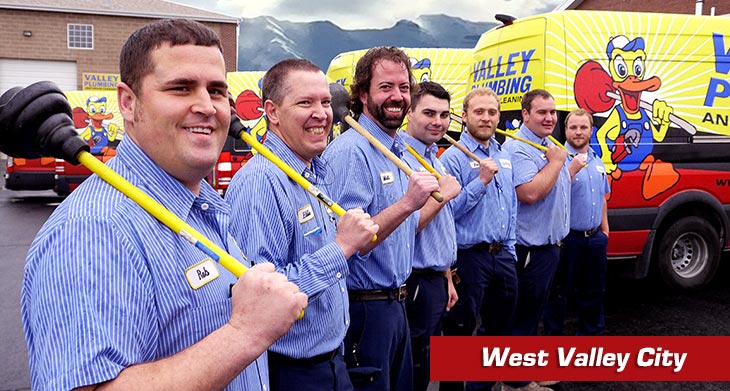 Whether you're having issues with your home's drains or you suspect your water heater needs replacing, the experts at Valley Plumbing and Drain Cleaning can do the job for you. Restoring your home's plumbing back up to its former working glory can help make your home a lot more comfortable for you and your family. Trust us for all your West Valley City, UT plumbing, water heater, and drain cleaning services. We guarantee long-term solutions that leave you 100% satisfied.
Save instantly on your next service when you use our exclusive online coupons and promos.
Why Should You Consider Water Leak Detection Services?
Water leak detection services are highly beneficial. Consider the following advantages:
Prevents major flooding. By having your home's leaks detected, they can be dealt with right away. This can prevent a flood in the future if the leak were to continue to go unnoticed.
Prevents mold growth. A constant leak, even if it's a small one, can create many undesirable issues including mold growth. Mold thrives in damp areas, and the area around a leak is a perfect place for it to begin to grow.
Saves money over time. Even a very small leak can cost you a ton of money over time. This is especially true if you pay for your water by the gallon, since the leak is constantly taking water into the home. For those on a well, the water pump may work overtime because of a leak.
What Are Signs You Need Professional Drain Cleaning?
The drains in your home are responsible for getting waste water away from the house and into a septic tank or other holding tank. If you're having issues with the drains, this could cause a lot of issues for you as a homeowner. One sign to look for when dealing with drain problems is if you're getting a backup flowing into the tubs or sinks any time you flush the toilet or use another sink in the house.
You might find that you have a slow drain as well, and water takes a lot longer to drain because the line needs to be professionally cleaned. Also, if your drains frequently clog, emit a foul odor, or have visible gunk, a drain cleaning is crucial for the functionality and sanitization of your home.
Check out our reviews and see why West Valley homeowners love to work with us.
Should You Repair or Replace Your Water Heater?
A water heater is essential for your daily routine. If yours is not working properly, it can be a major inconvenience and disruption. It is important to take action at the first sight of trouble. Our trained, experienced plumbers will thoroughly inspect and diagnose your unit and provide the best course of action for you. Be mindful of the following symptoms and call us right away.
Temperature inconsistencies.
Older than 15 years old and needs frequent repairs.
Little to no hot water.
Leaks.
Faulty thermostat.
Higher than usual water bill.
Local Reviews
for West Valley City, UT
Rated
4.8
out of 5 stars based on
24
customer reviews
Powered by Nearby Now
---
Water Softner Plus: expert Service
David

-

West Valley City

,

UT



Eddie did a terrific job replacing the water softener. Am thankful he also found the hot water heater near failure and replaced it during the same service call. Very knowledgeable. Explained all issues and resolution with me. Cost was very reasonable. Very good representative for his company.
---
they were very prompt in getting the job done, and very professional,informative and Friendly
Safety

-

West Valley City

,

UT



---
Response from Valley Plumbing and Drain Cleaning:

Thank you for the great feedback Safety Supply and Sign! We are always happy to help. Call us anytime! All the best, Valley Plumbing
---
Great service
Marta

-

West Valley City

,

UT



Eddie explained the problem well and we were so relieved it wasn't a bigger problem. Very knowledgeable. Will definitely use them again. Shared this with other friends as well.
---
Response from Valley Plumbing and Drain Cleaning:

Thank you for the wonderful review and referral Marta! We are glad our team was able to help. Call us anytime! All the best, Valley Plumbing
---
great service
Stephany

-

West Valley City

,

UT



cancel the first appointment otherwise 5 star rating. once on site the job went well.
---
Response from Valley Plumbing and Drain Cleaning:

Hi Stephany! Thank you for the great feedback! We are glad to hear you had a great experience with our team. Call us anytime! All the best, Valley Plumbing
---
Service satisfactory so far.
Phillip

-

West Valley City

,

UT



Fingers crossed until actual usage is successful.
---
Response from Valley Plumbing and Drain Cleaning:

Hi Phillip! Thank you for your feedback. Please don't hesitate to call us if you are concerned about your results. We stand by our techs and their work, and want to be sure you are satisfied with the job our team has done. We are always happy to help our customers! All the best, Valley Plumbing
---
Jon .
Spoke to heather and tony called back and approved cabled main line from pulled toilet. Found a separation roughly 55 feet out unable to locate Line i believe it in the unit to the east that is vacant. We cannot guarantee how long this will keep draining. There is no warranty suggest getting access to east unit and camera and locate to find the bad joint and dig it up to repair.
Near
W 3500 S,

West Valley City

,

UT

84119
Randy S.
OPTION -1- we would run a 2 inch galvanized drain lines from two tank inside 60 plus ft to tank pit out side $ 3890.31, Return tomorrow on 3/13/18 to continue job.
Near
W 2950 S,

West Valley City

,

UT

84119
Jon .
Pressure assist tank on men's toilet has ruptured. Replaced tank and tightened toilet seat. Price includes time to get parts. They are not a stock item at local suppliers
Near
4000 W,

West Valley City

,

UT

84120
Eddie D.
Replace existing water softener with new 60,000 grain water softener with salt tank in the garage. Hooking it too all the cold and hot water lines. Also replacing the water heater with new 50 gallon water heater with straps and expansion tank, gas flex and water flex lines. Turn on water and test everything, working great.
Near
Mount Adams Dr,

West Valley City

,

UT

84118
Jon .
We will install two customer supplied toilets . We will also do as much of the finish work that was included in the oringinal estimate as possible. ***we installed the shower trim, toilet and hooked up the lav sinks in the main bath upstairs. We installed the shower handle and tub spout and toilet in the master bath. There was still some paining etc in the master and didn't think it was ready for the shower head. The tankless water heater is now up and running. Everything has been water tested and is ready for use. We were not able to do the dishwasher today or the basement shower trim. We will schedule back out to complete those items.
Near
W Whitlock Ave,

West Valley City

,

UT

84119