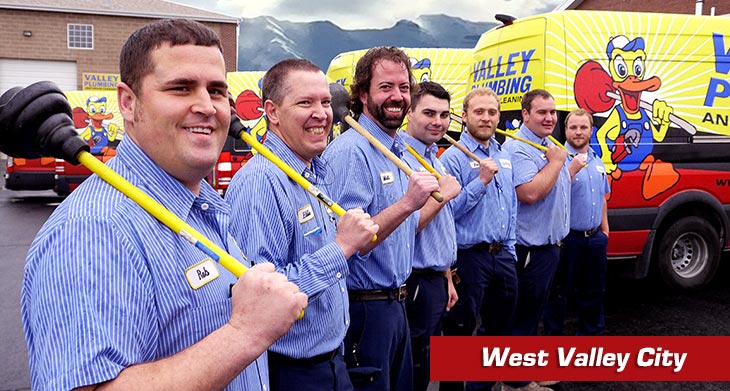 Whether you're having issues with your home's drains or you suspect your water heater needs replacing, the experts at Valley Plumbing and Drain Cleaning can do the job for you. Restoring your home's plumbing back up to its former working glory can help make your home a lot more comfortable for you and your family. Trust us for all your West Valley City, UT plumbing, water heater, and drain cleaning services. We guarantee long-term solutions that leave you 100% satisfied.
Save instantly on your next service when you use our exclusive online coupons and promos.
Why Should You Consider Water Leak Detection Services?
Water leak detection services are highly beneficial. Consider the following advantages:
Prevents major flooding. By having your home's leaks detected, they can be dealt with right away. This can prevent a flood in the future if the leak were to continue to go unnoticed.
Prevents mold growth. A constant leak, even if it's a small one, can create many undesirable issues including mold growth. Mold thrives in damp areas, and the area around a leak is a perfect place for it to begin to grow.
Saves money over time. Even a very small leak can cost you a ton of money over time. This is especially true if you pay for your water by the gallon, since the leak is constantly taking water into the home. For those on a well, the water pump may work overtime because of a leak.
What Are Signs You Need Professional Drain Cleaning?
The drains in your home are responsible for getting waste water away from the house and into a septic tank or other holding tank. If you're having issues with the drains, this could cause a lot of issues for you as a homeowner. One sign to look for when dealing with drain problems is if you're getting a backup flowing into the tubs or sinks any time you flush the toilet or use another sink in the house.
You might find that you have a slow drain as well, and water takes a lot longer to drain because the line needs to be professionally cleaned. Also, if your drains frequently clog, emit a foul odor, or have visible gunk, a drain cleaning is crucial for the functionality and sanitization of your home.
Check out our reviews and see why West Valley homeowners love to work with us.
Should You Repair or Replace Your Water Heater?
A water heater is essential for your daily routine. If yours is not working properly, it can be a major inconvenience and disruption. It is important to take action at the first sight of trouble. Our trained, experienced plumbers will thoroughly inspect and diagnose your unit and provide the best course of action for you. Be mindful of the following symptoms and call us right away.
Temperature inconsistencies.
Older than 15 years old and needs frequent repairs.
Little to no hot water.
Leaks.
Faulty thermostat.
Higher than usual water bill.
Local Reviews
for West Valley City, UT
Valley Plumbing and Drain Cleaning
Rated
4.8
out of 5 stars based on
81
customer reviews
---
Great employees!
Katie

-

West Valley City

,

UT

84128



Review of
Valley Plumbing and Drain Cleaning
Stephen Kuronya came out to fix my toilet. He was fast, friendly, and did an amazing job!
---
Great Service
Tammy

-

West Valley City

,

UT

84119



Review of
Valley Plumbing and Drain Cleaning
Mitch came to my home and was so efficient and gave me a lot of help in tips and showed me some tricks i could do on my own. That was really appreciated. I have used Valley plumbing when they repaired my sewer and did a wonderful job for me. I will probably not call anyone else.
---
Amazing service
Kellie Bray

-

West Valley City

,

UT

84120



Review of
Valley Plumbing and Drain Cleaning
Zac was right on time and very courteous.. He was careful to cover his shoes and the bathroom where he did the work was spotless when he left. He thoroughly explained the repairs and cost. It looks great and was done quickly. Great Service!
---
Raiden & Brad were both great! very personable & friendly. performed work in record time and even found a drain leak that they are coming back next we
Maureen

-

West Valley City

,

UT

84119



Review of
Valley Plumbing and Drain Cleaning
---
Great service
Bonnie

-

West Valley City

,

UT

84128



Review of
Valley Plumbing and Drain Cleaning
They arrived when promised. Evaluated the situation then set about fixing the problem
---
Rhett J.
Meter got changed out and affected the kitchen faucet we installed. Pin-pointed to the faucet. Break into faucet to attempt to clear the faucet.
Near

S 3335 W,

West Valley City

,

UT

84119
Aaron S.
We will remove p trap and auger under kitchen sink to clear obstruction. We removed p trap and ran machine down line. We then pulled it out and ran water through to make sure we cleared obstruction. No warranty on drain cleaning.
Near

S 2200 W,

West Valley City

,

UT

84119
Jordan S.
We will use a large sewer snake to clear the main sewer line from an outside cleanout located in the rear of the building. We will also perform a camera inspection to ensure the line is clear. Results: Using the outside cleanout we ran a large drain snake to clear the line and was able to remove a blockage roughly 70' down the line. From there we flushed the line with lots of water to ensure the line was clear as possible. Tested everything inside the property that was blocked up and everything is draining well. Camera investigation; Very soon down the line we run out of grade on the sewer line. There is roughly a 25' long 'belly' in the line. This is where the line goes downhill for some distance, then goes back uphill before regaining downhill grade again. This creates a pocket of standing water in the line, and will be a notorious source of sewer backups. Toilet paper and debris will build up in these sections and slow to a stop, it will build and build until it is able to clear
Near

W 4700 S,

West Valley City

,

UT

84118
hartjeremy0322@gmail.com
Dominion was at this property recently and detected a gas leak somewhere in the building. We will search for the gas leak by straying a soap solution to see the problematic area. We will remove multiple ball valves and gas flex lines to properly pressure test and cap off the gas system. We will have to cap 9 3/4 lines 1 1 1/2 line we willl have to connect 1 , 1 1/2 line back together and cap a 1 1/4 line we will fill it up with air and test once we determine that there are no leaks or if there is a leaks it. This is only to test no warranty
Near

W 3500 S,

West Valley City

,

UT

84119
hartjeremy0322@gmail.com
I will run my camera down the vent on the roof to see if there are any obstructions in the system. I will run my jetter through the vent on the roof to clean the sewer out and remove any obstructions that are in the pipe i will camera it again after to make sure we got the obstructions out of the sewer..
Near

S 5450 W,

West Valley City

,

UT

84120