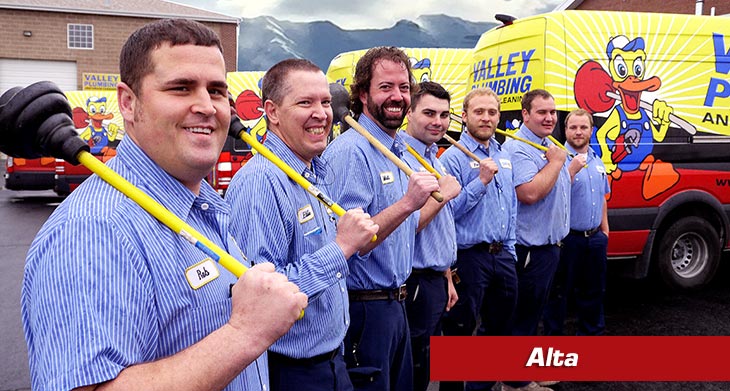 At Valley Plumbing and Drain Cleaning, our licensed plumbers have the expertise to detect leaks in pipes and fixtures within Alta, UT homes. Leak detection tests can save clients money on water bills and minimize the need to replace entire sections of supply or drain pipes. It's also good to use professional drain cleaning services that prevent unpleasant clogs from forming in toilets and sinks. Any problems with gas or electric water heaters can be inspected and repaired promptly by our trained plumbers.
For all your Alta plumbing, water heater, and drain cleaning services, trust Valley Plumbing and Drain Cleaning. We promise to deliver long term solutions that leave you 100% satisfied.
Save even more with our exclusive online promotions and coupons.
Advantages of Water Leak Detection Services
Investing in water leak detection services is highly beneficial for homeowners. Here are just some of the perks:
Save money. A leaky pipe can cost homeowners extra on the monthly water bill. A leak detection test could ultimately save clients money on those expensive utility charges.
Prevent damage. Leaks in cold and hot water pipes could directly damage fiberboard and other materials that are laid out in between floors and walls. Detecting a leak can prevent some structural issues from getting worse.
Avert the growth of mold and mildew. Mold and mildew might grow rampantly in areas that accumulate a lot of moisture even from minor leaks in pipes and fixtures. Leak detection services could identify spots that are prone to the growth of unpleasant and hazardous mold.
Detect hidden leaks. Leaks in water supply pipes weaken the flow rate in fixtures such as faucets, toilet tank refill valves, and shower heads. Once a leak is detected, it can be fixed and proper water pressure should be restored.
What Are Signs You Need Professional Drain Cleaning?
A clog in a toilet bowl, bathtub or sink indicates the need for drain cleaning services done by professional plumbers. Sometimes, toilet bowls are removed to thoroughly remove any clogs from the drain's trap. Traps underneath sinks might have to be disassembled for proper cleaning.
A loud gurgling sound during a toilet flush indicates problems with the drain. Water is not being forced downward fast enough because of wastes that might be stuck to the interior of the drain pipes. Additionally, foul odors that come from sinks and toilet bowls indicate the presence of wastes that have to be cleaned out of drains. Sometimes, rooftop vent stacks that connect to drain pipes have to be properly cleaned to rid your system of foul smells.
We are happy when our customers are happy. Check out our reviews to see what makes us the top choice for area homeowners' plumbing needs.
Does Your Water Heater Need To Be Repaired or Replaced?
When the hot water handle is turned on and cool water flows out of the faucet, there is a clear problem with the water heater. Similarly, hot water might flow for a few seconds only to be followed by a cooler water when water heaters aren't working properly. Gas burners or heating elements should be inspected and repaired if necessary to ensure proper operation.
A weak flow of hot water through fixtures also indicates issues with a water heater. It is possible that the storage tanks are leaking or clogged with solid deposits such as mineral scale from hard water. Other factors to consider include:
Unit requires frequent repairs and is older than 15 years.
Unit produces little to no hot water.
Apparent leaks coming from the unit.
Smelly and/or brown water from the tank.
If you experience any of these symptoms, call us right away and one of our plumbers will be dispatched to your home immediately.