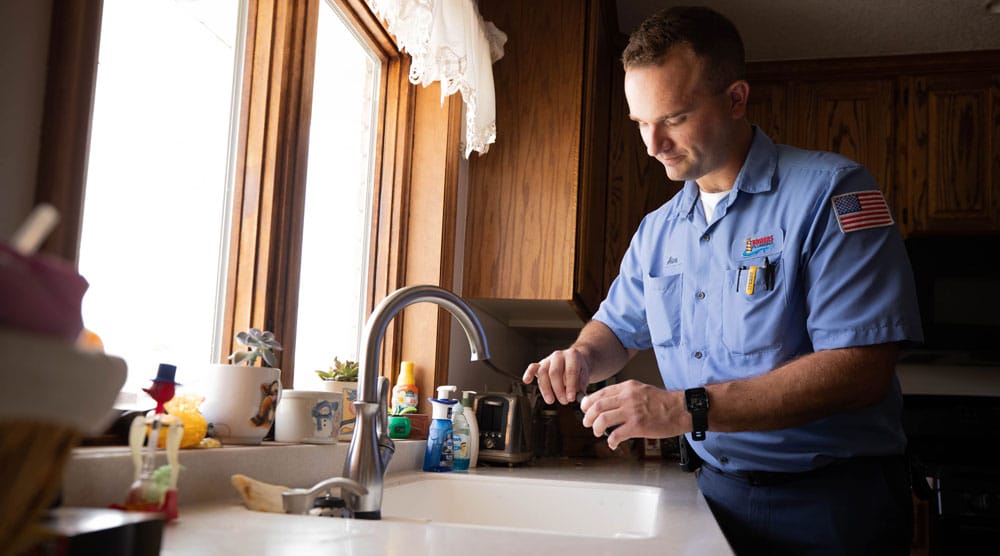 Toilets aren't the only drains that get clogged. Kitchen sinks can develop some of the most troublesome clogs in your home. It normally happens at the most inconvenient time, during dinner or when you have guests over. This really make a party stop - and most likely stink!
Fortunately, you can count on Valley Plumbing and Drain Cleaning to solve your problems quickly and efficiently. No matter what time it is, we are ready 24/7 to dispatch a plumber to your home as soon as possible to clear urgent clogging problems. We serve residents throughout Salt Lake County and Utah County.
Don't miss out on our exclusive online specials and coupons and save instantly on your next service.
What's Causing Your Sink to Clog?
Kitchen sinks can become clogged because of problems in the drain line itself, or a faulty garbage disposal could be allowing food particles to clog up your drain. No matter the issue, we will get to the source of the problem and carry out the ideal method of repair.
How Do We Solve the Problem?
We will make sure your piping is up to code and in good condition with professional solutions. Depending on the extent of the problem, we will get rid of the clog using a drain snake or more advanced hydro-jetting services.
Valley Plumbing and Drain Cleaning also offers a product that will help maintain your drains and keep them clear - as well as smelling fresh and clean. TOTAL-C maintains your drains by eating away at whatever is blocking your pipes. It is an effective way to care for your pipes and keep them properly maintained. Contact our helpful team to learn how you can get your pipes looking and smelling clean.
Check out our customer reviews and feedback to see why homeowners in Salt Lake City, UT enjoy working with us.
Reasons to Work With Us
We provide the best possible service and care to each customer we come across. That means, from the first phone call to the last handshake you will be treated with the same respect and care throughout. We also believe in treating our customers as we would a friend, which means you won't be pressured into buying something you didn't intend or want. To further improve your customer experience, we offer in every service the following guarantees which keep our customers coming back for all of their plumbing needs:
24-hour emergency service: Got a problem that needs fixing at 12 a.m.? No problem. We're here to take your call no matter the time of day and will get someone out to resolve the problem quickly and efficiently.
Experienced, respectful technicians: We are big believers in treating each home and each customer with utmost respect. That means, we will make sure to leave your house as clean or cleaner than we found it.
Honest, upfront pricing: Just as much as we want to respect your home, we want to respect your pocket. We know that plumbing issues do not always come up at a time that is convenient, so we do not want to put additional stress by charging outlandish fees or dropping surprise charges after we've finished the job. You can sleep easy knowing that you will always receive a free estimate before we move forward with any project so there is no confusion or unwanted surprise.