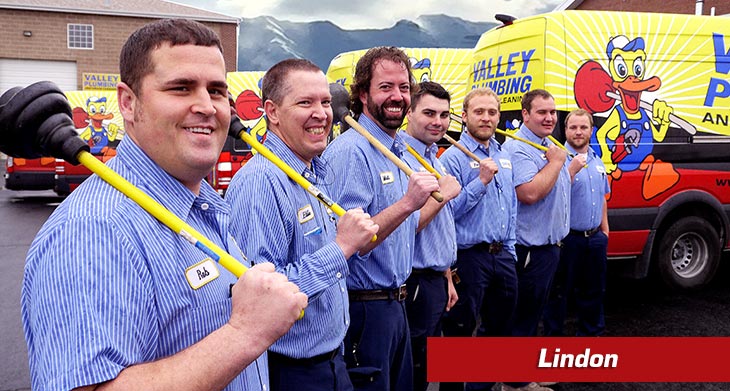 At Valley Plumbing and Drain Cleaning, we take pride in making sure our current and potential customers understand the importance of regularly maintaining their plumbing systems and water heaters. Oftentimes, small nuisances with your plumbing can lead to bigger, more expensive problems if not treated properly in a timely manner. There are a few signs that you need to look out for when you are experiencing a leak, drainage problems, or water heater troubles.
To ensure that you are protecting your home or business, consider a professional inspection. Damages that occur as a result of untreated or preventable plumbing issues can become very costly. Allow us to be the resource you can trust to provide you with reliable plumbing, water heater, and drain cleaning services in Lindon, UT.
Save even more on your next service when you take advantage of our exclusive online discounts and coupons.
Why Are Water Leak Detection Services Beneficial?
Homeowners may not fully understand the value of water leak detection services. Take a look at just a few of the benefits:
Detects and prevents potential leaks from occurring within walls and/or the foundation of a building which can cause expensive structural damage.
Prevents water leaks from wasting unused water that can result in a high water bill.
Protects the air quality of your building as water leaks can cause moisture buildup. This can lead to mold and other airborne bacteria which can lead to respiratory diseases.
Stops untreated small leaks from becoming a much bigger problem, such as flooding.
When Is Professional Drain Cleaning Necessary?
Professional drain cleaning is a service that every homeowner should invest in at least once a year. There will be times, however, when a drain cleaning is necessary. Look for signs such as:
You are unable to unclog a drain using a plunger or safe, plumber-approved methods.
An undissolved solution or object has become trapped in the drain.
Water is draining very slowly down the drain.
You notice water or sewage is seeping back up through the drain and this may be accompanied by a foul odor.
These are all indicators that your home will greatly benefit from professional drain cleaning services.
Find out how we've helped nearby home and business owners in our reviews and testimonials.
Does Your Water Heater Need Repairs or Replacement?
Not sure if your water heater needs repairs or requires replacement? Our professional team can inspect your water heater with ease and precision and provide you with the best course of action.
If you experience one or more of these signs, give us a call and we will be glad to help.
The water heater is more than 8 years old and has never been checked for proper operation.
Regardless of how high the temperature of the water heater is set, running water never seems to get hot enough.
Standing water is often found around the base of the unit.
When the water heater is in use, it is very loud as if it's churning or making an inner banging sound.
Local Reviews
for Lindon, UT
Valley Plumbing and Drain Cleaning
Rated
5.0
out of 5 stars based on
1
customer reviews
Powered by Nearby Now
---
Saturday plumbing emergency!
Jeff

-

Lindon

,

UT



Review of Valley Plumbing and Drain Cleaning
Lawrence of Valley Plumbing came out and evaluated the sewer back up that was happening and fixed it immediately. The price was fair and the service was amazing!
---
joshua.ashby@gmx.com
After Cabinet with sink is installed, I will come in and Run drain line and water line to Sink This will involve Drilling holes in bottom of Cabinet for drain line and water lines. Connecting drain into 2in abs drain in basement ceiling underneath laundry Connecting water lines into main lines. To get better volume of water i will repipe 5ft of cold and 5ft of hot water line. It is 1/2in right now, i will Repipe to 3/4in pipe. Ceiling is open underneath in basement. There is no floor drain in laundry room I Would recommend installing floor witch i will give another estimate for.
Near
W Maple Shade Ln,

Lindon

,

UT

84042
Neil A.
I'll use the medium machine to snake the line for the three come sink. Also cleaned out the mop sink that had a bunch of debris in it.
Near
S 1380 W St,

Lindon

,

UT

84042
joshua.ashby@gmx.com
Clear Main line stoppage through inside cleanout. Customer agreed over the phone
Near
N 2800 W,

Lindon

,

UT

84042
Mayson S.
We will use the toilet auger to clear the obstruction. I used the toilet auger to clear the obstruction in the bathroom closer to the warehouse. They had let me know that a different plumbing company had come out a couple days before, and it had clogged again. The first time i used the toilet auger it partially cleared the toilet. I then ran the auger again, this time it fully cleared. I decided it would be a good idea to go ahead and run the auger again. That time i still cleared some debri out of the toilet. Finally on the fourth go, i was able to verify there was nothing at all left in the toilet. I was running hot water in the bathroom lave as i was unclogging the toilet. After cleaning up the toilet i noticed some disinfectant wipes in the bathroom. I recommended to not flush those wipes as they are bad for the drain lines. It also looked like there may have been some feminine products in the toilet, i also recommended to not flush those as well. After cleaning up i finished up t
Near
W 400 N St,

Lindon

,

UT

84042
Mayson S.
We will replace the shower cartridges on the old p-phister. Ron was having trouble with his shower in the master bedroom. ( 2 handle p-phister) the stems were not closing all the way. I went to the supply store to get a replacement kit. When i got back i removed the old shower handles, cover, stems and seats. I then cleaned out the valve and greased it up. I installed the new seats and stems. I then turned the water back on to ensure the shower was no longer leaking. I installed the handles and tested the shower. Verifying that we had no leaks, and everything was working properly in the shower. After i was finished Ron mentioned to me that his basement was filling with water a few days ago. I asked him some questions and did a quick inspection of the situation. His water main is located pretty far from the spot where the flooding was appearing. After looking outside i noticed the rain gutter was right at the spot where he noticed water. I also noticed the slope of the yard goes to the
Near
E 140 N,

Lindon

,

UT

84042