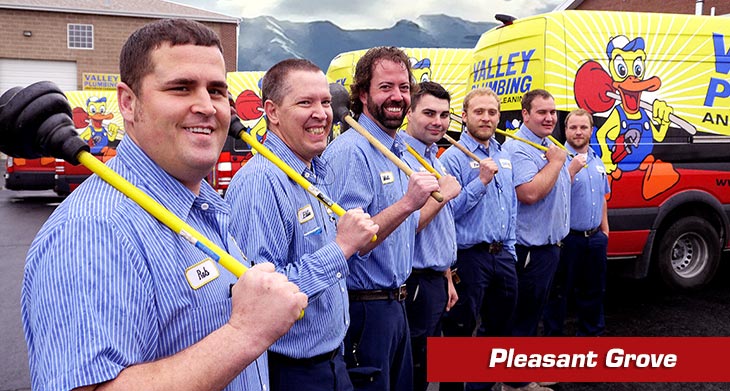 The last thing a homeowner wants to deal with is plumbing trouble. Adopting a maintenance plan is the best approach to keep complications at bay, but you could still run into issues from time to time. If you're faced with plumbing problems such a clogged toilet, burst pipe, or garbage disposal repair, count on Valley Plumbing and Drain Cleaning to be your reliable plumber.
Our team of dedicated, experienced plumbers is equipped with the tools and means to diagnose and remedy plumbing issues of all complications. Trust us for your Pleasant Grove, UT home's plumbing, water heater, and drain cleaning services. Your 100% satisfaction is our goal and gratification.
Save on your next service when you access our exclusive online coupons and special promotions.
What Are the Benefits of Water Leak Detection Services?
Preventative care is just as important for your home as it is for your car or your own body. That is why when it comes to your water systems, from pools to plumbing, that you find leaks early with leak detection services. Consider these benefits of water leak detection services:
Prevents damage. By detecting leaks early, you prevent the damage that they can cause throughout your home. Water leaks, even small ones, can lead to the softening of drywall, rotting of floor boards, and even damage to items you may have stored beneath or near the dripping water.
Averts mold. Mold can be especially dangerous for your health, and it can grow in places you may not see. All it needs is a moist, damp environment, one that your leaking pipes will easily provide.
Catch potential problems early. Small leaks can become something much worse if allowed to persist. They can also be a sign of a much bigger problem that has not made itself known yet. Leak detection services let you find and eliminate these issues.
Thoroughness. Some do-it-yourselfers have the attitude that they should be able to manage all maintenance in their home, but without the training and equipment, a homeowner is unlikely to successfully check for leaks unless they put holes in their walls, floors, and ceilings.
When Do You Need Professional Drain Cleaning?
Clogged drains can be a serious problem and even cause unfortunate back-ups and smells in your home. Many homeowners like to think they can handle the unclogging on their own, but trained professionals know how to handle minor and major clogs in your system. So, how do you recognize you have a problem that requires a professional? Look out for these signs:
Repeated clogging. Even after you've managed to clean your drain, the clogs just seem to keep coming back. That's a sign there is a problem that requires specialized tools and techniques.
Multiple slow or clogged drains. This is a sign you have a problem with more than just one drain in your home and that the clog is likely deep into your water drainage system.
Smelling sewage. This can be a sign of much more serious problems. While a sewage smell could possibly be a severely backed-up drain, it may also indicate a broken or damaged sewer line.
Flooding. This is one of the more common signs of a plugged drain. When water begins to pool in your basement or in a room beneath a bathroom or other room with plumbing, you can bet that somewhere above the pooled water is a clogged drain.
Take a look at our reviews to see how we've helped other customers in the area.
Signs You Need To Repair or Replace Your Water Heater
Finding out your water heater needs to be replaced or repaired can mean a sudden cold shower or even the cause of some serious problems with your plumbing system. Early detection can help you prepare for replacement costs and avoid unfortunate surprises. That is why it is so important to learn the signs that your water heater needs to be serviced.
No hot water. If you are experiencing unexpected cold showers, you may have a problem with your water heater. A professional can tell you whether the problem is simply a pilot light, power problem or if your heater needs to be replaced.
Muddy water or sediment. Hot water that has become muddy or has pieces of sediment floating around indicate potential failure of your water heater.
Unusual smells and tastes. If your water has begun to smell or taste metallic, your water heater is likely nearing its last days and is due for a replacement.
Odd noises and water. If you are hearing strange sounds from your water heater or noticing leaked water where none had leaked before, your heater likely needs a check up, if not a replacement.
Local Reviews
for Pleasant Grove, UT
Rated
4.7
out of 5 stars based on
3
customer reviews
Powered by Nearby Now
---
Fantastic
Joylyn

-

Pleasant Grove

,

UT



Top marks all around. Job always well done, always accommodating, friendly & helpful. Couldn't ask for a better experience. Our plumbers of choice everytime.
---
Response from Valley Plumbing and Drain Cleaning:

Thank you for the great review Joylyn! We appreciate your loyalty. Call us anytime! Best Regards, Valley Plumbing
---
Great
Mary

-

Pleasant Grove

,

UT



Ricky was very courteous and took special care for me to understand
---
They were very friendly and gave good advise.
Cristine

-

Pleasant Grove

,

UT



Would recommend then.
---
Jon .
I will take off the main cap to the outside cleanout and use the main line machine to free the stoppage. Still has some roots in the line. I sent an estimate for jetting.
Near
W State St,

Pleasant Grove

,

UT

84062
Jon .
Water heater is going warm after a few minutes. There is some "Ketteling" or popping coming from the heater when the burner is on. Water heater is hooked into the furnace and is providing heat for that. I would like to see a check valve installed on one of these lines so there is no cross over of any water. Price includes tear out of the old 50 gallon heater, and install of a new 50. Will also come with an expansion tank and one earthquake strap. (Heater already has one at the top, but two are required) We will add new supply lines and a shut off valve and eliminate the old expansion valve. Heater will be an ultra low nox burner assembly.
Near
S 2220 W,

Pleasant Grove

,

UT

84062
Trevor M.
We will replace the 40 gallon water heater that is leaking with a new 50 gallon water heater. We will also upgrade the flue on the one water heater that is turned of and not working. We will do this by installing a 5 by 4 tee on the furnace flue line. 11/2- installed new water heater. Corrected flue issue all three heaters are fired and heating and there is not a carbon monoxide issue anymore.
Near
S Main St,

Pleasant Grove

,

UT

84062
Jon .
The shower cartridge in the upstairs bathroom is leaking from the hot side. I will replace the cartridge and put the trim back together. I added a mail in coupon for $25. I also swapped the softener loop because it was originally installed backwards. I repiped a toilet line right above the softener to have it come from the soft line instead of the hard line. I added two bags of salt to the tank because it was empty. I then programmed the softener and set it to regenerate tonight.
Near
W 2490 N,

Pleasant Grove

,

UT

84062
Jon .
The water heater was overheating causing the temperature and pressure (T&P) valve to leak. I replaced the gas valve and thermostat to the water heater. I also replace the t&p valve.
Near
W 2490 N,

Pleasant Grove

,

UT

84062