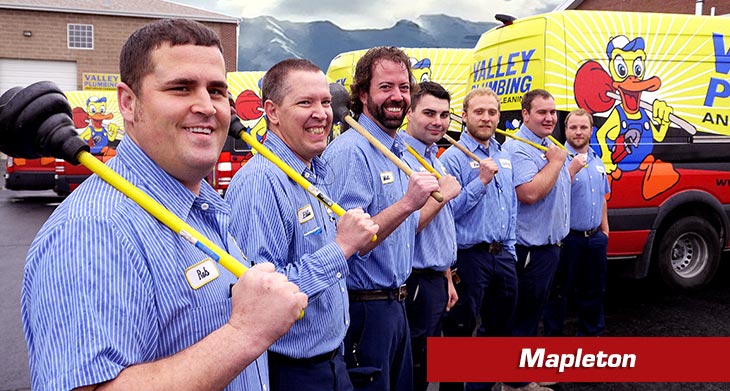 Plumbing problems are a common part of home ownership. Small faucet leaks and pipe condensation are common and do not cause much issue. However, larger leaks in drain pipes and in your water heater can spell disaster for the overall system. The reality of the situation is that these disasters can also contribute to contamination and poor water management in the home. The good news is that these leaks can be prevented entirely with good prevention practices.
At Valley Plumbing and Drain Cleaning, we value your home and safety. If you suspect problems with your plumbing, trust our team to deliver excellent plumbing, water heater, and drain cleaning services for your Mapleton, UT home. No service call is complete until you're 100% satisfied. Schedule a consultation with us today.
Save even more when you access our online specials and coupons.
Key Benefits of Water Leak Detection Services
A water leak detection service is a proactive way to check on the main sewer lines and pipes going into the home. Other benefits to consider include:
Reduced risk of mold contamination: Old pipes running into the main part of the crawlspace or basement can allow water to seep onto the walls. Older leaks can also create a mildew problem at the base of the foundation. Leak detection can source this problem immediately.
Reduced energy costs: Minor leaks from the mainline can contribute to higher water bills. We can use detection services to find small leaks and areas of pressure loss to prevent further damage.
Overall infrastructure protections: City and town sewer services work well when all lines are operating properly. Modern homes have check valves and backup systems to prevent an extra burden on drain lines in the system. Water leak detection can maintain infrastructure health by sourcing the problem from where it comes into the home.
Demand anticipation: Water demand on the home can quickly change during home renovation or town-wide construction. Water leak detection can anticipate the demands of city services to prevent insurance and legal concerns from coming up.
Should You Get Professional Drain Cleaning?
Not sure if you should invest in professional drain cleaning? Look out for these signs and call us right away if you're experiencing one or more:
Backed up plumbing fixtures: Toilets and showers that back up on their own or during rainy seasons are signs of the mainline backing up into the rest of the house. We recommend a professional drain cleaning that will allow the waste stack and main plumbing to do its job properly.
Basement or crawl space flooding: Weeping tile and drain pipe in crawl spaces and basements become notorious for failing after several years. They become clogged with sediment and dirt. Cleaning out this drain system can reduce the load on the sump pump and lower risks of flooding.
Odors: The smell of sewer gas or standing water is a clear sign that drains need to be cleared. Sewer gas should not be backing up into the home. We recommend cleaning drains to reduce migration of these gases.
Want to know what others in your area are saying about us? Read our customer reviews and testimonials to see why they keep choosing us for their plumbing needs.
Does Your Water Heater Need To Be Repaired or Replaced?
When you suspect trouble with your water heater, call on our knowledgeable plumbers to thoroughly inspect your unit. They can provide you with the best course of action for your situation. Watch out for these indicators that your water heater may be in need of repairs or complete replacement.
Inconsistent temperature: Pockets of hot and cold temperature during a shower or hand washing is a clear sign of repair or replacement. Water heater tanks should hold hot water consistently throughout the day and on-demand units should not cycle continuously.
Low recovery rate: A water heater tank should heat quickly enough to recover from usage for repeated tasks during the day that requires hot water. Poorly functioning temperature controls or igniters can limit this rate severely.
High energy bills: One of the biggest cases for replacing a water heater is the electric or gas bill. High-efficiency heaters can reduce energy costs by more than half. Older units are not insulated properly and require constant heating of the tank. Newer tankless models and super efficient gas units can reduce these costs dramatically.
Local Reviews
for Mapleton, UT
Valley Plumbing and Drain Cleaning
Rated
5.0
out of 5 stars based on
3
customer reviews
Powered by Nearby Now
---
Great
Julie

-

Mapleton

,

UT



Review of Valley Plumbing and Drain Cleaning
He was great! Thank you
---
Great
Michelle

-

Mapleton

,

UT



Review of Valley Plumbing and Drain Cleaning
We would like to thank Neil for his great work clearing out our sink and his sharing of knowledge about how rice and spaghetti is not a great thing to put down your disposal and how it stops up sinks thanks for your time
---
Forever Hotwater
Vicki

-

Mapleton

,

UT



Review of Valley Plumbing and Drain Cleaning
Excellent
---
Cory N.
Cable tub/lavatory on main floor also hallway tub on top floor
Near
N 200 W,

Mapleton

,

UT

84664
Mayson S.
We will replace the kitchen faucet, and the shower heads in both bathrooms. We will fix the shower handle in the master bathroom. All customer supplied I replaced the customer supplied kitchen faucet. I then tested to ensure everything was working properly. Then i started to work on the shower valve/cartridge. I realized we needed a new shower cartridge. I went to standard plumbing to find a replacement. However all they had was delta universal cartridge. I came back to see if that would work. Unfortunately it would not. I found that we would need to order the correct cartridge. However i know the customer needs that shower fixed asap. So as an alternative i took out the cartridge and all the mechanical components. I was able to hand machine the parts to fix the valve. I replaced gaskets and fine tuned the valve and cartridge to allow the maximum amount of hot water available. *there will be no extra charge for the time it took to hand machine the valve and cartridge* the cost for th
Near
Meadow Ln,

Mapleton

,

UT

84664
joshua.ashby@gmx.com
Customer had a leak from a 30 port manablock didn't want us to replace it. Says that he can replace it. He also was thinking that he wanted us to but two expansion tanks on his water heaters. Said that he needed to think about it. I just charged him a service charge
Near
E 400 S,

Mapleton

,

UT

84664
Ryan G.
Estimate on installing customer supplied bidet toilet seat
Near
N 2000 E,

Mapleton

,

UT

84664
Mayson S.
We will cut out the cracked abs pipe between the two 45 abs fittings and add two new 45 fittings and a small amount of abs pip I cut out the 45 fittings and the broken abs pipe. I noticed the stack was at very strong angle. When i glued the new 45 fittings on i did everything we could to straighten the stack. However to get the stack plumbed better we will need to chip out the concrete foundation. Per customer request i checked the drainage and water lines under the customers sink. Everything was tight, there were no leaks. However it did look like there was a leak under the sink at one point.
Near
N 2000 E,

Mapleton

,

UT

84664