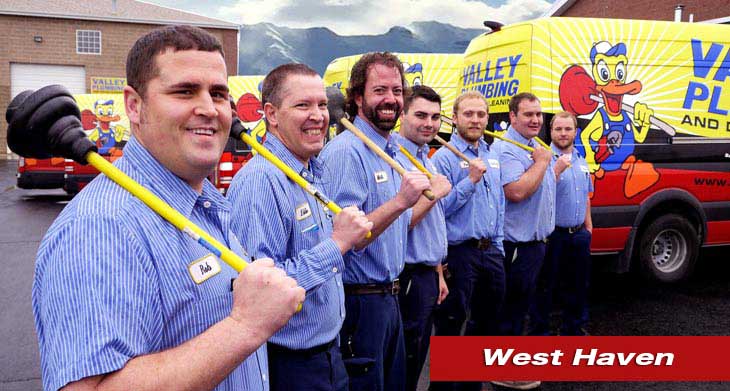 Are you dealing with a plumbing problem? Valley Plumbing and Drain Cleaning is your plumber of choice for all your plumbing needs in West Haven, UT and surrounding areas. Most plumbing installations, repairs and replacements require the expertise and knowledge of an experienced plumber. That's where we come in! Our team is here 24 hours a day, 7 days a week for plumbing problems that can't wait until the next day.
Learn more about our service delivery and commitment to quality by reading some of our latest customer reviews and comments.
24 Hour Plumbers Here to Help
Overflowing toilets, broken water heaters and burst pipes are all plumbing emergencies you can't afford to ignore. When you're faced with a plumbing emergency, we're here 24 hours a day to resolve the issue as quickly as possible. Our technicians are highly trained at handling various plumbing emergencies to ensure everything is restored to normal in no time.
Signs You Need a New Water Heater
Not sure if you need to replace your water heater? Here are a few signs that it might be time:
It's too old - A well-maintained water heater lasts between 10 and 15 years. If your unit is over 10 years, you need to start watching it closely as it may be nearing the end of its useful life and is due for replacement.
Water pooling around the base of the water heater - As your water heater shrinks and expands due to temperature changes, it wears down and cracks can start to appear. Over time, the cracks worsen until water starts leaking out of the tank.
Banging and rumbling noises inside the heater - These noises occur when there's built-up sediment at the bottom of the tank. As the sediment builds-up, the problem becomes worse and can cause the tank to become brittle and prone to overheating or leaking.
Not sure if you need water heater replacement or if repairs will suffice? Call Valley Plumbing and Drain Cleaning for expert inspection.
Our About Us page gives you an overview of our company and what to expect when you work with us.
Signs You Have a Clogged Drain
If you're having plumbing woes but you're not entirely sure of the cause, check out these typical signs of a clogged drain.
Dishwasher has standing water in it at the end of the cycle
You smell a foul odor coming from the drain in your sink
Dishwasher cycle is taking longer than normal
Toilet starts bubbling when the bathroom faucet is running
Drains are gurgling
Sink drain starts backing up
Water pools at the bottom of your shower or tub and is either not draining at all or draining slower than usual
If you need professional drain cleaning, call Valley Plumbing and Drain Cleaning! Our pros can get your pipes flowing like normal in no time.
Local Reviews
for West Haven, UT
---
Kevin D.
The toilet in the downstairs bathroom would back up when flushed then slowly drain. I ran my auger through the toilet several times and cleared the blockage. I then flushed multiple times with and without toilet paper with no issues. The toilet works properly. We do not warranty drain cleaning as we have no control over what is flushed down the toilet.
Near

Gilmour St,

West Haven

,

UT

84401
Mitch F.
Install 50 gallon A.O. Smith water heater with expansion tank shut off and supply lines.
Near

W 3300 S,

West Haven

,

UT

84401
Mitch F.
The disposal seems to be in good working condition no noise. If the noise continues for more than two days we will come back out and install a new one.
Near

Gilmour St,

West Haven

,

UT

84401
musicman1826@gmail.com
I will install a Halo 5 water conditioning system, in the mechanical closet located in the garage. I will tie onto existing water softening loop adapting to water supply lines as needed, and install a boiler drain valve to properly flush the Halo 5 during installation process. I will run the Halo 5 regeneration drain, to the floor drain located in the mechanical closet with a proper air gap. Once the Halo 5 is installed I will flush, and program the system to manufacture specifications. When work is complete I will test or proper operation. Refer to website for more information about the Halo 5 Water Condition Syatem. www.halowater.com Results: Job went well no issues
Near

W 4100 S,

West Haven

,

UT

84401
Randy S.
We will replace existing water heater with a 50 gallon AO Smith water heater. We will install a thermal expansion tank, flex water supply lines, and a gas flex line to the water heater, adapting to existing water and gas lines as needed. We will dispose old water heater and old materials during replacement process. When work is completed, we will test for proper operation. Results: Job went well, no issues. Adjusted water pressure to home.
Near

W 4100 S,

West Haven

,

UT

84401