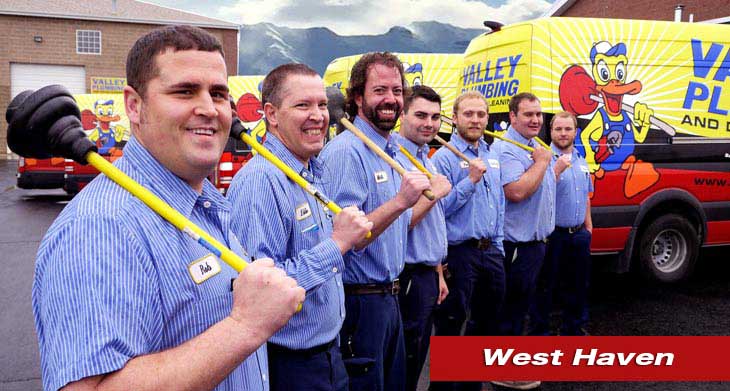 Are you dealing with a plumbing problem? Valley Plumbing and Drain Cleaning is your plumber of choice for all your plumbing needs in West Haven, UT and surrounding areas. Most plumbing installations, repairs and replacements require the expertise and knowledge of an experienced plumber. That's where we come in! Our team is here 24 hours a day, 7 days a week for plumbing problems that can't wait until the next day.
Learn more about our service delivery and commitment to quality by reading some of our latest customer reviews and comments.
24 Hour Plumbers Here to Help
Overflowing toilets, broken water heaters and burst pipes are all plumbing emergencies you can't afford to ignore. When you're faced with a plumbing emergency, we're here 24 hours a day to resolve the issue as quickly as possible. Our technicians are highly trained at handling various plumbing emergencies to ensure everything is restored to normal in no time.
Signs You Need a New Water Heater
Not sure if you need to replace your water heater? Here are a few signs that it might be time:
It's too old - A well-maintained water heater lasts between 10 and 15 years. If your unit is over 10 years, you need to start watching it closely as it may be nearing the end of its useful life and is due for replacement.
Water pooling around the base of the water heater - As your water heater shrinks and expands due to temperature changes, it wears down and cracks can start to appear. Over time, the cracks worsen until water starts leaking out of the tank.
Banging and rumbling noises inside the heater - These noises occur when there's built-up sediment at the bottom of the tank. As the sediment builds-up, the problem becomes worse and can cause the tank to become brittle and prone to overheating or leaking.
Not sure if you need water heater replacement or if repairs will suffice? Call Valley Plumbing and Drain Cleaning for expert inspection.
Our About Us page gives you an overview of our company and what to expect when you work with us.
Signs You Have a Clogged Drain
If you're having plumbing woes but you're not entirely sure of the cause, check out these typical signs of a clogged drain.
Dishwasher has standing water in it at the end of the cycle
You smell a foul odor coming from the drain in your sink
Dishwasher cycle is taking longer than normal
Toilet starts bubbling when the bathroom faucet is running
Drains are gurgling
Sink drain starts backing up
Water pools at the bottom of your shower or tub and is either not draining at all or draining slower than usual
If you need professional drain cleaning, call Valley Plumbing and Drain Cleaning! Our pros can get your pipes flowing like normal in no time.
Local Reviews
for West Haven, UT
Powered by Nearby Now
---
Cory N.
Ran cable from pulled toilet hit blockage at 20 ft off upstairs hallway bath after opening line video showed test plug in clean out clean out marked out with located off the side cabinet sink will need to be removed to access clean out.
Near
S 2300 W St,

West Haven

,

UT

84401
Brian U.
Replaced sprayer hose for Moen faucet. This required me to go to the supply house to get new hose. watched for leaking noticed no leaking. 90 day warranty on repairs. If the customer chooses to get a new faucet within the 90 days will credit half the job today towards the new faucet.
Near
S 3475 W,

West Haven

,

UT

84401
Brian U.
Installed fridge filter for fridge and hooked up existing fridge line to the fridge. Used quality brass compression coupling with plastic ferrules to install. Turned on water watched for leaks noticed no leaking. Ran water through the fridge water did come out. Towers is only responsible for the section of the fridge line worked on. Towers is not responsible for anything on the refrigerator unit itself including the ice maker. Towers is not responsible for leaks coming from the unit itself. 90 day warranty on the fridge line.
Near
Birch Creek Rd,

West Haven

,

UT

84401