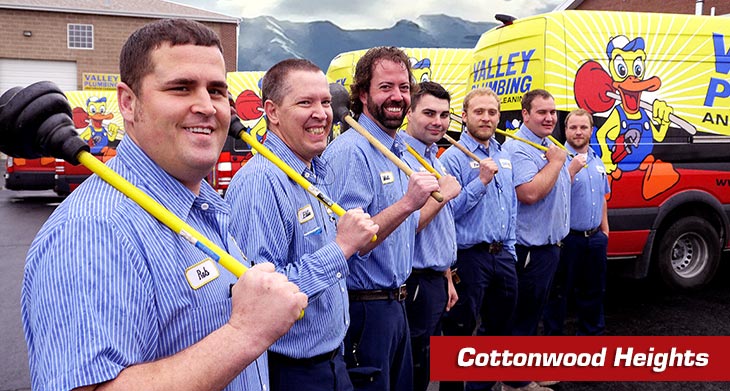 At Valley Plumbing and Drain Cleaning, we strive to provide customers with superior plumbing services. Our top priority is to ensure your home remains comfortable, safe, and sanitary. All of our plumbers are experienced, licensed, and insured to handle plumbing complications of all severities and treat units of all makes and models. Trust us for your Cottonwood Heights plumbing, water heater, and drain cleaning services. Our experts are there to assist you and your family to get your home's plumbing restored and running in no time.
Access our exclusive online promos and coupons and save even more on your next service.
Benefits of Water Leak Detection Services
It's a quick and professional process. Water leak detection services are done quickly and professionally by our experts. We use state-of-the-art equipment and our own skills and knowledge to check for leaks within the home, underneath it, or behind walls. The whole process is done at your own convenience quickly and efficiently.
Saves money. Saving money and avoiding overspending is something that most homeowners are very firm about in their own lives. Unfortunately, even the tiniest of leaks in the home can have you spending more on your water bill than is needed. Detecting a leak can put a stop to this unnecessary spending.
Averts major water damage. Water damage could cost you thousands of dollars to repair over time, considering floorboards and walls that have become ruined. Not only that, but water damage can make the home quite unsafe simply because of weakened beams and eventual mold growth.
Stops the potential for mold and mildew growth. Water leaks create the perfect environment for mold and mildew, which can lead to unsanitary living situations that could make you and your family members sick.
What Are Some of the Signs You Need Expert Drain Cleaning?
Professional drain cleaning services is recommended for homes of all sizes at least once a year. Not only will it keep your drains clean, but it will also allow for it to continue functioning at its peak performance. There will be times, however, that a professional drain cleaning is necessary. Be mindful of the following signs:
Backup in tubs, sinks, and toilet bowls.
Gurgling noises from sink after flushing toilet.
Frequent and/or multiple clogs.
Visible gunk in drains.
Foul odors from drain openings.
Read what other Cottonwood Heights homeowners think about us in our customer reviews.
Signs Your Water Heater Needs To Be Repaired or Replaced
A water heater that works well should provide you with hot water throughout the day and night. If you're not getting any hot water or the water is lukewarm at best, there could be something wrong with the water heater. A water heater that is rusted, has frayed wires, is leaking or completely cracked needs to be repaired or replaced altogether.
Other factors to consider are:
Age.
Occurrence of repairs.
Leaks.
Brown or smelly water.
If you are unsure if your unit is due for repairs or replacement, call our expert team. One of our professional plumbers can thoroughly inspect your water heater and provide you with the best course of action.
Local Reviews
for Cottonwood Heights, UT
Valley Plumbing and Drain Cleaning
Rated
4.7
out of 5 stars based on
33
customer reviews
Powered by Nearby Now
---
Great service, very nice
Nancy

-

Cottonwood Heights

,

UT



Review of Valley Plumbing and Drain Cleaning
Prompt, thorough, pleasant
---
Great service
Paul

-

Cottonwood Heights

,

UT



Review of Valley Plumbing and Drain Cleaning
Fixed everything promptly
---
Happy customer
Craig

-

Cottonwood Heights

,

UT



Review of Valley Plumbing and Drain Cleaning
We were satisfied with Cairo's professionalism and would be happy to have him work on our plumbing again.
---
Easy to work with, great service
John

-

Cottonwood Heights

,

UT



Review of Valley Plumbing and Drain Cleaning
Will use again if and when needed.
---
chgood service
Daniel

-

Cottonwood Heights

,

UT



Review of Valley Plumbing and Drain Cleaning
chandler very easy to work with!
---
Landon L.
We will replace the Mansfield toilet in the hallway half bathroom with an American Standard Cadet. We will include a new wax and braided supply line. We replaced the Mansfield with an American Standard Cadet; installed new wax ring and braided supply line.
Near
Courchevel Pl,

Cottonwood Heights

,

UT

84121
Randy S.
We changed out customer supplied three faucets to downstairs one upstairs we change the faucet in the pop-up assembly drain after were done me and the customer checked everything everything went good like it should.
Near
E Village Green Rd,

Cottonwood Heights

,

UT

84121
Jeremy G.
This estimate is for us to install three Toto Drake toilets we are only charging for two toilets and the third one is free this estimate will include us taking out the old toilets and re-installing new toilets with new water supply lines in addition to new wax rings and new flange bolts to the toilets. We will be coming back on January 18 We came back on January 18 and we were able to take out all three toilets and clean out the wax rings, and replace the toilet bolts and water supplies. We are then able to install new toilet bolts we are also able to install new water supply lines and new wax rings. We then installed three new Toto drake elongated toilets all three were able to snuggle up tight to the flange we flushed each toilet approximately 10 times to ensure no leaks we found no leaks. All three toilets are working as they should. All three toilets come with a one year parts and labor warranty.
Near
MacIntosh Ln,

Cottonwood Heights

,

UT

84121
Hunter C.
Pulled the toilet and ran the small drain machine. The cable would not follow the drainage down and would come out of the roof vent. I was unable to run the camera farther than 5' due to the condition of if the pipe and too many turns. The homeowner ran water from the tub while I watched the floor drain and determined that there was a venting issue. There was a mechanical vent near the floor drain and the homeowner replaced it. I then ran the drill snake through the floor drain and cleared the line. I ran water for several minutes from multiple fixtures and found no further issues. I reset the toilet and cleaned up. There is no warrant on drain cleaning.
Near
S 2445 E,

Cottonwood Heights

,

UT

84121
Jessie S.
His kitchen drain was leaking from downstairs so we had to cut out the sheet rock customer knows he needs to put back the sheet rock himself I fix the drain put new fittings after I was done tested everything everything runs good
Near
E Village Green Rd,

Cottonwood Heights

,

UT

84121