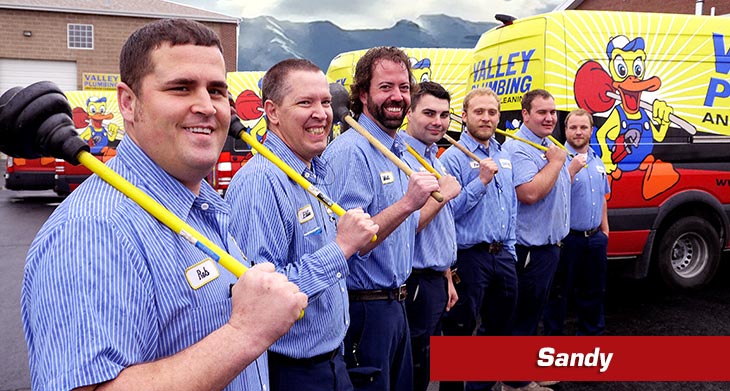 A plumbing complication is the last thing any homeowner wants to face. As unfortunate as it may be, plumbing issues will arise from time to time. However, you can be prepared to tackle those problems by having a reliable, trustworthy plumber on hand conveniently located in Sandy, UT.
At Valley Plumbing and Drain Cleaning, we have a team of highly experienced, professional plumbers that are trained and licensed to assist you with plumbing, water heater, and drain cleaning services. No matter the time of day or the scope of your problem, Valley Plumbing and Drain Cleaning has you covered!
Save even more on your next service when you use our exclusive online specials and coupons.
Why Are Water Leak Detection Services Beneficial?
Water leak detection services come with plenty of benefits that homeowners may not be aware of. Consider these advantages when you are debating about whether or not to get your pipes checked:
Saving money on utility bills. Our plumbers provide expert water leak detection services for businesses and private residences, saving them on their monthly water bills.
Avoid extensive property damage. Small water leaks in pipes located in ceilings and walls can cause a massive amounts of damage to electrical wiring, insulation, and carpeting.
Prevent the growth of mold and mildew. Water leaks create a moist environment that host the perfect habit for mold and mildew growth.
Treat small problems before they worsen. Water leak detection services can spot small leaks and treat them before they progress and cause damage.
When our trained plumbers find a leak in a pipe, faucet or valve, they can make a repair immediately, providing you with prompt comfort.
What Are Signs Your Home Needs Professional Drain Cleaning?
It is recommended that every homeowner invest in professional drain cleaning at least once a year. But if you're experiencing the following signs, call us right away as a drain cleaning is necessary for the functionality of your drainage system.
Slow and noisy drains. When emptying sinks or bathtubs, it should drain quickly without making gurgling noises. Bathtubs and sinks that take a long time to drain are likely clogged with debris such as hair or grease.
Debris float up into the sink or bathtub. This will leave a ring of dirty scum in the fixture and is a sign of a clog that needs to be professionally cleaned.
Foul odor from the drain opening. This is due to spoiled food caught in the water pipes behind walls and under fixtures. A building's drainage system extends outside under lawns before the water and debris enters a public sewer line. It could be possible your drains are leaking under the ground.
Read our reviews and see why area residents love to use our services.
Should You Repair or Replace Your Water Heater?
Water heaters in commercial and residential properties normally last between 10 to 15 years with an occasional repair to its pipes, valves, or thermostat. We suggest that our customers inspect a building's water heater about once a month for leaks. A leak should be repaired immediately before it progresses and causes damage.
If your heater does not produce hot water, older than 15 years, and needs frequent repairs, a replacement will be necessary. There are no newer, energy-efficient units that can provide effective service while keeping utility bills at a minimal. A new unit is also a smarter economic investment than paying to continue to repair an aged heater that will eventually reach the end of its lifespan.
Local Reviews
for Sandy, UT
Valley Plumbing and Drain Cleaning
Rated
4.8
out of 5 stars based on
183
customer reviews
---
Dean was very knowledgeable and courteous
Richard

-

Sandy

,

UT

84070



Review of
Valley Plumbing and Drain Cleaning
He was here in a half hour and he had all the stuff in his truck
---
Installation of Kohler skirted toilet
Jorgen

-

Sandy

,

UT

84092



Review of
Valley Plumbing and Drain Cleaning
Justin did a quality job and was pleasant to deal with. Was conscientious about details and made sure we were happy with the installation.
---
Great Service
Edythe

-

Sandy

,

UT

84094



Review of
Valley Plumbing and Drain Cleaning
We have always been happy with Towers Plumbing. Growing up, Herb Towers & family lived on the next street & my dad always called Herb for plumbing problems.
---
I have been using this company for a variety of projects. Every single time one of the texts show up, but very nice, very courteous and willing to hel
Teresa

-

Sandy

,

UT

84070



Review of
Valley Plumbing and Drain Cleaning
Pipes froze in my mobile home and I had no water coming out of the hot water side until it thawed out. It's all about about a half hour before they showed up 6 o'clock at night.
---
Great service. Excellent job
Brett

-

Sandy

,

UT

84070



Review of
Valley Plumbing and Drain Cleaning
---
Kevin D.
The existing hose bib in the front of the house was running through an overhang and froze and burst. I turned the water off to the home and drained the line. I cut an access hole in the basement bedroom closet and cut the existing hose bib out and capped the line. I removed the hose bib and turned the water back on to the home with no issues. There is a 90 day warranty on parts and labor. I'm also sending an estimate to run a new hose bib through the foundation where it will be better insulated.
Near

Madrid Way,

Sandy

,

UT

84093
Raiden H.
Repair frozen copper line that came open at an elbow causing water to spray out. Cut out and replace the failed elbow and piece back together using prop-press fittings. Install heat tape and insulate the water lines that connect into water heater. Approximately 20 feet of tape and insulation. Tested for leaks and proper operation. Had to flip breaker to outlet for water heater to have it turn on. Felt hot water coming out of faucets on the inside. No warranty on freezing due to not having control of the temperatures.
Near

State St,

Sandy

,

UT

84070
Raiden H.
Replaced old water heater in mechanical room. Had to remove shelves in mechanical room to make enough room for access. Installed new 50 gallon with expansion tank and earthquake straps. Reconnected ridged gas line. Replaced section of copper piping above water heater that was corroded. Removed dishwasher and installed new LQ brand owner supplied unit. Hardwired power and connected braided supply line. Installed supplied garbage disposal and replaced P-trap. Replaced shutoff valves under kitchen cabinet with two double port valves on hot and cold copper water lines. Replaced PRV and main water shutoff valve using propress fittings. Tested for leaks and proper operation.
Near

E 10105 S,

Sandy

,

UT

84070
Justin W.
We removed the P-Trap beneath the sink and checked the pipes for blockages and buildup. We augered the drain line with a kitchen auger to clean any blockages that were further down the line than we were able to reach. We checked to make sure the lines were draining properly before we left. Used a treatment of Total-C on the kitchen line. There is no warranty on drain cleaning.
Near

Bell Canyon Cir,

Sandy

,

UT

84092
Pedro U.
This estimate is to install heat tape on the cold and hot water pipes from under the crawl to the water heater we will also insulate the Pipes to prevent he pipes from freezing
Near

W 9260 S St,

Sandy

,

UT

84070