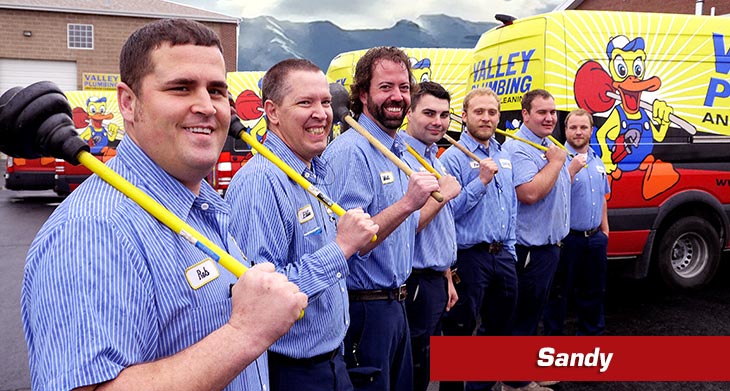 A plumbing complication is the last thing any homeowner wants to face. As unfortunate as it may be, plumbing issues will arise from time to time. However, you can be prepared to tackle those problems by having a reliable, trustworthy plumber on hand conveniently located in Sandy, UT.
At Valley Plumbing and Drain Cleaning, we have a team of highly experienced, professional plumbers that are trained and licensed to assist you with plumbing, water heater, and drain cleaning services. No matter the time of day or the scope of your problem, Valley Plumbing and Drain Cleaning has you covered!
Save even more on your next service when you use our exclusive online specials and coupons.
Why Are Water Leak Detection Services Beneficial?
Water leak detection services come with plenty of benefits that homeowners may not be aware of. Consider these advantages when you are debating about whether or not to get your pipes checked:
Saving money on utility bills. Our plumbers provide expert water leak detection services for businesses and private residences, saving them on their monthly water bills.
Avoid extensive property damage. Small water leaks in pipes located in ceilings and walls can cause a massive amounts of damage to electrical wiring, insulation, and carpeting.
Prevent the growth of mold and mildew. Water leaks create a moist environment that host the perfect habit for mold and mildew growth.
Treat small problems before they worsen. Water leak detection services can spot small leaks and treat them before they progress and cause damage.
When our trained plumbers find a leak in a pipe, faucet or valve, they can make a repair immediately, providing you with prompt comfort.
What Are Signs Your Home Needs Professional Drain Cleaning?
It is recommended that every homeowner invest in professional drain cleaning at least once a year. But if you're experiencing the following signs, call us right away as a drain cleaning is necessary for the functionality of your drainage system.
Slow and noisy drains. When emptying sinks or bathtubs, it should drain quickly without making gurgling noises. Bathtubs and sinks that take a long time to drain are likely clogged with debris such as hair or grease.
Debris float up into the sink or bathtub. This will leave a ring of dirty scum in the fixture and is a sign of a clog that needs to be professionally cleaned.
Foul odor from the drain opening. This is due to spoiled food caught in the water pipes behind walls and under fixtures. A building's drainage system extends outside under lawns before the water and debris enters a public sewer line. It could be possible your drains are leaking under the ground.
Read our reviews and see why area residents love to use our services.
Should You Repair or Replace Your Water Heater?
Water heaters in commercial and residential properties normally last between 10 to 15 years with an occasional repair to its pipes, valves, or thermostat. We suggest that our customers inspect a building's water heater about once a month for leaks. A leak should be repaired immediately before it progresses and causes damage.
If your heater does not produce hot water, older than 15 years, and needs frequent repairs, a replacement will be necessary. There are no newer, energy-efficient units that can provide effective service while keeping utility bills at a minimal. A new unit is also a smarter economic investment than paying to continue to repair an aged heater that will eventually reach the end of its lifespan.
Local Reviews
for Sandy, UT
Valley Plumbing and Drain Cleaning
Rated
4.8
out of 5 stars based on
165
customer reviews
Powered by Nearby Now
---
Great service! A little pricey.
James

-

Sandy

,

UT



Review of Valley Plumbing and Drain Cleaning
---
Professional, Honest & Experienced
Ray

-

Sandy

,

UT



Review of Valley Plumbing and Drain Cleaning
Kevin did an outstanding job explaining the scope/details of how he would knock out the major project he completed at my house. He made valuable suggestions using his experience, he was very polite, and was thoughtful on completing work as efficiently as possible in order to reduce the time my house was without use of the plumbing system. I'd definitely use Valley Plumbing again.
---
Great
Danville

-

Sandy

,

UT



Review of Valley Plumbing and Drain Cleaning
Both people were great friendly
---
Pros
Larry

-

Sandy

,

UT



Review of Valley Plumbing and Drain Cleaning
Great working with the techs
---
Toilet
Jerry

-

Sandy

,

UT



Review of Valley Plumbing and Drain Cleaning
He fixed the f up Joel left me
---
zdruce@gmail.com
I will cut into the ceiling in the basement to expose the water line connecting to the hose bib. I will cut out the hose bib and install a new hosebib to the back yard. I am not responsible for the repair or replacement of the sheetrock.
Near
E Diamond Way,

Sandy

,

UT

84094
Justin W.
We replaced the stems on two hand sink faucets. We also replaced the stems on one three compartment sink faucet and replaced the the o-ring on the spout of the other three compartment sink faucet. We replaced a section of pex piping and a male adapter at the bar connected to a glass rinser.
Near
State St,

Sandy

,

UT

84070
Dean R.
Front hose bib was ruptured and they had a duel front hose bib. Had me cap the one off and install new frost free hose bib in the front. Tested and there is no leaks. Spray foamed the hole around the hose bib and put silicon on the outside to seal off.
Near
Fox Hunt Dr,

Sandy

,

UT

84092
Dean R.
Will remove old PRV and install new PRV with the pressure it at 53 psi and tested for leaks and everything is working great.
Near
S Larkspur Cir,

Sandy

,

UT

84094
Mitch F.
Replace old with new
Near
Bedrock Ln,

Sandy

,

UT

84092