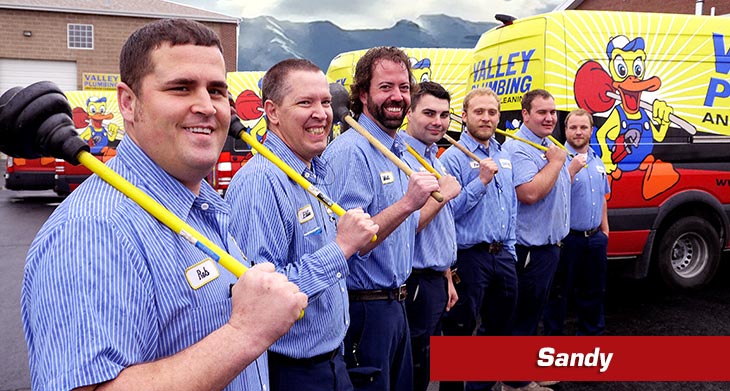 A plumbing complication is the last thing any homeowner wants to face. As unfortunate as it may be, plumbing issues will arise from time to time. However, you can be prepared to tackle those problems by having a reliable, trustworthy plumber on hand conveniently located in Sandy, UT.
At Valley Plumbing and Drain Cleaning, we have a team of highly experienced, professional plumbers that are trained and licensed to assist you with plumbing, water heater, and drain cleaning services. No matter the time of day or the scope of your problem, Valley Plumbing and Drain Cleaning has you covered!
Save even more on your next service when you use our exclusive online specials and coupons.
Why Are Water Leak Detection Services Beneficial?
Water leak detection services come with plenty of benefits that homeowners may not be aware of. Consider these advantages when you are debating about whether or not to get your pipes checked:
Saving money on utility bills. Our plumbers provide expert water leak detection services for businesses and private residences, saving them on their monthly water bills.
Avoid extensive property damage. Small water leaks in pipes located in ceilings and walls can cause a massive amounts of damage to electrical wiring, insulation, and carpeting.
Prevent the growth of mold and mildew. Water leaks create a moist environment that host the perfect habit for mold and mildew growth.
Treat small problems before they worsen. Water leak detection services can spot small leaks and treat them before they progress and cause damage.
When our trained plumbers find a leak in a pipe, faucet or valve, they can make a repair immediately, providing you with prompt comfort.
What Are Signs Your Home Needs Professional Drain Cleaning?
It is recommended that every homeowner invest in professional drain cleaning at least once a year. But if you're experiencing the following signs, call us right away as a drain cleaning is necessary for the functionality of your drainage system.
Slow and noisy drains. When emptying sinks or bathtubs, it should drain quickly without making gurgling noises. Bathtubs and sinks that take a long time to drain are likely clogged with debris such as hair or grease.
Debris float up into the sink or bathtub. This will leave a ring of dirty scum in the fixture and is a sign of a clog that needs to be professionally cleaned.
Foul odor from the drain opening. This is due to spoiled food caught in the water pipes behind walls and under fixtures. A building's drainage system extends outside under lawns before the water and debris enters a public sewer line. It could be possible your drains are leaking under the ground.
Read our reviews and see why area residents love to use our services.
Should You Repair or Replace Your Water Heater?
Water heaters in commercial and residential properties normally last between 10 to 15 years with an occasional repair to its pipes, valves, or thermostat. We suggest that our customers inspect a building's water heater about once a month for leaks. A leak should be repaired immediately before it progresses and causes damage.
If your heater does not produce hot water, older than 15 years, and needs frequent repairs, a replacement will be necessary. There are no newer, energy-efficient units that can provide effective service while keeping utility bills at a minimal. A new unit is also a smarter economic investment than paying to continue to repair an aged heater that will eventually reach the end of its lifespan.
Local Reviews
for Sandy, UT
Rated
4.7
out of 5 stars based on
66
customer reviews
Powered by Nearby Now
---
Great Service and great customer service!
Jon

-

Sandy

,

UT



---
Great Service!
Jeannette

-

Sandy

,

UT



Neil Anderson, does a great job! Thanks 🙏
---
Response from Valley Plumbing and Drain Cleaning:

Hi Jeannette! We are so happy to hear you had a great experience with Neil! He is a fantastic member of our team. Call us anytime! All the best, Valley Plumbing
---
Great Service
Sue

-

Sandy

,

UT



They arrived early and completed the work quickly.
---
Response from Valley Plumbing and Drain Cleaning:

Hi Sue! Thank you for the wonderful review. We are always happy to help! All the best, Valley Plumbing
---
Great service
Scott

-

Sandy

,

UT



Tech very prompt and courteous. Did a great job.
---
Response from Valley Plumbing and Drain Cleaning:

Thank you for the wonderful feedback Scott! We are always happy to help. Call us anytime! All the best, Valley Plumbing
---
Lennox is Awesome! Great, speedy service! Grateful!
Ryan

-

Sandy

,

UT



Lennox was/ is awesome! He solved a few problems and helped us recreate old plumbing into a modern system.
---
Response from Valley Plumbing and Drain Cleaning:

Hi Ryan! Thanks for the great feedback. We are thrilled you had a great experience with Lennox. We are here for you whenever you need us! All the best, Valley Plumbing
---
Travis W.
Pulled two toilets to try and clear main line. Tried from inside cleanouts as well. Tried fro floor drain in mechanical room. Everywhere we tried the cable would come up the toilet stubs. Water was still backing up when we were done however the toilets are now flushing and nothing is backing up. Unable to gaurantee this job do to the the way the sub rough was plumbed.
Near
9700 Highland Drive,

Sandy

,

UT

84092
Travis W.
Replaced fill valve on toilet we just replaced. Replaced cracked handle on toilet. Warranty
Near
469 Parkland Drive,

Sandy

,

UT

84070
Alex K.
We will clean the drain of the sink in the coffee area of the education center to help it drain better. We will also rebuild the flush valve of the handicapped stall in the women's room on the first floor.
Near
W Towne Ridge Pkwy,

Sandy

,

UT

84070
Alex K.
There was evidence of water coming from the ceiling in the mechanical room, near the tub upstairs. We ran water in the tub and shower and could not get anything to leak. I got in the atttic to check the penetration through the roof but didn't find any water there either. It could potentially be moving from the duct going through the roof, as it has been raining a lot the past couple days but we could not find any leaks with the plumbing.
Near
Oak Valley Dr,

Sandy

,

UT

84093
Eric S.
We will replace the float on the de watering pump in the back yard with a new one. We will also repair the broken piping that is connected to the pump. Finally we will reinstall the pump and check for proper operation. We do it do electrical work to the pumps if there is a problem.
Near
E Angel Ct,

Sandy

,

UT

84070