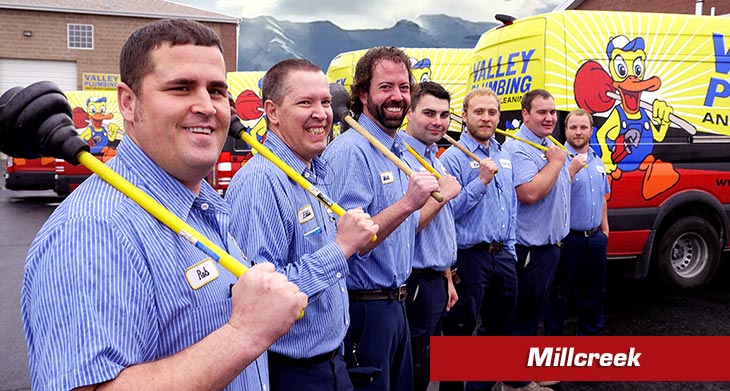 Keeping your plumbing system well maintained is an important job, and you can always rely on Valley Plumbing and Drain Cleaning to get it done well. We understand your desire for quick, effective service at the best value possible, and we strive to meet your goals while providing you with friendly customer service. For any plumbing issues you are dealing with, we are the trusted local plumbers to rely on. Count on us for first-rate Millcreek, UT plumbing, water heater, and drain cleaning services. Your 100% satisfaction is our gratification and goal.
Save even more with our special discounts and exclusive online coupons.
Why Should You Consider Water Leak Detection Services?
Before a plumbing leak can be repaired, its exact location in the home must be identified. In some cases, the location of a leak is obvious because it is visible. However, when leaks are located inside your walls, your foundation, or the ground outside your home, special techniques must be used.
At Valley Plumbing and Drain Cleaning, we utilize advanced leak detection services to locate a leak without the need to tear away drywall or to dig holes in your lawn. These services allow us to locate the leak more quickly and without damage to your property, so you'll be able to return to life as normal as soon as possible.
Do You Need Professional Drain Cleaning Services?
In addition to water leak detection and leak repair services, we can also professionally clean your drains to keep the water flowing through your home. Drain cleaning services are designed to clear away large clogs as well as smaller amounts of debris. You know that you need drain cleaning service from our team when the water in your sinks, bathtubs, and shower basins flows drains more slowly or when it does not drain at all.
Clogs may impair your ability to use your plumbing features, and some clogs can become more problematic over time. We are ready to assist you with your clogged drains so that you can continue to use these features.
Read how other customers have benefited from our services in our comments and reviews.
Does Your Water Heater Need Repairs or Replacement?
When your water heater is broken, you may not have access to the warm water you need for the comfort and convenience in your home. The water may only be lukewarm at best or may not be warm at all. The water may also have a bad odor, be tinged with a color, or have sediment in it. Some broken water heaters will leak water or gas, requiring immediate attention.
When you notice the signs of damage to your water heater, call us as soon as possible. We will diagnose the problem to let you know if a replacement or a repair is the best course of action.
Local Reviews
for Millcreek, UT
Valley Plumbing and Drain Cleaning
Rated
4.9
out of 5 stars based on
23
customer reviews
Powered by Nearby Now
---
plumbing
Pam

-

Millcreek

,

UT



Review of Valley Plumbing and Drain Cleaning
---
Great service
Meredith

-

Millcreek

,

UT



Review of Valley Plumbing and Drain Cleaning
---
Arrived on time. Knowledgeable. Great Serb.
Doug

-

Millcreek

,

UT



Review of Valley Plumbing and Drain Cleaning
Very please with Dave. I've used Valley several times and always satisfied. On time. Professional. Courteous. Very happy with the job.
---
Knowledgeable plumber
Procareman

-

Millcreek

,

UT



Review of Valley Plumbing and Drain Cleaning
Tom is very knowledgeable and dedicated plumber. We love the fact that he stood behind his work. Thanks for coming back when there was an issue.
---
Great
Dianne

-

Millcreek

,

UT



Review of Valley Plumbing and Drain Cleaning
Excellent. Very nice. Both did a good job. Good customer service. I need to do it myself because plumbing repairs are too expensive. Thank you
---
Landon L.
We will clean the kitchen drain with our 75' snake, going through the trap underneath the kitchen sink. No warranty on drain cleaning. We cleaned the kitchen drain through the disassembled P-trap, cleared the blockage, verifying that it was draining effectively after running water from the washing machine which is of stream of this drain.
Near
E 4090 S,

Millcreek

,

UT

84107
Jeremy G.
This membership will include a 10 year QSC inspection in addition to a free sewer camera and a bottle of total C we will be Cameron the mainline and locate where it is and if there any issues. We were able to find a clean out inside of the garage and we were able to go out approximately 80 feet out. Approximately at 55 feet we found a root system growing inside the pipe with mushrooms there were two different sections within a 3 foot area it had roots growing through it. We were then able to locate right at the roots it was 6 feet deep and out the foundation of the home the pipe was approximately 2 feet deep. We then was able to show Zack the future homeowner and he was interested in us coming out with our excavation team to give a better quote to fix the root problem. The pipe was running alongside the driveway from where the remote to the garage and followed the driveway out to the street.
Near
E Empire Cir,

Millcreek

,

UT

84106
Ryan G.
We installed new toilet in the bathroom upstairs. We will remove the old toilet and haul away. We will install new Toto toilet, comfort height and elongated style. We will replace the bolts, wax ring and supply line for the toilet. We will shut the water off at the meter and drain the system, we will cut out the shut off valve and the regulator valve. We will install new ball valve and regulator valve. We will turn on the water and test everything for leaks, working great.
Near
S Gordon Ln,

Millcreek

,

UT

84107
Ryan G.
We will have too cut out the tile wall and remove shower valve and install new MOEN shower valve with remodel plate too cover the holes for the two handle valve that is currently in place. We will also remove the shower arm and install new arm and shower head.
Near
S 860 E St,

Millcreek

,

UT

84106
Ryan G.
We will remove the tub spout and install new tub spout with shower port on it. We will install the shower riser and fasten it too the sheetrock. We will install shower surround walls with the glue on vinyl walls. We will attach the shower riser too the new vinyl wall.test everything for leaks, working great. We also caused the base of the tile too the tub with white caulk, per customers request.
Near
S 860 E St,

Millcreek

,

UT

84106