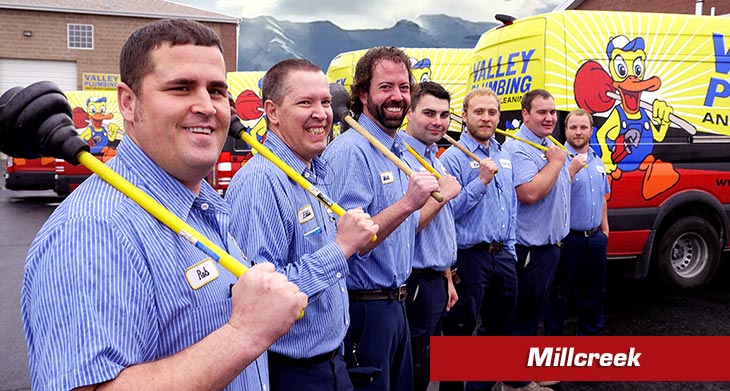 Keeping your plumbing system well maintained is an important job, and you can always rely on Valley Plumbing and Drain Cleaning to get it done well. We understand your desire for quick, effective service at the best value possible, and we strive to meet your goals while providing you with friendly customer service. For any plumbing issues you are dealing with, we are the trusted local plumbers to rely on. Count on us for first-rate Millcreek, UT plumbing, water heater, and drain cleaning services. Your 100% satisfaction is our gratification and goal.
Save even more with our special discounts and exclusive online coupons.
Why Should You Consider Water Leak Detection Services?
Before a plumbing leak can be repaired, its exact location in the home must be identified. In some cases, the location of a leak is obvious because it is visible. However, when leaks are located inside your walls, your foundation, or the ground outside your home, special techniques must be used.
At Valley Plumbing and Drain Cleaning, we utilize advanced leak detection services to locate a leak without the need to tear away drywall or to dig holes in your lawn. These services allow us to locate the leak more quickly and without damage to your property, so you'll be able to return to life as normal as soon as possible.
Do You Need Professional Drain Cleaning Services?
In addition to water leak detection and leak repair services, we can also professionally clean your drains to keep the water flowing through your home. Drain cleaning services are designed to clear away large clogs as well as smaller amounts of debris. You know that you need drain cleaning service from our team when the water in your sinks, bathtubs, and shower basins flows drains more slowly or when it does not drain at all.
Clogs may impair your ability to use your plumbing features, and some clogs can become more problematic over time. We are ready to assist you with your clogged drains so that you can continue to use these features.
Read how other customers have benefited from our services in our comments and reviews.
Does Your Water Heater Need Repairs or Replacement?
When your water heater is broken, you may not have access to the warm water you need for the comfort and convenience in your home. The water may only be lukewarm at best or may not be warm at all. The water may also have a bad odor, be tinged with a color, or have sediment in it. Some broken water heaters will leak water or gas, requiring immediate attention.
When you notice the signs of damage to your water heater, call us as soon as possible. We will diagnose the problem to let you know if a replacement or a repair is the best course of action.
Local Reviews
for Millcreek, UT
Rated
4.8
out of 5 stars based on
8
customer reviews
Powered by Nearby Now
---
Good service
Elaine

-

Millcreek

,

UT



They called and showed up on time. Jacob explained what was needed and was very professional
---
Response from Valley Plumbing and Drain Cleaning:

Thank you for the great review Elaine! We are so glad to hear Jacob was able to help. We are here for you whenever you need us! All the best, Valley Plumbing
---
Great service and effort.
David

-

Millcreek

,

UT



The guys were very friendly and helpful. I appreciate their hard work.
---
Response from Valley Plumbing and Drain Cleaning:

Thank you for the great review David! We appreciate your feedback. Call us anytime! Best Regards, Valley Plumbing
---
Great service, but seemed rather overpriced
Fred

-

Millcreek

,

UT



It seemed to me that to reset a toilet, which took approximately one hour, was overpriced at $323.00.
---
Response from Valley Plumbing and Drain Cleaning:

Hi Fred! We are sorry to hear you were unsatisfied with the price of your service. We appreciate your feedback, and would like to improve your experience. Give us a call at your convenience. Best Regards, Valley Plumbing
---
Incredible service.
Ruth

-

Millcreek

,

UT



The technicians are always thorough, respectful, knowledgeable, efficient, and kind.
---
Water Heater Replacement
Ralph

-

Millcreek

,

UT



Our water heater started leaking late Saturday afternoon. I thought we were in big trouble. I called Valley Plumbing and had an experienced plumber deftly changing the water heater in record time. He had it right on his truck. We couldn't be more pleased. I was amazed that we didn't have to pay an after hours price.
---
Randy S.
Clean tub drain in upstairs bathroom ran drain cable down 25' ft.
Near
291 East Troy Way,

Millcreek

,

UT

84107
Trevor M.
We replaced the two water heaters in the closet on the 3rd floor. They have our stickers on them. Installed new strapping and expansion tanks.
Near
777 East 3900 South,

Millcreek

,

UT

84107
Trevor M.
We will cut open ceiling to locate leak we do not replace sheetrock. There are water heaters closets upstairs they are 2 to a room. This particular closet has two heaters from 1996. The bid is to change them both out. It will take some time to get this done.
Near
E 3900 S,

Millcreek

,

UT

84107
Alex K.
We took apart the Rinnai tankless water heater and adjusted the dip switch acccordingly for the elevation. We also installed a new condensate drain with pvc rather than PEX. The PEX seemed to airlock the drain and would not drain, tripping a 25 error code.
Near
Redtail Hawk Bay,

Millcreek

,

UT

84117
Joel B.
I will cable the main line from the clean out in the main bath. Once the line is clear, i will camera the line to check it's condition. *** i was able to clear the line. Ran my camera, the line is in good condition***
Near
S Pintail Ct,

Millcreek

,

UT

84117