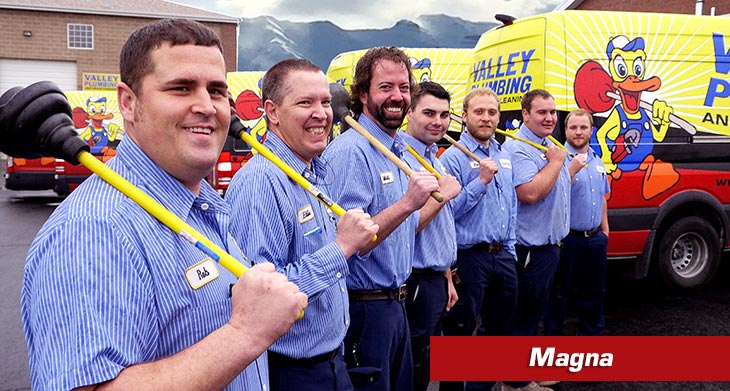 Getting professional plumbing services is highly beneficial for your home's plumbing, drainage, and piping system. At Valley Plumbing and Drain Cleaning, we have a team of expert plumbers that are trained and experienced to work on plumbing issues of all severities. Whether it's a simple fix or a bigger issue, our plumbers are ready to provide you with fast and effective solutions. Count on us for superior Magna, UT plumbing, water heater, and drain cleaning services. With Valley Plumbing and Drain Cleaning, you can count on fast and precise services that are guaranteed to last long term and leave you 100% satisfied.
Save even more on your next service with our exclusive online coupons and discounts.
What Are The Benefits of Leak Detection Services?
Leak detection is an extremely important component of keeping your home and your pipes in good condition. There are four significant benefits of leak detection.
Prevents damage from getting out of hand. Damaged pipes can cause further problems that can destroy your piping system and your home.
Saves you money. By finding and stopping a leak, you won't need to worry about water being wasted or your water bill getting out of hand.
Can uncover other problems. As the plumber reviews your pipes, they'll be able to also inspect for other issues that you were unaware of.
What Are The Signs You Need Professional Drain Cleaning?
There a few signs that indicate that you need to have professional drain cleaning done in your home. The main signs include:
Frequent pipe clogs.
The clogs are recurring.
Slow drains.
The smell of sewage throughout the home.
Water flooding in your front or back yard.
If you have any of these issues, contact a drain cleaning service professional immediately to remedy the problem before it causes irreversible damage.
Check out our reviews and see why Magna homeowners continue to choose our services over our competitors.
How to Know If Your Water Heater Needs Repairs or Replacement
Your water heater is one of the most important components of your home. Without a functioning water heater, your routine will suffer greatly.
Signs that you should replace your water heating include:
Frequent repairs.
High electricity bills.
Older than 15 years.
Little to no hot water.
Brown or smelly water.
Signs that you should repair your water heater include:
A heater that builds up sediment.
It doesn't turn on when it should.
Apparent water leaks from unit.
Heater does not consistently heat the water.
Local Reviews
for Magna, UT
Valley Plumbing and Drain Cleaning
Rated
4.9
out of 5 stars based on
12
customer reviews
Powered by Nearby Now
---
Jacob, was a true professional all the way!!'
Kelly

-

Magna

,

UT



Review of Valley Plumbing and Drain Cleaning
Jacob, was honest. Clean, respectful and followed CDC guidelines. Went the extra mile to keep cost reasonable. A job well done! I will call them again for all my plumbing issues.
---
Wonderful people, Awesome Experience, Great Price
Ann

-

Magna

,

UT



Review of Valley Plumbing and Drain Cleaning
When I first called Valley Plumbing I was told I would have someone at my home in about 2 hours. A few minutes later I was called and said the technicians were on their way. When Diggs and Hayden arrived, they got right to work to unclog our sewer drain that had backed up into our basement. They worked efficiently and had the clog removed in no time at all. To make sure everything was okay, they had their manager Eric come with a camera to check the sewer line for any problems. There was a couple of issues and Eric told me of some options we had to address them. Through the whole process these three were courteous, friendly and answered any questions that I had. Between the technicians that came to our house and the office staff I talked to originally, it was a great experience. For the time they were at our house and for the work that was performed, it was a very fair price. I would recommend Valley Plumbing to anyone who needs help with their plumbing.
---
Great service.
Jill

-

Magna

,

UT



Review of Valley Plumbing and Drain Cleaning
The service rep was very nice, he explained what needed to be done. I will ask for him again should service be needed in the future.
---
Good job
Manuel

-

Magna

,

UT



Review of Valley Plumbing and Drain Cleaning
---
High Price excellent service
Della

-

Magna

,

UT



Review of Valley Plumbing and Drain Cleaning
Raiden & Ryan were my plumbers The hot water valve behind my washer was broken. I asked them to replace the hot & cold water valve. Ryan was a fast talker who even shamed me into spending an extra $309.00 for a reducing valve claimed it was for safety reasons. On the positive side: Raiden was very nice and did an impeccable job installing all three valves.the sevice was great. My only complaint is the price is too high even with the veterans discount
---
Jacob W.
Provide bottle of Total-C and inform customer of use of product Sold and informed customer of proper use of Total-C product i also pulled the trap and found some glass and plastic debris in pipe removed solid material and tested drain found to be draining more adequately then before collected payment in full by credit card no problems to report
Near
Toolson Dr,

Magna

,

UT

84044
Ryan G.
Hook up dryer vent and gas line check for leaks also hook up washing machine drain and check drain line for leaks and water connections for leaks water psi is 65 no gas leaks or water leaks of any kind.
Near
S 7660 W,

Magna

,

UT

84044
Brian U.
We will cut out all drainage up to the vents and down to where the main stack meets the floor. We will rebuild the drainage with quality abs piping and fittings. We will put floor flanges upstairs instead of wall mount flanges. We will replace the kitchen drainline. This bid excludes the upstairs washer drainline. One year warranty on job. Towers/Valley is not responsible for underground drain-lines. This is the member price. We do not repair or replace anything demoed by us. Customer saved 493.45 on this job with membership
Near
S Rulon St,

Magna

,

UT

84044
joshua.ashby@gmx.com
Membership Install new moen shower valve The customer was doing a remodel and needed to move a customer supplied shower valve up a few inches and over a few inches. Got the new valve installed and will be coming back to install a new waste and over flow when the tub gets put in. I ran the valve with copper and then i pexed up to the shower head. I used misc copper and pex fittings and adapters to install the valve. Customer is happy everything looks good
Near
S Centennial Rd,

Magna

,

UT

84044
Brian U.
Cut out old galvanized line and rebuilt trap and tailpipe I did this to get better access to copper drainage that was backing up. 90 day warranty on trap itself. No warranty against clogging due to undersized old copper drainage. Sending estimate for drain repipe.
Near
S Rulon St,

Magna

,

UT

84044