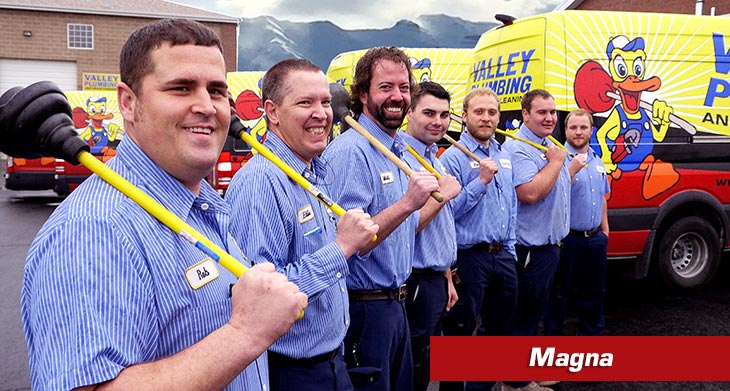 Getting professional plumbing services is highly beneficial for your home's plumbing, drainage, and piping system. At Valley Plumbing and Drain Cleaning, we have a team of expert plumbers that are trained and experienced to work on plumbing issues of all severities. Whether it's a simple fix or a bigger issue, our plumbers are ready to provide you with fast and effective solutions. Count on us for superior Magna, UT plumbing, water heater, and drain cleaning services. With Valley Plumbing and Drain Cleaning, you can count on fast and precise services that are guaranteed to last long term and leave you 100% satisfied.
Save even more on your next service with our exclusive online coupons and discounts.
What Are The Benefits of Leak Detection Services?
Leak detection is an extremely important component of keeping your home and your pipes in good condition. There are four significant benefits of leak detection.
Prevents damage from getting out of hand. Damaged pipes can cause further problems that can destroy your piping system and your home.
Saves you money. By finding and stopping a leak, you won't need to worry about water being wasted or your water bill getting out of hand.
Can uncover other problems. As the plumber reviews your pipes, they'll be able to also inspect for other issues that you were unaware of.
What Are The Signs You Need Professional Drain Cleaning?
There a few signs that indicate that you need to have professional drain cleaning done in your home. The main signs include:
Frequent pipe clogs.
The clogs are recurring.
Slow drains.
The smell of sewage throughout the home.
Water flooding in your front or back yard.
If you have any of these issues, contact a drain cleaning service professional immediately to remedy the problem before it causes irreversible damage.
Check out our reviews and see why Magna homeowners continue to choose our services over our competitors.
How to Know If Your Water Heater Needs Repairs or Replacement
Your water heater is one of the most important components of your home. Without a functioning water heater, your routine will suffer greatly.
Signs that you should replace your water heating include:
Frequent repairs.
High electricity bills.
Older than 15 years.
Little to no hot water.
Brown or smelly water.
Signs that you should repair your water heater include:
A heater that builds up sediment.
It doesn't turn on when it should.
Apparent water leaks from unit.
Heater does not consistently heat the water.
Local Reviews
for Magna, UT
Valley Plumbing and Drain Cleaning
Rated
4.9
out of 5 stars based on
14
customer reviews
Powered by Nearby Now
---
Great work
lorena

-

Magna

,

UT



Review of Valley Plumbing and Drain Cleaning
---
Amazing and quick!
Amber

-

Magna

,

UT



Review of Valley Plumbing and Drain Cleaning
---
Jacob, was a true professional all the way!!'
Kelly

-

Magna

,

UT



Review of Valley Plumbing and Drain Cleaning
Jacob, was honest. Clean, respectful and followed CDC guidelines. Went the extra mile to keep cost reasonable. A job well done! I will call them again for all my plumbing issues.
---
Wonderful people, Awesome Experience, Great Price
Ann

-

Magna

,

UT



Review of Valley Plumbing and Drain Cleaning
When I first called Valley Plumbing I was told I would have someone at my home in about 2 hours. A few minutes later I was called and said the technicians were on their way. When Diggs and Hayden arrived, they got right to work to unclog our sewer drain that had backed up into our basement. They worked efficiently and had the clog removed in no time at all. To make sure everything was okay, they had their manager Eric come with a camera to check the sewer line for any problems. There was a couple of issues and Eric told me of some options we had to address them. Through the whole process these three were courteous, friendly and answered any questions that I had. Between the technicians that came to our house and the office staff I talked to originally, it was a great experience. For the time they were at our house and for the work that was performed, it was a very fair price. I would recommend Valley Plumbing to anyone who needs help with their plumbing.
---
Great service.
Jill

-

Magna

,

UT



Review of Valley Plumbing and Drain Cleaning
The service rep was very nice, he explained what needed to be done. I will ask for him again should service be needed in the future.
---
Jeremy G.
In order to bring the water heater up to code, we will add an expansion tank, 2 new water flex supplies, seismic safety straps, and a T&P down tube. We put new water heater straps and piped in a new extension tank to bing it up to code. We did add to the T&P dip tube as well. We also turned on the gas to the house and turned on the water heater, as well we turned on the water to the house no leaks.
Near
S 9100 W,

Magna

,

UT

84044
Lance G.
Drain snake down basement shower drain. Tested. Drain normally, no back ups. Pour total C drain cleaner down drains.
Near
S 8400 W,

Magna

,

UT

84044
joshua.ashby@gmx.com
Installation of disposal 90 drain arm to connect to dirty arm see photos for more details
Near
Bosnall Bay,

Magna

,

UT

84044
Eddie D.
Auger out the laundry/kitchen sink drain line from the clean out in the laundry room in the basement. Flush the line clear with water. Everything is working great.
Near
Jefferson Cir,

Magna

,

UT

84044
Josh A.
Moen Posi-Temp valve does not let water to the shower head when the diverter is pulled. We believe the shower port of the cartridge is blocked. We will remove the cartridge, blow out the valve, and replace the cartridge with a new one. Changed cartridge, blew out the valve, blew out the shower riser, and still had no flow through the shower. The shower valve needs to be replaced. Will replace the valve through the front of the shower wall using a repair plate and a posi-temp valve with chrome trim.
Near
Maia Cir,

Magna

,

UT

84044