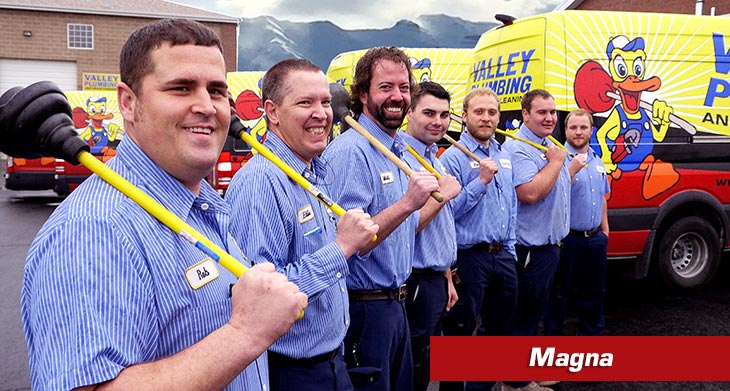 Getting professional plumbing services is highly beneficial for your home's plumbing, drainage, and piping system. At Valley Plumbing and Drain Cleaning, we have a team of expert plumbers that are trained and experienced to work on plumbing issues of all severities. Whether it's a simple fix or a bigger issue, our plumbers are ready to provide you with fast and effective solutions. Count on us for superior Magna, UT plumbing, water heater, and drain cleaning services. With Valley Plumbing and Drain Cleaning, you can count on fast and precise services that are guaranteed to last long term and leave you 100% satisfied.
Save even more on your next service with our exclusive online coupons and discounts.
What Are The Benefits of Leak Detection Services?
Leak detection is an extremely important component of keeping your home and your pipes in good condition. There are four significant benefits of leak detection.
Prevents damage from getting out of hand. Damaged pipes can cause further problems that can destroy your piping system and your home.
Saves you money. By finding and stopping a leak, you won't need to worry about water being wasted or your water bill getting out of hand.
Can uncover other problems. As the plumber reviews your pipes, they'll be able to also inspect for other issues that you were unaware of.
What Are The Signs You Need Professional Drain Cleaning?
There a few signs that indicate that you need to have professional drain cleaning done in your home. The main signs include:
Frequent pipe clogs.
The clogs are recurring.
Slow drains.
The smell of sewage throughout the home.
Water flooding in your front or back yard.
If you have any of these issues, contact a drain cleaning service professional immediately to remedy the problem before it causes irreversible damage.
Check out our reviews and see why Magna homeowners continue to choose our services over our competitors.
How to Know If Your Water Heater Needs Repairs or Replacement
Your water heater is one of the most important components of your home. Without a functioning water heater, your routine will suffer greatly.
Signs that you should replace your water heating include:
Frequent repairs.
High electricity bills.
Older than 15 years.
Little to no hot water.
Brown or smelly water.
Signs that you should repair your water heater include:
A heater that builds up sediment.
It doesn't turn on when it should.
Apparent water leaks from unit.
Heater does not consistently heat the water.
Local Reviews
for Magna, UT
Rated
5.0
out of 5 stars based on
5
customer reviews
Powered by Nearby Now
---
Tankless Water Heater installation
Jane

-

Magna

,

UT



Once again Valley Plumbing exceeded my expectations! Lennox Jones & Jon Maciel did an excellent job installing the tankless water heater & water softening system. Both were knowledgeable about the product-let us know what to expect & Jon gave me a website for a $350.00 rebate for the tankless water heater. Lennox has been to our home 3 times now & he is our go-to guy at Valley Plumbing & Drain. Always have a great experience from start to finish. And as always all the trash was disposed of, our basement was swept & vacuumed! I will only call Valley Plumbing in the future. Thanks again guys!
---
Response from Valley Plumbing and Drain Cleaning:

Hi Jane! We are thrilled to hear you had such a great experience with our team! Thank you for your feedback and continued loyalty! Call us anytime! Best Regards, Valley Plumbing
---
Gas Line Installation
Jane

-

Magna

,

UT



Once again, Valley Plumbing, came through. . .our plumber, Lennox Jones, was terrific. He was right on time for our appt., & got right to work as the gas line had to be connected in our basement & up to the kitchen. He installed our new gas range in a matter of minutes. Since the gas was off, he tested the furnace, water heater & range. He was professional & gave me two more estimates for a tankless water heater & reworking the plumbing in our master bath. A great experience!
---
Response from Valley Plumbing and Drain Cleaning:

Thanks for sharing Jane! We really appreciate your vote of confidence. Our team works hard to give our customers a great experience, and we are glad you feel the same! Call us anytime! Best Regards, Valley Plumbing
---
FUN
Rusty

-

Magna

,

UT



Not only was it a fantastic experience from the staff on the phone down to the men that came ! they made me feel like I was the boss and that they were there to work for me and made it FUN and enjoyable have them there ...........Thank you Valley Plumbing
---
Great Service
Debby

-

Magna

,

UT



Timely, efficient, service. Thank you.
---
Excellent, fair pricing
Christie

-

Magna

,

UT



Friendly
---
Jon .
All flex pipe to manifold Needs to be removed and manifold secured to wall move water heater back
Near
Patriot Dr,

Magna

,

UT

84044
Trevor M.
Install a Better 50 gallon gas water heater with expansion tank and earth quake straps, heater needed swapped and prv was at 180 psi. Changed prv and installed new heater Approved by vikki to have card run on Monday
Near
Pyrite Dr,

Magna

,

UT

84044
Alex K.
We cleaned the kitchen drain line from the cleanout in the basement. There are still egg shells in the line that would need to be removed by the hydro jetter.
Near
Leonidas Dr,

Magna

,

UT

84044
Jon .
Price to replace 50 gallon water heater and 48000 grain water softener we will need to remove a heater duct to remove the water heater. We will haul away old units and we will also install a new brushed nickel tub spout with diverter (threaded moen). In master bath. we increased the size of the vent for the water heater as well. After we finished installing unit we found there is not a make up air duct if bathroom door is on and closed it will most likely end up causing a carbon monoxide problem. You can have a carpenter come out and cut holes thru the folding doors and the main bathroom door and put air grates on them to allow air flow
Near
Katherine Dr,

Magna

,

UT

84044
Jon .
Est
Near
Katherine Dr,

Magna

,

UT

84044