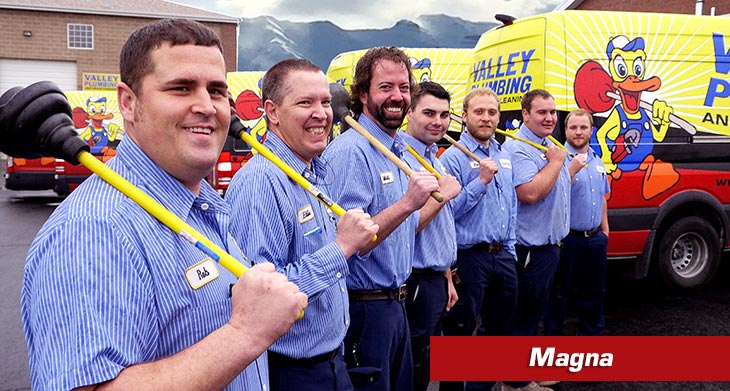 Getting professional plumbing services is highly beneficial for your home's plumbing, drainage, and piping system. At Valley Plumbing and Drain Cleaning, we have a team of expert plumbers that are trained and experienced to work on plumbing issues of all severities. Whether it's a simple fix or a bigger issue, our plumbers are ready to provide you with fast and effective solutions. Count on us for superior Magna, UT plumbing, water heater, and drain cleaning services. With Valley Plumbing and Drain Cleaning, you can count on fast and precise services that are guaranteed to last long term and leave you 100% satisfied.
Save even more on your next service with our exclusive online coupons and discounts.
What Are The Benefits of Leak Detection Services?
Leak detection is an extremely important component of keeping your home and your pipes in good condition. There are four significant benefits of leak detection.
Prevents damage from getting out of hand. Damaged pipes can cause further problems that can destroy your piping system and your home.
Saves you money. By finding and stopping a leak, you won't need to worry about water being wasted or your water bill getting out of hand.
Can uncover other problems. As the plumber reviews your pipes, they'll be able to also inspect for other issues that you were unaware of.
What Are The Signs You Need Professional Drain Cleaning?
There a few signs that indicate that you need to have professional drain cleaning done in your home. The main signs include:
Frequent pipe clogs.
The clogs are recurring.
Slow drains.
The smell of sewage throughout the home.
Water flooding in your front or back yard.
If you have any of these issues, contact a drain cleaning service professional immediately to remedy the problem before it causes irreversible damage.
Check out our reviews and see why Magna homeowners continue to choose our services over our competitors.
How to Know If Your Water Heater Needs Repairs or Replacement
Your water heater is one of the most important components of your home. Without a functioning water heater, your routine will suffer greatly.
Signs that you should replace your water heating include:
Frequent repairs.
High electricity bills.
Older than 15 years.
Little to no hot water.
Brown or smelly water.
Signs that you should repair your water heater include:
A heater that builds up sediment.
It doesn't turn on when it should.
Apparent water leaks from unit.
Heater does not consistently heat the water.