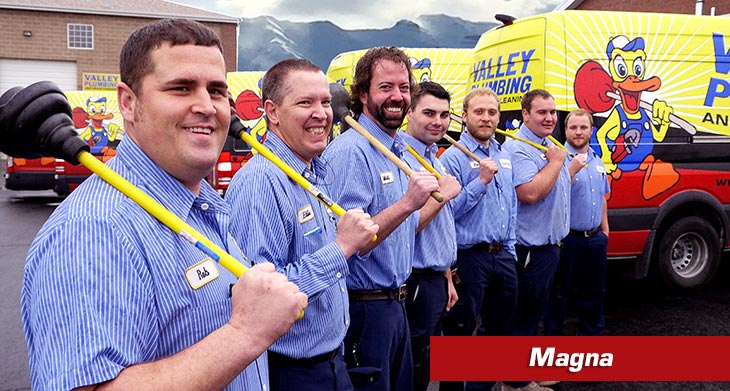 Getting professional plumbing services is highly beneficial for your home's plumbing, drainage, and piping system. At Valley Plumbing and Drain Cleaning, we have a team of expert plumbers that are trained and experienced to work on plumbing issues of all severities. Whether it's a simple fix or a bigger issue, our plumbers are ready to provide you with fast and effective solutions. Count on us for superior Magna, UT plumbing, water heater, and drain cleaning services. With Valley Plumbing and Drain Cleaning, you can count on fast and precise services that are guaranteed to last long term and leave you 100% satisfied.
Save even more on your next service with our exclusive online coupons and discounts.
What Are The Benefits of Leak Detection Services?
Leak detection is an extremely important component of keeping your home and your pipes in good condition. There are four significant benefits of leak detection.
Prevents damage from getting out of hand. Damaged pipes can cause further problems that can destroy your piping system and your home.
Saves you money. By finding and stopping a leak, you won't need to worry about water being wasted or your water bill getting out of hand.
Can uncover other problems. As the plumber reviews your pipes, they'll be able to also inspect for other issues that you were unaware of.
What Are The Signs You Need Professional Drain Cleaning?
There a few signs that indicate that you need to have professional drain cleaning done in your home. The main signs include:
Frequent pipe clogs.
The clogs are recurring.
Slow drains.
The smell of sewage throughout the home.
Water flooding in your front or back yard.
If you have any of these issues, contact a drain cleaning service professional immediately to remedy the problem before it causes irreversible damage.
Check out our reviews and see why Magna homeowners continue to choose our services over our competitors.
How to Know If Your Water Heater Needs Repairs or Replacement
Your water heater is one of the most important components of your home. Without a functioning water heater, your routine will suffer greatly.
Signs that you should replace your water heating include:
Frequent repairs.
High electricity bills.
Older than 15 years.
Little to no hot water.
Brown or smelly water.
Signs that you should repair your water heater include:
A heater that builds up sediment.
It doesn't turn on when it should.
Apparent water leaks from unit.
Heater does not consistently heat the water.
Local Reviews
for Magna, UT
Valley Plumbing and Drain Cleaning
Rated
4.9
out of 5 stars based on
16
customer reviews
Powered by Nearby Now
---
Great Service
Tena

-

Magna

,

UT



Review of Valley Plumbing and Drain Cleaning
Pleased with service. Explained our problems and fixed them
---
Very knowledgeable
Jason

-

Magna

,

UT



Review of Valley Plumbing and Drain Cleaning
Great guy willing to answer my questions
---
Great work
lorena

-

Magna

,

UT



Review of Valley Plumbing and Drain Cleaning
---
Amazing and quick!
Amber

-

Magna

,

UT



Review of Valley Plumbing and Drain Cleaning
---
Jacob, was a true professional all the way!!'
Kelly

-

Magna

,

UT



Review of Valley Plumbing and Drain Cleaning
Jacob, was honest. Clean, respectful and followed CDC guidelines. Went the extra mile to keep cost reasonable. A job well done! I will call them again for all my plumbing issues.
---
Jeremy G.
This invoice is for us to install a new disposal in the kitchen and replace shut off valves in addition to adding New drainage piping underneath the sink to help it fit better. This will also be for us to install two no hose bibs in the front and back of home. We will also be re-supporting the gas line above the water heater and installing a new water softener we will be coming back on Wednesday January 19 in addition we will be installing a new pressure reducing valve and ball valve. For the hose bibs we will need to cut in approximate foot and a half by foot and a half hole so that we can work in the space to work in the new hose bibs. We are not responsible for repairing or replacing the sheet rock. We came back on January 19 we then shut off the water to the whole house at the street. We then started with replacing the water shut off in side the home. We then replaced the PRV and the ball vale.we then needed to cut open a hole in the ceiling above the PRV. To replace the hose bib
Near
W Antonio Dr,

Magna

,

UT

84044
Jeremy G.
When we first arrived at unit 11 that was having a leak when ever the top two untils ran water. We then talked to jack about the procedures of what we needed to do first was it's supposed to leak. After that we would need to fix the leak. We then first started with The unit above unit 11 and cut into their closet and found nothing. We then decided to hire in unit 11 we then found two 45s that had a severe crack in the pipe we then talked to Jack about what needed to be done we then made the repair and cleaned up our area and ran water in both the top unit and middle unit no water leaks out of new connections. Valley plumbing is not responsible for any repair or replacement of sheet rock.
Near
Copperfield Pl,

Magna

,

UT

84044
Justin W.
I snaked the main sewer line approximately 75 feet to clear the blockage in the line. I pulled back some roots and paper. I sent a camera into the sewer line and found that there are roots pushing through the side wall of the drain at one section, but the water in the line is flowing well. No warranty on drain cleaning.
Near
W 3500 S,

Magna

,

UT

84044
Eddie D.
We replace the bathroom sink faucet in the basement. Removed the old faucet and supply lines and shut off valves and installed new shut off valves single handle faucet and supply lines. Test for leaks, everything is working great.
Near
S 7350 W,

Magna

,

UT

84044
Trevor M.
Cleared kitchen drain line, no issues to report blockage was in the tee on the disposal waste. No warranty on the drain cleaning. Added sink hole cover no charge.
Near
2700 S,

Magna

,

UT

84044