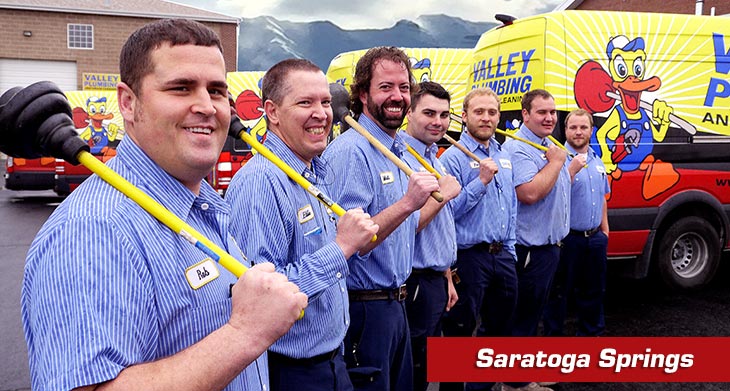 Do you experience frequent clogs in your plumbing? Not sure if you water heater is need of replacement? At Valley Plumbing and Drain Cleaning, we have a variety of plumbing services that will help you care for your home. Our experienced, trained professionals can thoroughly inspect and diagnose your complication and provide the best course of action to get your life back to its normal routine. Trust us for quality plumbing, water heater, and drain cleaning services in Saratoga Springs, UT. You can expect fast services guaranteed to result in long term solutions.
Save on your next service with our exclusive online coupons and promotions!
What Are the Benefits of Water Leak Detection Services?
When one of our team members performs a water leak inspection, they thoroughly inspect your entire home. We use a special camera to check all your pipes and suspect areas of your home that are not easily accessible to you. This benefits you and your home in many ways, including:
Uncovers leaks you were not aware of.
Allows for repairs to be done before the problem worsens.
Helps save you money on your utility bills.
Prevents severe damage from occurring in your home.
When Does Your Plumbing Need Professional Drain Cleaning?
Professional drain cleaning is a highly beneficial service. It is recommended for homeowners to have this service scheduled at least once a year to help keep your drains clean and working efficiently. There are signs that reveal that it is absolutely necessary to have a professional drain cleaning. You should ask yourself the following to determine whether or not cleaning is essential:
Is my sink or tub stopped up?
Are my drains constantly clogged?
Can I look down my drain and see disgusting gunk?
Does my drain emit any foul odors?
If you answered yes to any of the above questions, it is wise to invest in a professional drain cleaning.
Find out what people in your area are saying in our customer reviews and feedback.
Does Your Water Heater Need Repairs or Replacement?
Your water heater is often out of sight and out of mind. You probably don't check if the hot water comes on each time you turn the knob. However, you need to make sure the water heater is working well. If you hear loud noises, notice that the water doesn't get hot, or see visible damage to the unit itself, give us a call.
We can repair many small problems with your water heater, but we recommend that you replace the water heater if there are too many issues. We will help you find a water heater will work well in your home. More efficient units help you get what you want when you want it while helping you save money on your water bills.
Local Reviews
for Saratoga Springs, UT
Valley Plumbing and Drain Cleaning
Rated
4.6
out of 5 stars based on
19
customer reviews
---
Great service
Dane

-

Saratoga Springs

,

UT

84045



Review of
Valley Plumbing and Drain Cleaning
Very happy with everything.
---
We were disappointed! The garbage disposal wasn't broken but still charged us $250.00.
Suzanne

-

Saratoga Springs

,

UT

84045



Review of
Valley Plumbing and Drain Cleaning
We bought a service contract and decided to call Valley Plumbing to see what they would say. The garbage disposal wasn't broken. It needed to have a button pressed and something dislodged. We were charged $250. That is terrible!!!!!
---
Great Service
Tnesha

-

Saratoga Springs

,

UT

84045



Review of
Valley Plumbing and Drain Cleaning
Really appreciate the level of service, understanding, professionalism and timely execution from Neil of our situation.
---
Great
Verenna

-

Saratoga Springs

,

UT

84045



Review of
Valley Plumbing and Drain Cleaning
He was great. Worked quickly, prompt and friendly
---
Quick and painless
Dahlee

-

Saratoga Springs

,

UT

84045



Review of
Valley Plumbing and Drain Cleaning
The evaluation was quick and accurate and they fixed the problem quickly and with the least amount of inconvenience.
---
Rhett J.
Upon information provided by the customer and following the steps to diagnose a t&p fault I was able to discover the t&p,prv, and expansion tank were all faulty. Gave individual estimates also a combined price for everything,he opted to repair it all. (Ref pics)
Near

S Marsh Hawk Dr,

Saratoga Springs

,

UT

84045
Ian C.
I cut drywall in garage surrounding noticed leak. Inspected pipes to find likely suspect. I think that water is going under the wall by the upstairs bathtub.
Near

W Rocky Crk Wy,

Saratoga Springs

,

UT

84045
McKay B.
This price is to replace the tub spout in the basement hallway bathroom that does not have a working Diverter with a new tub spout with a Diverter that works. This price includes the cost of the tub spout itself as well as the labor required to install. Parts and labor are warrantied for one year under valley plumbing.
Near

Centennial Blvd,

Saratoga Springs

,

UT

84045
Rhett J.
Wants main and inside house jetter. Will come back Monday. Results: Went through outside clean out in front of house hooked up warthog head for the jetter. Stuck hose about 5 feet in before starting jetter to insure it was safe. Turned jetter on and ran the hose all the way out once then left it on and sucked the hose back up half way, then ran it back down the clean out again the full length of the hose. Ran the jetter twice the full length of hose to insure the pipes were clean as possible. After operating the jetter we used the camera and ran about 90 feet to check for mistakes or dirty area we did not get. The pipe looked brand new and clean. Took photos, and videos I will email to Scott so he can see his pipes are all clean. Gave costumer a bottle of total C to help clean the inside house drain pipes as well. No problems occurred.
Near

S Maverick Rd,

Saratoga Springs

,

UT

84045
McKay B.
I removed the old nonfunctioning water heater as well as disconnected both unions on each side. I replaced the output union with a flex line, and I replaced the right side union beneath the shut off valve with a new union. This price include the cost of all labor as well as supplementary parts. Valley plumbing warranties labor for one year. Valley plumbing is not warranty customer supplied water heater is however the water heater came with a six year manufacturers warranty.
Near

S Sunrise Dr,

Saratoga Springs

,

UT

84045