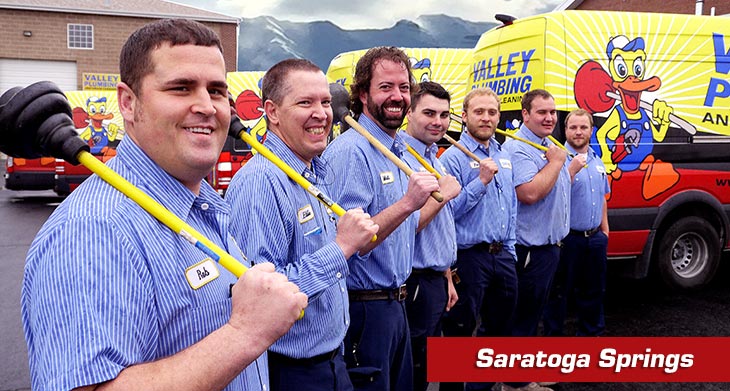 Do you experience frequent clogs in your plumbing? Not sure if you water heater is need of replacement? At Valley Plumbing and Drain Cleaning, we have a variety of plumbing services that will help you care for your home. Our experienced, trained professionals can thoroughly inspect and diagnose your complication and provide the best course of action to get your life back to its normal routine. Trust us for quality plumbing, water heater, and drain cleaning services in Saratoga Springs, UT. You can expect fast services guaranteed to result in long term solutions.
Save on your next service with our exclusive online coupons and promotions!
What Are the Benefits of Water Leak Detection Services?
When one of our team members performs a water leak inspection, they thoroughly inspect your entire home. We use a special camera to check all your pipes and suspect areas of your home that are not easily accessible to you. This benefits you and your home in many ways, including:
Uncovers leaks you were not aware of.
Allows for repairs to be done before the problem worsens.
Helps save you money on your utility bills.
Prevents severe damage from occurring in your home.
When Does Your Plumbing Need Professional Drain Cleaning?
Professional drain cleaning is a highly beneficial service. It is recommended for homeowners to have this service scheduled at least once a year to help keep your drains clean and working efficiently. There are signs that reveal that it is absolutely necessary to have a professional drain cleaning. You should ask yourself the following to determine whether or not cleaning is essential:
Is my sink or tub stopped up?
Are my drains constantly clogged?
Can I look down my drain and see disgusting gunk?
Does my drain emit any foul odors?
If you answered yes to any of the above questions, it is wise to invest in a professional drain cleaning.
Find out what people in your area are saying in our customer reviews and feedback.
Does Your Water Heater Need Repairs or Replacement?
Your water heater is often out of sight and out of mind. You probably don't check if the hot water comes on each time you turn the knob. However, you need to make sure the water heater is working well. If you hear loud noises, notice that the water doesn't get hot, or see visible damage to the unit itself, give us a call.
We can repair many small problems with your water heater, but we recommend that you replace the water heater if there are too many issues. We will help you find a water heater will work well in your home. More efficient units help you get what you want when you want it while helping you save money on your water bills.
Local Reviews
for Saratoga Springs, UT
Valley Plumbing and Drain Cleaning
Rated
4.6
out of 5 stars based on
18
customer reviews
Powered by Nearby Now
---
We were disappointed! The garbage disposal wasn't broken but still charged us $250.00.
Suzanne

-

Saratoga Springs

,

UT



Review of Valley Plumbing and Drain Cleaning
We bought a service contract and decided to call Valley Plumbing to see what they would say. The garbage disposal wasn't broken. It needed to have a button pressed and something dislodged. We were charged $250. That is terrible!!!!!
---
Great Service
Tnesha

-

Saratoga Springs

,

UT



Review of Valley Plumbing and Drain Cleaning
Really appreciate the level of service, understanding, professionalism and timely execution from Neil of our situation.
---
Great
Verenna

-

Saratoga Springs

,

UT



Review of Valley Plumbing and Drain Cleaning
He was great. Worked quickly, prompt and friendly
---
Quick and painless
Dahlee

-

Saratoga Springs

,

UT



Review of Valley Plumbing and Drain Cleaning
The evaluation was quick and accurate and they fixed the problem quickly and with the least amount of inconvenience.
---
Call Valley Plumbing, you won't regret it.
Cathy

-

Saratoga Springs

,

UT



Review of Valley Plumbing and Drain Cleaning
Plumbers are tough to come by these days. Valley came right out. Gave me the estimate on Monday and started the job on Tuesday. Justin did an amazing job. He also cleaned up all the packaging from parts! There was literally no trace of him being in my home other than my brand new shower basin. I will absolutely be giving Valley a call for any projects that I need done in the future.
---
spklott@gmail.com
Take off PRV. They are having a whooshing sound in the ceiling in their kitchen. I will take the PRV off to see what's going on. The water heater is making lots of noise. It's a 2006, and the hard water has caused it to start to fail. Needs replaced. We would include a new expansion tank as well. Work summary: a new PRV has been installed. That didn't fix the problem but it needed replaced anyways because of the buildup inside of it. The real problem causing the noise was the water heater. It was a 2006. There is not a water softener system in the home, so sediment and hard water caused it to pop and make noise. We shut the water off to the house, removed the old water heater, Installed a new water heater, a new expansion tank and a new ball valve. We also attached it to the existing pex piping. We checked for leaks all around and found none. The water heater is now lit and things are functioning properly. The noise is now gone.
Near
Baycrest Dr,

Saratoga Springs

,

UT

84045
Kevin D.
This estimate is for installing a customer supplied shower valve, removing the existing tub drainage and running new drainage for a walk in shower. This estimate also includes a one year qsc which with a project this size pays for itself and saves the homeowner 15% on this project. Work completed: In the master bathroom I cut out a section of the flooring and removed the existing drainage, which used to serve the existing bathtub. I ran new drainage for a walk in shower. I poured water down the drain line to check for leaks with no issues. I then capped off the line. I removed a section of drywall and removed the existing shower valve. I installed a customer supplied shower valve, turned the water off to the home drained the water lines then tied into the existing water lines. I turned the water back on to the home checked for leaks with no issues. There is a one year warranty on parts and labor supplied by Valley Plumbing, we do not warranty customer supplied parts. There is no warra
Near
N Rattler Rd,

Saratoga Springs

,

UT

84045
Rhett J.
They took Their toilet off so that they could install new flooring. All that needs done is to reinstall toilet by adding a wax ring and securing it to the ground and caulking it. The toilet has been secured to the flange. We added a wax ring. Made sure to check for leaks and found none. Also caulked around the base of the toilet
Near
W Ridge Rd,

Saratoga Springs

,

UT

84045
Raiden H.
Augered toilet in half bathroom to clear blockage. Flushed several times with toilet paper and it all flushed down. No warranty on drain cleaning due to not having control of what goes down the drain.
Near
W Majestic Dr,

Saratoga Springs

,

UT

84043
Rhett J.
Disposal is unjammed and working properly
Near
Jordan Ridge Boulevard,

Saratoga Springs

,

UT

84045