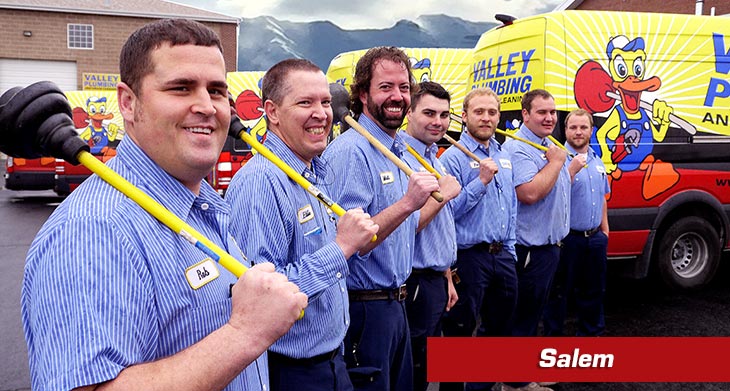 Want to uncover ways to save in your home? The first place to look when trying to find ways to cut costs for a home is in the energy consumption department. One of the most common reasons for high energy costs stems from leaks and unresolved plumbing repairs. Taking an inventory of the plumbing is often the best place to look when it comes to detecting reasons for hidden energy costs.
For all plumbing, water heater, and drain cleaning services in your Salem, UT home, count on Valley Plumbing and Drain Cleaning. We have a team of highly-qualified and trained plumbers ready to provide you with immediate relief from all of your plumbing troubles. We guarantee to provide you with long term solutions that leave you 100% satisfied.
Unlock even more savings when you access our exclusive online discounts and coupons.
Advantages of Water Leak Detection Services
Water leak detection services can prevent damage to the sub-flooring in a home. Even a small leak that goes on for a long period of time can result in your floor rotting and it will have to be replaced. Don't waste money on new flooring. Instead, spot the leak and get it fixed before you end up with costly replacements.
This service can also save you money by preventing other damages and reducing energy costs. Detection helps identify potential water intrusion which can lead to unwanted repairs. Undetected leaks can cause an increase in energy costs. By simply turning off the water for a half hour or so, one can detect whether or not a leak is present by taking a meter reading. This could point to noticeable spikes in energy bills.
A leak can create the perfect atmosphere for mold to accumulate. Musty smells near sewer lines may indicate a mold presence and can be addressed with water leak detection. Leaks can also lead to unsanitary water conditions. Leaks can introduce bacteria, germs, and foreign bodies that could lead to illness. Leak detection eliminates the various safety hazards.
Should You Consider Professional Drain Cleaning?
Professional drain cleaning is needed periodically. If drains become too clogged, pipes can become damaged and even burst from the pressure. Repeated clogs also indicate it's time to consider a professional cleaning.
Slow drainage is another sign to look for when determining whether or not it's time to look into professional drain cleaning. Multiple clogged drains in the home can point to a much deeper drainage problem. Frequent basement flooding also signals that there could be a sewage backup that could eventually lead to water damage.
Find out how other customers have benefited from our services in our comments and reviews.
What Are Signs You Need to Repair or Replace Your Water Heater?
If you suspect your water heater is in need of repairs or replacement, call our team right away if you notice any of these signs:
Age: Any heater over 10 years old that requires frequent repairs may need to be replaced.
Loud noises. When the unit makes loud noises while operating, the system may be on the brink of failure.
Leaks: Whenever leaking becomes a problem, repairs may need to be made to the valves or the lines.
Calcium buildup: This can cause jamming in the check valves, which will require repairs.
Rust and corrosion accumulation: Rust-colored water indicates that there is dangerous rust inside the tank.
No hot water: Cold or lukewarm water are clear warning signs that system may be failing.
Local Reviews
for Salem, UT
---
Ian C.
I will pulled the toilet and cleared the clog inside the toilet using a plunger an auger and other means. The toilet flushes and is all clear.
Near

W Salem Canal Rd,

Salem

,

UT

84653
Hunter C.
There is water all over the floor of the mechanical room in the basement. I noticed the condensate line on the furnace is blocked and leaking from the vent tee. I will re pipe the condensate drain line from the furnace and make sure that is the only cause of the water leak. I squeegeed as much of the water from the floor into the floor drain and then I removed pvc condensate drain line from the furnace and installed new piping exactly to the manufacture's specification. I did not see any other source of water leakage in the area.
Near

280 W,

Salem

,

UT

84653
Trevor M.
Cannot give an estimate until customer chooses the burner for fire pit and bbq. When he gets us this info we can give a quote. Customer said he'd send it in on monday
Near

S 650 W St,

Salem

,

UT

84653
Trevor M.
Installed two new Toto elongated toilets with slow close seats no issues to report. New wax rings and bolts and supply lines on both. Please allow 24 hours dry time before use.
Near

280 W,

Salem

,

UT

84653
Trevor M.
No Sheetrock repair. Cut out Sheetrock in two walls found out there was a screw through the water line on the temp mixing valve. Cut out above and below and replaced entire section of line. No tile or sheetrock repair included. No issues to report. Water pressure was good.
Near

N 900 E,

Salem

,

UT

84653