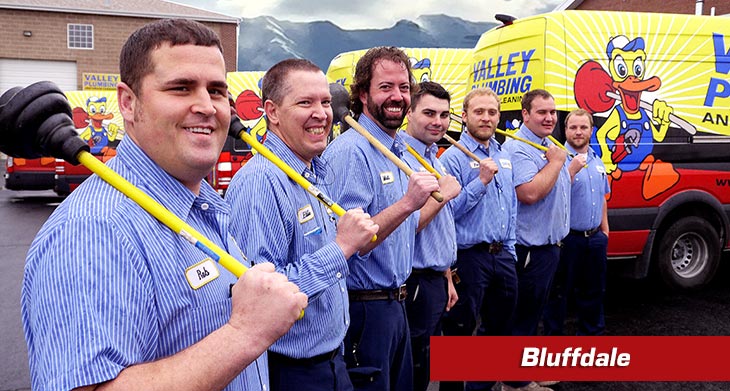 When it comes to plumbing services, the team at Valley Plumbing and Drain Cleaning is dedicated to getting the job done quickly and affordably. We understand just how fast plumbing issues will bring a home to a grinding halt. That is why our experienced plumbers are focused on pinpointing problems quickly with cutting edge tools and services. From annual leak detection services to plumbing emergencies, we are just a phone call away. Trust us for all your plumbing, water heater, and drain cleaning needs in Bluffdale, UT. We guarantee long-term solutions that leave you 100% satisfied.
Access our online specials and coupons and save even more on your next service.
What Are the Benefits of Water Leak Detection Services?
An unseen leak is a big problem that can lead to some expensive issues within a home if not taken care of immediately. When these leaks are not detected early on and repaired quickly, homeowners will lose money every day they let the problem slide. In addition, they could face health issues as standing water produces mold and mildew throughout the home.
Aside from avoiding health problems, catching a leak early on can also help you avoid damaged property as leaks can rot wood, rust metal, and crack the foundation of a home. Regular leak detection services carried out by our technicians will also preserve the purity of your water supply and prevent any outside toxins from entering into the pipes.
Do You Need Professional Drain Cleaning?
The occasional slow drain may not be an issue in most homes, but all residents should keep an eye out for a few signs that it may be time to call in a professional. Primarily, homeowners should contact one of our plumbers if drains clog repeatedly or if they no longer drain as quickly as they once did. If multiple drains throughout the home all clog at once, it is most likely a sign of stoppage further down in the system that will require specialized tools. If you notice any sewage smells around sinks, drains, or the outside of the home, the outgoing pipes may be clogged and in need of professional cleaning.
Read what other customers are saying about us in our reviews and comments.
Is It Time To Replace Your Water Heater?
A water heater often accounts for as much as 15% of all energy consumption throughout the home, so you will probably notice serious hikes in your utility bill when they are no longer working efficiently. Issues such as a home no longer producing warm water could mean that any number of components within the water heater are no longer working correctly or that the settings must be adjusted.
Your water heater is also one of the most important aspects when it comes to maintaining the purity of your water. Any odd smells, colors, or tastes will require a complete inspection of the unit. Finally, owners want to begin thinking about replacing their water heater around the 8-year mark, especially if its efficiency has been on the decline.
Local Reviews
for Bluffdale, UT
Valley Plumbing and Drain Cleaning
Rated
4.9
out of 5 stars based on
7
customer reviews
Powered by Nearby Now
---
Great service super job but the technician
Frank

-

Bluffdale

,

UT



Review of Valley Plumbing and Drain Cleaning
Great job very polite and considerate . Listened to the issue and then fixed the problem. Very polite
---
good work
Dale

-

Bluffdale

,

UT



Review of Valley Plumbing and Drain Cleaning
good work
---
Great Service/Efficient
Dwayne

-

Bluffdale

,

UT



Review of Valley Plumbing and Drain Cleaning
---
President
EVCO

-

Bluffdale

,

UT



Review of Valley Plumbing and Drain Cleaning
---
Professional, Efficient, and Attentive
Brandon

-

Bluffdale

,

UT



Review of Valley Plumbing and Drain Cleaning
Valley Plumbing has always been a company we have been able to rely on. The technician came out timely, addressed the problem promptly, and provided a solution. He was very professional. We were very happy with the service!
---
Response from Valley Plumbing and Drain Cleaning:

Thank you for the wonderful review Brandon! We are glad to continue to be your go-to team for all your plumbing needs. Call us anytime; we are happy to help! All the best, Valley Plumbing
---
Kevin D.
When I arrived the homeowner said they thought one of the kids flushed a toy down the toilet. I tried to clear the blockage with my auger unsuccessfully. I turned the water off to the toilet vacuumed out the water and pulled the toilet and found an Any Hour plumbing van lodged in the base of the toilet. I removed the toy installed a new supply line and wax ring reset the toilet turned the water back on and flushed multiple times. The toilet works properly. I then caulked the toilet to the floor. There is no warranty on drain cleaning.
Near
S Rutledge Rd,

Bluffdale

,

UT

84065
Raiden H.
Open up drywall downstairs in the living room to access pipe work for the hose-bib. We do not repair drywall. Replace the back side hose-bib and reconnect the water supply line to the new faucet. The hose bib froze broke causing water to leak into the basement below. Tested for leaks and proper operation on the replaced hose-bib.
Near
Drumbeat Ln,

Bluffdale

,

UT

84065
Tom A.
Ran large drain machine through outside clean out inside the arena. Ran drain machine approximately 60 feet before opening up the line. After we cleared the line we ran a camera to inspect we found a spot by the corner of the arena where the owner feels like the pipe may become dislodged by an old T post. We marked the spot outside to dig and remove tree roots. There is also a small section of piping inside the arena that had a questionable joint connection. It appeared that there was a partial separation at that spot. We marked that spot as well and recommended this spot be dug up to further inspect. I also found ample evidence of paper product that was not toilet paper. Anything other than fecal matter and toilet paper is hazardous to flush down the sewer drain. Other paper products such as wet wipes and paper towels cannot break down and water at the same consistency as toilet paper and can clog the line. As we cannot control what goes down the line or the condition/quality of the
Near
3600 W,

Bluffdale

,

UT

84065
Mitch F.
Cut into the 2 inch main pro press in a new 2 inch curb stop
Near
S Redwood Rd,

Bluffdale

,

UT

84065
Alex K.
We will clean the drain of the kitchen sink through the p-trap. We will make sure none of the connections are leaking and that the kitchen drains well when we are completed.
Near
Oak Point Dr,

Bluffdale

,

UT

84065