No matter how old your home is, it's up to you to take care of it. There are many different systems throughout your house that keep things comfortable, but few compare to your plumbing. While small plumbing issues can be a nuisance, major plumbing issues can cause serious damage to your property. At Valley Plumbing and Drain Cleaning, we specialize in taking care of plumbing issues big and small. As your Kaysville plumbing company of choice, we take the time to learn about your home, ensuring all your plumbing solutions are personalized to your needs. And we're always available - so when you need us day or night - we'll be there for you and your family.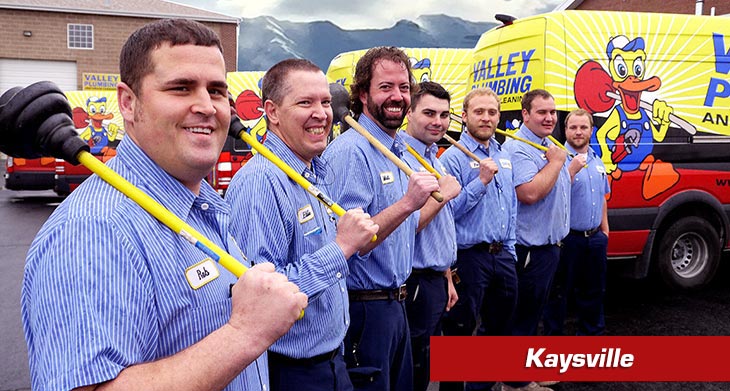 Let our customers speak for our work. Visit our reviews page to see what they're saying now!
How to Identify a Serious Drain Clog
Every single time that you use a sink, a tub, or a shower in your house you are slowly clogging up the drains in your space. These clogs start off slow, and they grow rapidly. Over time you could end up with major clogs that block water from flowing into and out of your home. When that happens a professional drain cleaning will be needed. Before you get to that point, however, you should be aware of the warning signs. Some common ones include:
Slow Draining Water
Water Backing Up in Other Fixtures
A Drain Gurgle
Foul Smelling Drain
A Decrease in Water Pressure
All these different signs give you an indication that you need to have your drains cleaned out. If you continue using your home without getting a drain cleaning the issue can get worse, sometimes leading to a plumbing emergency.
Why 24-Hour Plumber Services are Valuable
Whether it's water pouring through your walls, ruptured water heaters, or even a dangerous gas leak, plumbing emergencies can pose serious risks to your home and health. Dealing with these issues can seem overwhelming, but having someone you can count on is key. At Valley Plumbing and Drain Cleaning, we are your Kaysville 24-hour plumbing contractors. We always have a technician on call and will get to help you as quickly as possible.
Thanks to our extensive experience and training, we can start repairs on many of your issues before they start damaging your home. We offer affordable rates, so you won't have to worry about breaking the bank to fix a frozen pipe.
While we are available for 24-hour services, we make it a point to offer maintenance services too. With quality plumbing maintenance, you can avoid major emergencies and keep your plumbing working strongly for years to come!
Choosing Your Water Heater Replacement
It's important to avoid letting just anyone work on your plumbing systems, especially your hot water heater. A water heater replacement can be an expense for many homeowners, but it's one that adds plenty of benefits as well. This can include:
Added property value
Energy savings
Improvement in water quality
Increase water pressure
A larger supply of hot water
Valley Plumbing and Drain Cleaning is your Kaysville plumbing specialist. We will repair and maintain all the different parts of your home's plumbing system and also help you find the best water heater installation solutions. Our goal is to ensure your 100% satisfaction with every service.
Local Reviews
for Kaysville, UT
Valley Plumbing and Drain Cleaning
Rated
5.0
out of 5 stars based on
8
customer reviews
---
Great technician! Great service! Great communication!!
Richard

-

Kaysville

,

UT

84037



Review of
Valley Plumbing and Drain Cleaning
Mitch was very personable. It was a pleasure to work with him!
---
Great service
Laurie

-

Kaysville

,

UT

84037



Review of
Valley Plumbing and Drain Cleaning
---
Good
Laurie

-

Kaysville

,

UT

84037



Review of
Valley Plumbing and Drain Cleaning
---
Awesome job
Laurie

-

Kaysville

,

UT

84037



Review of
Valley Plumbing and Drain Cleaning
---
Response from Valley Plumbing and Drain Cleaning:

Thank you so much for your review.
---
Great
Clint

-

Kaysville

,

UT

84037



Review of
Valley Plumbing and Drain Cleaning
The tech was fast, smart and would be my choice in the future.
---
Response from Valley Plumbing and Drain Cleaning:

Thank you for letting us know how your experience was. Please let us know if we can be of any further assistance.
---
Eddie D.
We will cut out the leaking 1/2 inch copper pipe up too 5 feet and replace with new pipe and and couplings too fix the bad section of piping. We shut off the water too the house and drained down the system. We cut out the bad section of piping and using 2 couplings and a 90 elbow we soldered a new section of pipe back in too fix the leaking pipe. We turned on the water too the house and tested the repair for leaks, no leaks in the piping and everything else seems too be holding well in that location that I can see. Pipe froze and came apart at the coupling in the line.
Near

Creekside Way,

Kaysville

,

UT

84037
Dean R.
removed old Fusion water softener and install new water softener and tested to make sure everything is working properly. The water is softening and there is no problems with water pressure in the home.
Near

Apricot Grove,

Kaysville

,

UT

84037
Dean R.
Customer had a water leak in the wall in the garage. Removed sheetrock and the customer drilled screws in the copper pipe in the wall, cute out copper and replace copper in the wall. Tested and everything in working great.
Near

Creekside Way,

Kaysville

,

UT

84037
Rhett J.
Upon arrival we investigated the Moen Positemp shower valve that we installed last time we came out. Upon trying to install the trim for the shower valve chuck noted a leak coming from the shower arm as well as underneath the cover plate. We removed the trim and turned the water to the home off. We noticed that the set pin for the valve cartridge was missing. We got a pin to put into place. We removed the shower arm and put tape and pipe thread sealant on it. We reinstalled the arm and head. We reinstalled the coverplate and installed the handle. We tested the shower for function and for leaking. It was also brought to our attention that the drain for the shower drains very slowly. We used our drill snake to go down the line and we pulled back a large amount of hair buildup. We checked the drain and it drained much better. No warranty on drain cleanings. One year warranty on parts supplied by and labor performed.
Near

Hill St,

Kaysville

,

UT

84037
Justin W.
Chuck and Piper are finishing their basement. Upon arrival we were explained that a new shower valve in the basement bathroom needs to be put in. Piper had a shower valve that was a brand which we didn't recognize. She decided to go with a Moen Positemp valve instead of the one they had purchased. We supplied the new valve. We shut the water to the home off. We cut out and disposed of the old valve. We soldered in the new Positemp valve and applied a plug to the bottom of the valve because there is no tub spout. We used screwed in straps to center and secure the new valve in aliment with the shower spout. We turned water to the home back on. 1 year warranty on labors performed and parts supplied by us.
Near

Hill St,

Kaysville

,

UT

84037