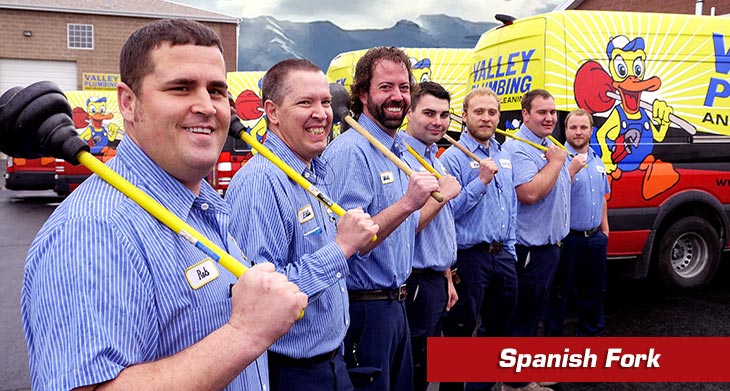 Are you experiencing frequent clogs in your home? Does your tub or sink back up whenever the water is left on for too long? These are signs your plumbing system needs immediate care. Costly repairs are avoidable with prompt attention and investing in a maintenance routine. Households can also save money in detecting potential problems earlier on before they get worse and require expensive repair and replacement.
For plumbing, water heater, and drain cleaning services in your Spanish Fork, UT home, count on Valley Plumbing and Drain Cleaning. Our team of experienced, qualified, and trained plumbers are on call and ready to assist you. Whether you have a clogged toilet or have questions regarding your water heater, we've got you covered!
Unlock even more savings when you access our exclusive online promos and coupons.
What Are Major Signs You Need Water Leak Detection Services?
Piping isn't always exposed, so it may be difficult to detect and diagnose a water leak, but homeowners can look for other signs.
Warm spots and discoloration on the floor.
Sudden changes in utility costs.
Faint sound of running water while water is off.
If you experience any of these symptoms, call us right away before your home experiences water damage. Water leak detection services can also spot problems before they progress allowing you to treat them quickly before the problem becomes more severe.
What Are Signs You Need Professional Drain Cleaning?
Professional draining cleaning is a great service to invest it. It extends the life of the pipes and is recommended for all homeowners to invest in this service at least once a year. However, there will be situations in which professional drain cleaning is necessary. Signs to watch out for include:
Slow drainage
Frequent clogs
Toilet bowl bubbling while sink is running
Gurgling sounds from drains
Interested to see what other area homeowners are saying about us? Read our reviews and find out why so many residents continue to choose us for their plumbing needs.
Signs You Need To Repair or Replace Your Water Heater
The average homeowner may not always be able to tell when their water heater needs to be repaired or replaced. Our trained professionals can easily inspect your unit and provide you with the best course of action. However, if you experience the following symptoms, call us right away as these are signs your water heater may be due for repairs or a full replacement.
Water takes much longer to heat.
An increase in monthly water bills that only continue to rise.
Frequent repairs.
Inconsistent temperatures with little to no hot water coming from unit.
Rusty or discolored water.
Although all issues can be detected firsthand, knowing what signs to look for when it comes to recognizing plumbing problems will go a long way in saving money. Contact a licensed, trained plumber whenever the signs first appear to prevent damage and expensive repairs.
Local Reviews
for Spanish Fork, UT
Valley Plumbing and Drain Cleaning
Rated
5.0
out of 5 stars based on
11
customer reviews
---
Awesome Service and Price
Karen

-

Spanish Fork

,

UT

84660



Review of
Valley Plumbing and Drain Cleaning
We have used Valley Plumbing several times. We always ask for Luis. His work is impeccable and he is always kind and courteous. I have never had a problem with scheduling a service. I will call them for all my plumbing needs.
---
Knowledgeable And Friendly
Don

-

Spanish Fork

,

UT

84660



Review of
Valley Plumbing and Drain Cleaning
The plumbers worked well as a team. The senior plumber was respectful to his junior and seemed to be a good mentor. Setup was fast. Work area was kept clean. Athough I know nothing about plumbing, all my questions were answered with patience and to my satisfaction.
---
Amazingly PROFESSIONAL & EFFICIENT !!!!
Martin and Caren

-

Spanish Fork

,

UT

84660



Review of
Valley Plumbing and Drain Cleaning
Trevor M. answered questions in 5 - 10 minutes when we had waited weeks and months for two previous plumbers to respond. Previous plumbers stated they could not know if new pump was needed until the lid was removed which added expense to the project. We knew we needed a new lid but the issue started when water was leaking around the sewage extraction unit, so we also needed to know if a new pump was needed. Trevor simply removed a cap and flashed a light through the hole that revealed a definite need for a new pump. He found the supplies instantly and drove the distance to obtain them when previous plumbers had said the lid was no longer available requiring them to find a similar lid and customize it. Trevor had the project completed the same day, when we had waited months trying to hear back and coordinate responses from the previous plumbers. THANK YOU TREVOR !!!
---
Great service, nice people
James

-

Spanish Fork

,

UT

84660



Review of
Valley Plumbing and Drain Cleaning
Wow, showed up when they said , did the inspection, quoted a price and did the work and more.
---
Water heater leak. Fixed in a day!
John

-

Spanish Fork

,

UT

84660



Review of
Valley Plumbing and Drain Cleaning
Water heater started leaking late in the evening. Called at midnight to setup an appointment. By 3 pm same day we have a new water heater. Great job!
---
Luis G.
I installed a customer supplied garbage disposal, kitchen faucet, and RO system. I did not have to remove an existing Fossett. Everything under the kitchen sink was open. The homeowner had the countertop people drilled a hole for the RO. I cleaned up, checked for any leaking on all waterlines and the drain, no leaks found.
Near

430 S,

Spanish Fork

,

UT

84660
Luis G.
I would be installed two angle stops in the basement kitchen both on the hot and cold side, the hot side is be a double for the dishwasher. I also be installed new kitchen sink waste piping (p trap) and I hooking up the dishwasher to the garbage disposal.
Near

430 S,

Spanish Fork

,

UT

84660
Luis G.
I would be reassembling half-inch gas pipeline about 1 foot that would include one happens 90 1/2 inch coupling. I will have to shut gas up to the home.
Near

430 S,

Spanish Fork

,

UT

84660
Luis G.
I disconnected the existing water softener and capped the waterlines from the old house and moving both the resin tank and the brine tank to the new home. I install the water softener running new waterlines and connecting only to the hot side. I also disconnected the existing RO system that's in the old house capping whatever water lines need to be capped, and I move the RO system to the new home. I did not installing the RO system in the new house because the kitchen is not ready.
Near

430 S,

Spanish Fork

,

UT

84660
Ian C.
I removed old pump and put in new. I then tested the water piping and electrical components to be sure they were working properly. All seems to be in order.
Near

853 East 300 North,

Spanish Fork

,

UT

84660