An important part of owning a home is having reliable contractors for all your needs. On a daily basis, you depend on your plumbing. From taking a shower to having a clean supply of water for drinking, any interruption can be annoying and sometimes dangerous for you and your family. When you're dealing with an issue, you're going to need a plumbing company in North Salt Lake you can depend on. At Valley Plumbing and Drain Cleaning, we are those plumbing pros. With years of local expertise, a staff of expert plumbers, and a dedication to your satisfaction, we'll make quick work of even your most complex plumbing issues.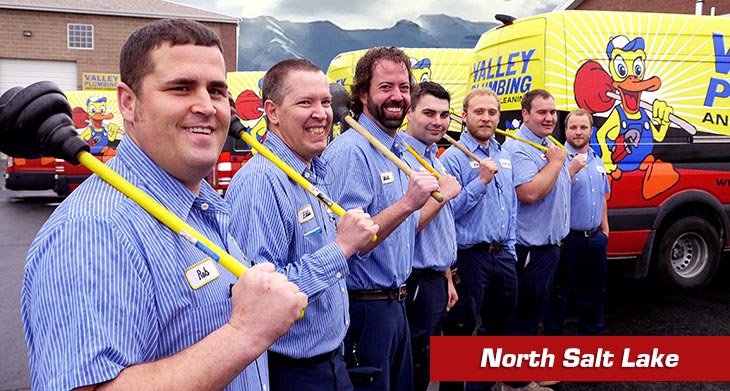 Our satisfied customers are our best advertisement. Visit our reviews page to see what some of them have to say about our work.
Reliable Emergency Plumbing Services
A plumbing emergency is just that - an emergency. If left unrepaired, it can easily further damage your plumbing, home, and even put your family at risk. For homeowners in the North Salt Lake area, one of the largest concerns you'll have is frozen pipes. Before long you can have gallons of water pouring into and around your home or be cut off completely from the supply of water.
Similarly, ruptured gas lines are also a cause for concern as they can put your home and family at risk. At Valley Plumbing and Drain Cleaning, we offer 24/7 live support. When you need us most, day or night, you can depend on our emergency plumbers to find you a solution. We have a full range of plumbing expertise and can handle even your more complex repair situations.
What's Causing Your Clogged Drains?
One of the more common issues in plumbing systems are clogged drains. While they do sometimes happen with age and issues like hard water scale buildup, more often than not, they can be prevented by being aware of what you throw into your drains. Some of the more common causes for clogged pipes include:
Cooking grease
Cat litter
Excess hair
Soap scum
Food scraps
Tree roots
Baby wipes
Even for items that say they're flushable, if you have an older plumbing system, it may be advisable to avoid flushing them. At Valley Plumbing and Drain Cleaning, our expertise is in the name. We offer expert drain cleaning solutions, and can get your plumbing flowing again in no time!
Best of all, we also take the time to help you prevent issues in your home too. Be sure to visit our blog for some helpful tips and advice you can implement today.
The Perks of Water Heater Installations
When your old water heater just can't keep up any longer, a replacement is needed. While it may seem like a larger expense, new water heater installation can offer your home plenty of benefits. For one, you won't have to worry about constantly repairing your system, which is often the reason you upgraded. Newer water heaters are built to last, and with the right plumbing maintenance, you can enjoy your system for over 15-years.
Additionally, newer water heaters offer improved energy performance - particularly tankless units. This can add up to some serious savings on your monthly utility costs, helping the unit pay for itself. Some other great perks include added property value and a larger supply of hot water. Nothing is worse than running out of hot water mid-shower, and it won't be a problem any longer.
At Valley Plumbing and Drain Cleaning, we are your water heater experts. From installation to repair, we can keep your system running in top shape for longer. As your full-service North Salt Lake plumbing company, our goal is to keep your home comfortable and your family happy. The next time you're dealing with a plumbing issue, be sure to call our pros!
Local Reviews
for North Salt Lake, UT
Valley Plumbing and Drain Cleaning
Rated
5.0
out of 5 stars based on
5
customer reviews
Powered by Nearby Now
---
Happy w/ Our Service
Shelby B.

-

North Salt Lake

,

UT



Review of Valley Plumbing and Drain Cleaning
Joel was great to work with. He was always very pleasant, communicated with me throughout the project steps to make sure I knew what was going on and he did a great job. To accommodate our crazy schedules, he came in on his Saturday off to complete the last part of our project. He was respectful of our home and always cleaned up before leaving. I appreciate the work he did for us. Thank you!
---
Happy w/ Our Service
Shelby

-

North Salt Lake

,

UT



Review of Valley Plumbing and Drain Cleaning
The Valley Plumbing team that did our bathroom project did a great job. They arrived on time, worked quickly and did exactly what we wanted done. They made efforts to protect our carpet and they cleaned up after themselves.
---
They looked out for my interest
Eric

-

North Salt Lake

,

UT



Review of Valley Plumbing and Drain Cleaning
I was looking at maybe replacing my tankless water heater, it was leaking really bad. Valley Plumbing, Eric in specific, came in and without any hesitation asked if how old the unit was and that we could probably get the parts under warranty. He immediately got on the phone with the manufacture and got parts sent out. I probably saved about 80% versus installing a new unit. I had 2 other plumbers come out and all they wanted was to up-sell me a new unit instead of fixing it. They looked out for me.
---
Great service
Ann

-

North Salt Lake

,

UT



Review of Valley Plumbing and Drain Cleaning
Eric and Rick were very professional and personable. I appreciated the use of covers on their shoes which showed respect for my home. I also appreciated how prompt I was called to set a time for them to come to my home for an estimate. Thank you.
---
Very professional
Lenard

-

North Salt Lake

,

UT



Review of Valley Plumbing and Drain Cleaning
Casey did a very good job.
---
Ryan G.
Sewer Main was clogged and backing up in the basement. We used the large drain machine thru a toilet that the homeowner had already pulled. We ran the cable all the way to the city main. Drains are running fine but we did observe some standing water at the bottom of the basement toilet flange. Recommend a camera inspection of the sewer main and/or hydro jetting the main line.
Near
N 175 E,

North Salt Lake

,

UT

84054
Aaron C.
Auger out mb tub, due to slow drai remove bandaids hair and plastic, test and drains well. Provided total c for maintenance on sinks. Provided quotes for toilet replacements. Replaced one toilet test and works well haul away existing. All Is well clean up and go.
Near
Durham Dr,

North Salt Lake

,

UT

84054
Alex K.
We will replace both 50 gallon water heaters in the basement. The expansion tank is in good condition and can be reused. We will install earthquake straps as well. We will adapt to the existing water supplies, gas and venting as necessary.
Near
Eaglewood Loop,

North Salt Lake

,

UT

84054
Brian U.
Cleared kitchen drain line took apart p trap and ran snake full length twice. No warranty on kitchen drain lines without our treatment. Leaving estimate for a bottle of our treatment just in case. We will deliver if the customer chooses.
Near
S Fairway Dr,

North Salt Lake

,

UT

84054
Brandon Y.
Drain line for kitchen sink rusted out and unable to clear. There was a cleanout in the main stack under the sink, rebuild the P-trap and drainage to the cleanout.
Near
US-89,

North Salt Lake

,

UT

84054