Plumbing problems have a way of going from minor to serious - rapidly, and even smaller issues can cause long-lasting damage to the structure of your home. That's why it's so important to work with a reliable emergency plumber that you can call on for help when you need it. At Valley Plumbing and Drain Cleaning, we believe in offering the best level of service for all your plumbing needs, and we have plumbing contractors available in the Syracuse area. If you're dealing with clogged drains, leaky pipes, hot water heater issues, or more serious repair concerns throughout your home, we can meet your needs fast.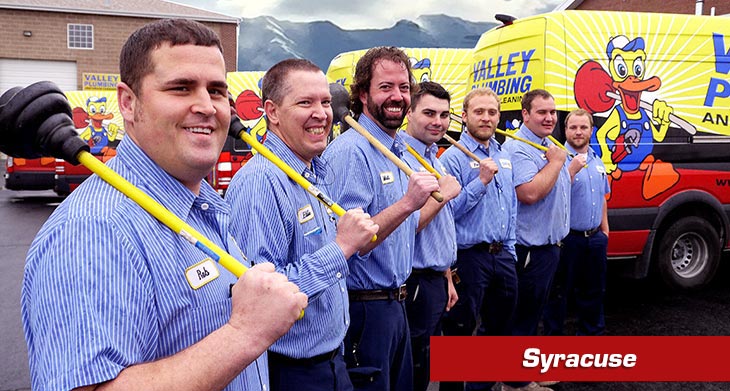 Want to know more about our work? Be sure to visit our reviews page now!
Signs Your Water Heater Needs Repairs
The hot water heater is one of the most important parts of your home, and a system you likely rely on, on a daily basis. Whether you're washing laundry, doing dishes, bathing, making some tea or cooking, you're going to need hot water to get the job done. Your hot water heater will wear out though and may need repairs at some point. Some common indicators include:
Rust in the tank or around valves and fittings
Water leaks
Tank damage
Low water pressure
Foul smelling water
Fluctuating temperatures
The last thing you want is to run out of hot water mid-shower, or worse, find a puddle of water in your home. At Valley Plumbing and Drain Cleaning, we offer water heater repair and replacement services that can solve your issues once and for all.
24-Hour Help for Plumbing Emergencies
Plumbing issues can go from minor to bad in an instant, and when things like burst pipes or serious clogs occur, you need a company that you can call for help. That's why it's up to you to find a reliable 24-hour plumber that you can count on. At Valley Plumbing and Drain Cleaning, we always have someone on call 24/7. Whether it's the middle of the night or the start of the winter season, you can expect quality Syracuse plumbing services.
As homeowners, we understand that many plumbing issues happen when we least expect them. This is why having to wait for a plumber can feel so overwhelming. Our staff takes the stress out of plumbing services with affordable rates and long-lasting solutions.
We also offer great coupons that can help keep your costs down!
How to Prevent Clogged Drains
Drain clogs can be a real pain to deal with and can keep your sinks, bathtubs, showers and other fixtures from working properly. There are a few things you can do yourself, but for the serious clogs, you're going to want a drain cleaning company at your home to deal with the issue. While some homeowners may try a DIY drain cleaner - in some instances it can worsen the issue. At Valley Plumbing and Drain Cleaning, our expertise is in the name.
We offer top-quality drain cleaning that gets to the source of the problem and restores the flow of water to your home quickly. No matter what your plumbing needs, our staff is here to help. As your trusted Syracuse plumbing contractors we're always available and can even help you prevent clogs altogether.