Plumbing problems have a way of going from minor to serious - rapidly, and even smaller issues can cause long-lasting damage to the structure of your home. That's why it's so important to work with a reliable emergency plumber that you can call on for help when you need it. At Valley Plumbing and Drain Cleaning, we believe in offering the best level of service for all your plumbing needs, and we have plumbing contractors available in the Syracuse area. If you're dealing with clogged drains, leaky pipes, hot water heater issues, or more serious repair concerns throughout your home, we can meet your needs fast.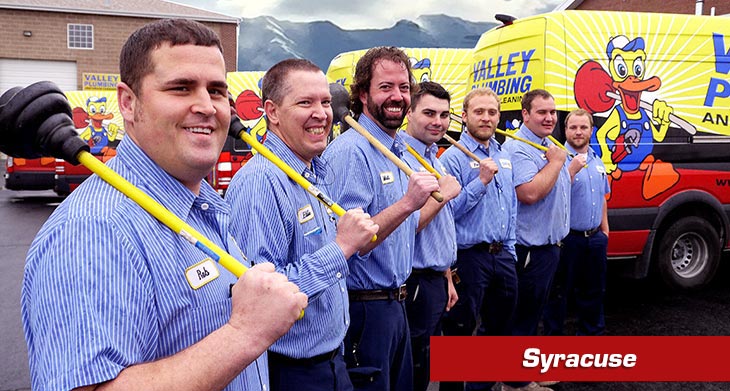 Want to know more about our work? Be sure to visit our reviews page now!
Signs Your Water Heater Needs Repairs
The hot water heater is one of the most important parts of your home, and a system you likely rely on, on a daily basis. Whether you're washing laundry, doing dishes, bathing, making some tea or cooking, you're going to need hot water to get the job done. Your hot water heater will wear out though and may need repairs at some point. Some common indicators include:
Rust in the tank or around valves and fittings
Water leaks
Tank damage
Low water pressure
Foul smelling water
Fluctuating temperatures
The last thing you want is to run out of hot water mid-shower, or worse, find a puddle of water in your home. At Valley Plumbing and Drain Cleaning, we offer water heater repair and replacement services that can solve your issues once and for all.
24-Hour Help for Plumbing Emergencies
Plumbing issues can go from minor to bad in an instant, and when things like burst pipes or serious clogs occur, you need a company that you can call for help. That's why it's up to you to find a reliable 24-hour plumber that you can count on. At Valley Plumbing and Drain Cleaning, we always have someone on call 24/7. Whether it's the middle of the night or the start of the winter season, you can expect quality Syracuse plumbing services.
As homeowners, we understand that many plumbing issues happen when we least expect them. This is why having to wait for a plumber can feel so overwhelming. Our staff takes the stress out of plumbing services with affordable rates and long-lasting solutions.
We also offer great coupons that can help keep your costs down!
How to Prevent Clogged Drains
Drain clogs can be a real pain to deal with and can keep your sinks, bathtubs, showers and other fixtures from working properly. There are a few things you can do yourself, but for the serious clogs, you're going to want a drain cleaning company at your home to deal with the issue. While some homeowners may try a DIY drain cleaner - in some instances it can worsen the issue. At Valley Plumbing and Drain Cleaning, our expertise is in the name.
We offer top-quality drain cleaning that gets to the source of the problem and restores the flow of water to your home quickly. No matter what your plumbing needs, our staff is here to help. As your trusted Syracuse plumbing contractors we're always available and can even help you prevent clogs altogether.
Local Reviews
for Syracuse, UT
Valley Plumbing and Drain Cleaning
Rated
2.0
out of 5 stars based on
2
customer reviews
---
On time service. Thought the price was high and never got a recite.
Steve

-

Syracuse

,

UT

84075



Review of
Valley Plumbing and Drain Cleaning
I wasn't shown a printed estimate, just a verbal cost from the technician. i never saw a brake down of the costs of labor or material and I never received a recite for the credit card payment. I would like a complete brake down of what work was done, how much for parts and how much was labor.
---
Outrageous price
Darren

-

Syracuse

,

UT

84075



Review of
Valley Plumbing and Drain Cleaning
Will never refer or use service again
---
Aaron S.
There was a plastic T under sink that was leaking. We took out plastic T and replaced it with a brass T. Turned on water to check for leaks. One year warranty on parts and labor.
Near

S 1525 W,

Syracuse

,

UT

84075
Rhett J.
Replace a 50 gallon water heater with expansion tank
Near

W 2010 S,

Syracuse

,

UT

84075
Jessie S.
We ran 120 feet of black iron pipe gas pipe from the meter to the boiler for the swimming pool we ran black iron pipe all brand new pipe around the house to the boiler we installed some reducers to reduce the flow of the gas to the right BTUs for the boiler of the pool after we were done we pressure test the system to 5 pounds per square inch for 45 minutes everything is good after we were done we took off the gauge and show the customer how to open the gas so when they're ready to turn on the boiler for the pool they can everything's running good
Near

S Homestead Ln,

Syracuse

,

UT

84075
Jeremy G.
When we first got here the homeowner showed us to the guest bathroom off of the laundry and told us that the shut off would not shut off.she also showed used the master bathroom under the sink and the one shut off was broken off. We then went through what we were thinking of doing she then said ok for us to shutting off the water to the home and cut off three shut offs vales we did replace three shut off vales two at the master bathroom and one at the toilet where the laundry is at. We then turned on the water to pressure test the lines everything is working just fine. all the shut off valves come with a one year parts and labor warranty. we also tested the pressure at the home and that is at 60 pounds of pressure which is just fine. I did tighten the packing nut on the front hose bib. We can't warranty the hose bib with the age it is.
Near

Jupiter Hills Cir,

Syracuse

,

UT

84075
Jessie S.
Cleaning out the aerators in the girls restroom
Near

W Antelope Dr,

Syracuse

,

UT

84075