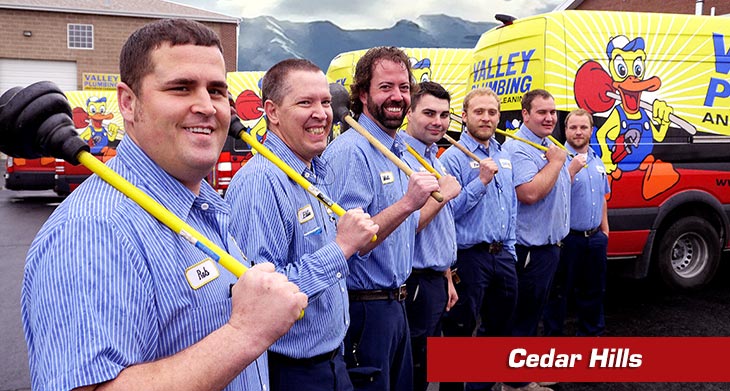 The plumbing in your home is the most critical aspect of your home. That's why it is so important to make sure your system receives timely preventive maintenance and prompt repairs when necessary. When you are experiencing issues with your home's plumbing, count on Valley Plumbing and Drain Cleaning as your go-to premier plumbing team. We are committed to providing first-rate plumbing, water heater, and drain cleaning services for your Cedar Hills, UT home. Your 100% satisfaction is our guarantee.
Gain instant access to our online coupons and promotions and save on your next home project!
Why Are Water Leak Detection Services Advantageous?
Water leak detection services are far more beneficial than homeowners realize. These services helps to spot leaks you may have been unaware of. This not only helps prevent extensive damage from being incurred upon your home, but it also helps lower your water bills.
Hidden water leaks are too small to spot with the naked eye. However, a trained professional has the necessary skill and tools to locate and treat them. These types of leaks are invasive to your home, and your wallet. Having timely water leak detection services performed in your home can help keep your home comfortable and safe while cutting costs.
Do You Need Professional Drain Cleaning?
A professional drain cleaning service is recommended for your drainage system at least once a year. However, if you experience the following signs, it is imperative you consider this service.
Odd, foul smell from your drains
Frequent clogs
Backup in tubs and sinks
Visible gunk in your drains
Our drain cleaning service will help you keep your drains in good working order while helping you discover problems in the system. This service also helps maintain the efficiency of your drainage system so that it continues to function at peak performance.
Find out what homeowners in your area are saying about us in the customer comments and testimonials.
Should You Repair or Replace Your Water Heater?
When your water heater is not performing as it should, we can thoroughly inspect the unit to uncover the source of the problem. Our trained professionals can provide you with the best options for your unit. As a homeowner, it is important for you to know the signs that your unit requires repairs or replacement.
If you notice any of the following signs, your unit may need repair or replacement:
Rust and corrosion on the unit
Temperature inconsistencies
Little to no hot water
Past its life expectancy of 15 years
Requires frequent repairs
Has a water leak
If your unit is experiencing any of these symptoms, call our professional team and we will dispatch a plumber out to your home immediately. Our plumbers can diagnose and remedy water heaters of all makes and models no matter the level of complication.
Local Reviews
for Cedar Hills, UT
Valley Plumbing and Drain Cleaning
Rated
4.9
out of 5 stars based on
8
customer reviews
Powered by Nearby Now
---
Great job!
Terrah

-

Cedar Hills

,

UT



Review of Valley Plumbing and Drain Cleaning
Justin was friendly and did a great job putting in a kitchen faucet and getting a part out of my toilet that got stuck. They let me know in advance what time during the time frame they were coming. He let me know what he was doing and how much everything would cost before starting the job. I'm happy with the results. Thank you!
---
Great service!
Terrah

-

Cedar Hills

,

UT



Review of Valley Plumbing and Drain Cleaning
The price they quoted me at the beginning was what I paid. They were honest, fast and did a great job!
---
plumbing service
Randall

-

Cedar Hills

,

UT



Review of Valley Plumbing and Drain Cleaning
great service. very professional. very knowledgeable, personally i like him, and got alone very good will ask for him next time
---
Thank you Trevor!
Liz

-

Cedar Hills

,

UT



Review of Valley Plumbing and Drain Cleaning
Trevor was pleasant and worked quickly. I was comfortable having him in my home.
---
Made it easy
Home Owner Plumbing Fail

-

Cedar Hills

,

UT



Review of Valley Plumbing and Drain Cleaning
Explained the problem so a inexperienced homeowner could understand. Fixed the problem quickly and left no mess. Personable and professional.
---
Rhett J.
Wanted a quote
Near
W Aspen Cove,

Cedar Hills

,

UT

84062
Neil A.
Old one is leaking and I'll install the new one. No warranty on customer supplied parts.
Near
Sage Vista Ln,

Cedar Hills

,

UT

84062
Neil A.
Customer supplied faucet. No warranty on faucet.
Near
N Bridgewater Cir,

Cedar Hills

,

UT

84062
Pedro U.
We will repair a water leak in a 1/2" copper pipe in the downstairs bathroom ceiling. We will cut at the leaf and repair with a 1/2" coupling.
Near
N 4000 W,

Cedar Hills

,

UT

84062
Trevor M.
Replaced froze s and split hosebib, we cannot warranty it due to freezing, hosebib was properly installed. No issues to report.
Near
N 4000 W,

Cedar Hills

,

UT

84062