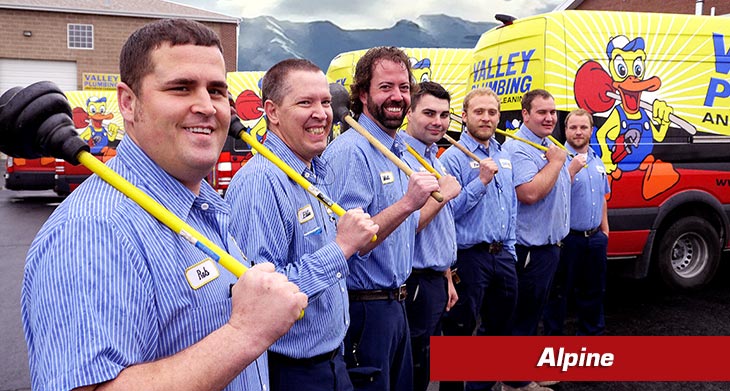 Your home's or office's water supply is often taken for granted. Washing dishes, bathing, and cooking require a steady supply of cold or hot water, and the only time you think about it is when it comes time to pay the utility bill. Your water heater and pipes require regular maintenance to avoid unnecessary stress and costs. Valley Plumbing and Drain Cleaning is standing by to perform quality plumbing, water heater, and drain cleaning services in Alpine, UT. Schedule a consultation with us today and restore your plumbing system back to a new-like state.
Save instantly on your next home project when you use our exclusive online coupons and promotions.
Why Get Professional Water Leak Detection
Undetected leaks in water pipes can waste a tremendous amount of water, water that you end up paying for. Not only is there the expense of water usage to consider, there is also the problem of just where the leaking water ends up. At Valley Plumbing and Drain Cleaning, we specialize in giving your residential property a thorough investigation to check for signs of water leaks.
A complete inspection of the property and its piping system will reveal any potential dangers associated with leaks. If a faucet is leaking, it may not have anything to do with a gasket or valve. Instead, the problem may be an inordinate amount of pressure flowing to the outlet because of a snag or clog in the pipes. Locating this bottleneck and removing it will save water and money.
Drain line inspection also pinpoints any source of leakage from the pipes. This unfortunate situation can result in rotted wood flooring or sub-flooring. Leaks in delivery lines above floor level can lead to softening and weakening of interior framing, as well as sheetrock saturation. A regularly scheduled check by a professional plumber will keep this from happening.
Slow-moving water through the pipes, toilets, or water heater can mean insufficient pressure. This means flushing the toilet more often and running the tap longer for the delivery of hot water. A water line inspection will locate any potential problem and end up saving you a tremendous amount on your water bill.
Lastly, a drain line and water delivery piping system check will show whether corrosion is occurring. This is a huge problem in older structures with outdated plumbing systems. It's far better to discover the problem now, long before a pipe ruptures.
Signs You Need Professional Drain Cleaning
If the water pressure fluctuates constantly, the problem is most likely caused by a leaking water delivery main or air entrapment. Dirty or discolored water often means a ruptured pipe. Inadequate amounts of hot water from the boiler is often caused by particles trapped in the hot water pipes, instead of a problem with the heater itself. If you encounter these problems, it's time for a thorough drain cleaning. Pressure cleaning methods are safe, inexpensive, and do not damage the water lines.
Check out what your neighbors in Alpine are saying about us in our customer reviews!
Does Your Water Heater Need Repair or Replacement?
Water heaters, whether powered by electricity, natural gas, or oil, all require constant attention. The most common signs of a failing water heater are a lack of hot water, moisture dripping from the unit, and dirty water being delivered from the heater to the faucets.
At Valley Plumbing and Drain Cleaning, our licensed and certified repair specialists will quickly locate the cause of a failing water heater. We also install new, energy-efficient tankless models that exceed government standards for energy use.
Local Reviews
for Alpine, UT
Valley Plumbing and Drain Cleaning
Rated
5.0
out of 5 stars based on
7
customer reviews
Powered by Nearby Now
---
Great Service. Quick Resolution.
Tom

-

Alpine

,

UT



Review of Valley Plumbing and Drain Cleaning
Trevor was knowledgeable and friendly. Got right to the heart of the problem.
---
Great service. Neil was very thorough
Marjoiljn

-

Alpine

,

UT



Review of Valley Plumbing and Drain Cleaning
Great rxperience
---
Great
ED

-

Alpine

,

UT



Review of Valley Plumbing and Drain Cleaning
We were very happy with your work for us
---
Excellent service
Gary

-

Alpine

,

UT



Review of Valley Plumbing and Drain Cleaning
First rate expert that solved my issued
---
Awesome
Nate

-

Alpine

,

UT



Review of Valley Plumbing and Drain Cleaning
---
Donnie W.
We performed a leak search and located the leak coming from a broken drain line coming from the shower. We cut out the old section and we were able to Rheem out the fitting and saved an access hole on the ceiling, we tested the line and no more leaks present.
Near
N Pfeifferhorn Dr,

Alpine

,

UT

84004
Trevor M.
Replaced garbage disposal with new premium disposal. Warranty only on items we installed. No issues to report.
Near
N Matisse Ln,

Alpine

,

UT

84004
Trevor M.
Cut in a 3x2 santee into the 3" stack near furnace. Ran a 2" drain line over to the wall. Ran line up to the washer box. Installed new water lines to the washer box. Because we ran the box upside down we kept the hot on the left side so its standard. No issues to report. This completes the bid.
Near
Twin River Loop,

Alpine

,

UT

84004
Trevor M.
Repalce shower valve, repalce two hose spicket taps. Asses and locate leak on secondary water line. Price is subject to change on secondary water line. 5/9- cut out old shower valve and installed new one. With chrome trim needs 24 hours for caulking to dry before use. No Sheetrock repair included. Installed two new hose bibs out in the yard. Hooked up washer box and washing machine on the exterior of the wall in the bedroom. I dug on both sides of the driveway around where the water is coming from under the driveway i could not locate the line. We are reducing the assessment charge down to a water leak search charge we have backfilled the holes. You will need either our excavation team or a sprinkler contractor to come out for a that issue. The leak is under the driveway. No issues to report. All quoted work is complete. No issues to report.
Near
S Canyon Crest Rd,

Alpine

,

UT

84004
Trevor M.
Installed new 50 gallon water heater with earthquake straps and expansion tank. No issues to report. Pressure on home is at 60 psi. Heater is fired and heating.
Near
Jackson Ln,

Alpine

,

UT

84004