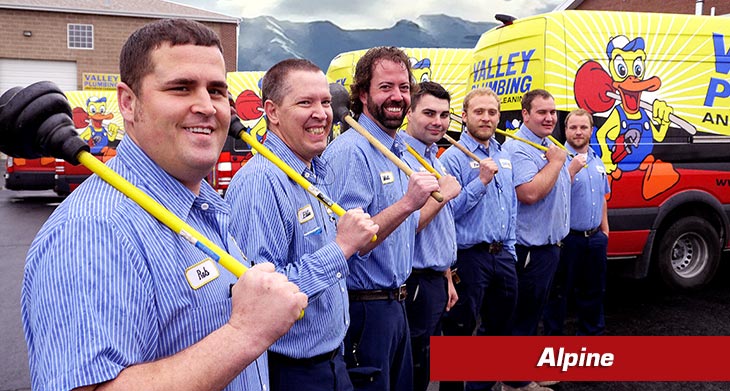 Your home's or office's water supply is often taken for granted. Washing dishes, bathing, and cooking require a steady supply of cold or hot water, and the only time you think about it is when it comes time to pay the utility bill. Your water heater and pipes require regular maintenance to avoid unnecessary stress and costs. Valley Plumbing and Drain Cleaning is standing by to perform quality plumbing, water heater, and drain cleaning services in Alpine, UT. Schedule a consultation with us today and restore your plumbing system back to a new-like state.
Save instantly on your next home project when you use our exclusive online coupons and promotions.
Why Get Professional Water Leak Detection
Undetected leaks in water pipes can waste a tremendous amount of water, water that you end up paying for. Not only is there the expense of water usage to consider, there is also the problem of just where the leaking water ends up. At Valley Plumbing and Drain Cleaning, we specialize in giving your residential property a thorough investigation to check for signs of water leaks.
A complete inspection of the property and its piping system will reveal any potential dangers associated with leaks. If a faucet is leaking, it may not have anything to do with a gasket or valve. Instead, the problem may be an inordinate amount of pressure flowing to the outlet because of a snag or clog in the pipes. Locating this bottleneck and removing it will save water and money.
Drain line inspection also pinpoints any source of leakage from the pipes. This unfortunate situation can result in rotted wood flooring or sub-flooring. Leaks in delivery lines above floor level can lead to softening and weakening of interior framing, as well as sheetrock saturation. A regularly scheduled check by a professional plumber will keep this from happening.
Slow-moving water through the pipes, toilets, or water heater can mean insufficient pressure. This means flushing the toilet more often and running the tap longer for the delivery of hot water. A water line inspection will locate any potential problem and end up saving you a tremendous amount on your water bill.
Lastly, a drain line and water delivery piping system check will show whether corrosion is occurring. This is a huge problem in older structures with outdated plumbing systems. It's far better to discover the problem now, long before a pipe ruptures.
Signs You Need Professional Drain Cleaning
If the water pressure fluctuates constantly, the problem is most likely caused by a leaking water delivery main or air entrapment. Dirty or discolored water often means a ruptured pipe. Inadequate amounts of hot water from the boiler is often caused by particles trapped in the hot water pipes, instead of a problem with the heater itself. If you encounter these problems, it's time for a thorough drain cleaning. Pressure cleaning methods are safe, inexpensive, and do not damage the water lines.
Check out what your neighbors in Alpine are saying about us in our customer reviews!
Does Your Water Heater Need Repair or Replacement?
Water heaters, whether powered by electricity, natural gas, or oil, all require constant attention. The most common signs of a failing water heater are a lack of hot water, moisture dripping from the unit, and dirty water being delivered from the heater to the faucets.
At Valley Plumbing and Drain Cleaning, our licensed and certified repair specialists will quickly locate the cause of a failing water heater. We also install new, energy-efficient tankless models that exceed government standards for energy use.
Local Reviews
for Alpine, UT
Valley Plumbing and Drain Cleaning
Rated
5.0
out of 5 stars based on
3
customer reviews
Powered by Nearby Now
---
Awesome
Nate

-

Alpine

,

UT



Review of Valley Plumbing and Drain Cleaning
---
Great Service
Debbie

-

Alpine

,

UT



Review of Valley Plumbing and Drain Cleaning
Neil was wonderful. Very professional and informative. He quoted our options and helped us to chose the correct solution.
---
Response from Valley Plumbing and Drain Cleaning:

Please let us know if you ever need anything else. We are grateful you chose to use Valley Plumbing.
---
Came on a Saturday
Gary

-

Alpine

,

UT



Review of Valley Plumbing and Drain Cleaning
Great service
---
Response from Valley Plumbing and Drain Cleaning:

Thank you for the great feedback Gary! Your satisfaction is our team's top priority. Call us anytime! All the best, Valley Plumbing
---
Tom A.
Drain Water to Home. Reroute copper piping and replace with Pex to recirc Pump. Repressurize System
Near
Fox Meadow Ln,

Alpine

,

UT

84004
joshua.ashby@gmx.com
Add a drip leg for the condensate line and double check settings. Not set for altitude or circ pump. Also bypassed the temp setting to go above 120 and set the unit for 125. Customers external circ pump doesn't have the flow rate to kick on the heater.
Near
Allegheny Cir,

Alpine

,

UT

84004
Tom A.
Installed new washing machine and hooked up new supply lines and drain hose. Reattached old stackable dryer back onto the washing machine. Assisted with moving old washing machine to ideal location for haul away. Assisted with helping line up dryer to fit new washing machine.
Near
E Alpine Dr,

Alpine

,

UT

84004
joshua.ashby@gmx.com
Minor leak diagnosis on jetted tub.
Near
Village Way,

Alpine

,

UT

84004
joshua.ashby@gmx.com
Details We will remove the p-trap under the kitchen sink and run the snake down the drain line. This will unclog the blockage in the line. The drain line under the sink is stripped, We will also re-pipe the drain line underneath the kitchen sink. Findings I removed the p-trap and the disposal waste lines. After removing the arm on the p-trap i could physically see rice just inside the drain line. I removed as much of it that i could by hand. I then used the snake to clear out the rest, running it until i knew we were in the main line. I then re-placed and re-ran the drainage under the sink. Steve asked if there was a way i could run it differently or more effectively. To do so i removed the two 90's on the food disposal, and i shortened the arm between the disposal tee and the sink strainer. In doing this i was able to run a straight line (with grade) between the disposal and the tee. I used all new parts for this. I also used a new p-trap. Once finished i ran water to ensure that
Near
S Cumberland Way,

Alpine

,

UT

84004